Skinactives Every Lipid Serum With Ceramide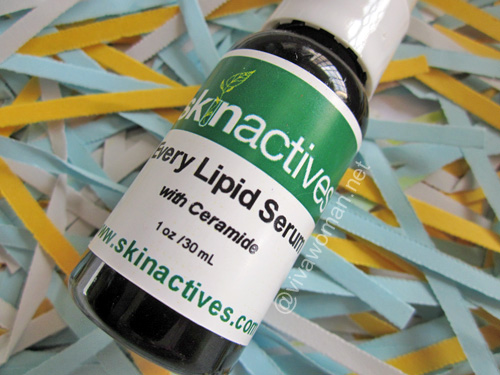 I haven't told you how great this Every Lipid Serum from Skinactives is and so I'll do that today. This was a product the company sent me along with a ton of others after I first bought and reviewed their Antioxidant Booster at the beginning of the year. I like this serum when I first used it and was really sad to have to put it aside because I was testing a couple of other products in the last few months. So as soon as I was done with the testing of the products, I couldn't wait to go back to using this again.
Formulated with no fillers
According to the description on Skinactives, this Every Lipid Serum contains 100% active ingredients with absolutely no fillers. It is formulated with every lipid your skin needs, including essential fatty acids (in rosehip oil), and other lipids your skin can synthesize but may not be making in sufficient amounts. It is specifically designed to help repair the skin barrier with squalane and ceramides and the serum will rejuvenate broken, dry skin that does not provide a good barrier against the environment. The serum has also been shown to regulate oil production in oily skin, making it an effective step in an acne control regimen.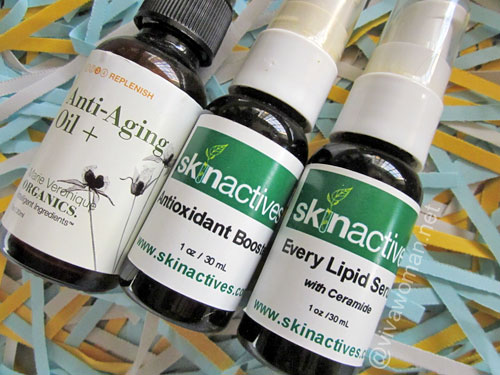 Squalane to retain moisture
Ingredients: Squalane, Olea Europea (Olive) Fruit Extract, Rosehip (Rosa rubiginosa) Seed oil, Pomegrante (Punica granatum) Seed Oil, Lecithin (Non-GMO Soy), Cholesterol Oleyl Carbonate, Cholesteryl Nanoate, Cholesteryl Chloride, Astaxanthin, Tocotrienols, Lycopene, Tocopherol (Alpha-D-Tocopherol, Vitamin E), Lipoic Acid [R-(+)-], Xanthophyll (Lutein), Beta Carotene, Ceramide-3, Phytosterols, Gamma Oryzanol.
test
This is the first time I've noticed Squalane in a product. Squalane is derived from Squalene, but is much more stable against oxidation. Squalane is a natural emollient that imparts an elegant feel to formulations. It is excellent for use in skin care and will help skin to retain moisture and feel soft and conditioned without feeling greasy.
Cheap and effective
Okay, I'll qualify that my review may not be entirely objective here given that I already love facial oils. But I really like how this serum plumps up my skin the morning after and I think it added a slight glow to my skin too. I used the word "think" only because it could also be a placebo effect. BUT, I definitely think this serum is a keeper because it's so affordable! The 30ml is just US$18.50 and check out those ingredients! OMG right? This serum works great with other facial oils too; I sometimes mix it with a drop of the Skinactives Antioxidant Booster and sometimes even with Marie Veronique Organic's Anti-Aging Oil. Mixing with other oils isn't a necessity – I only do it because I want to.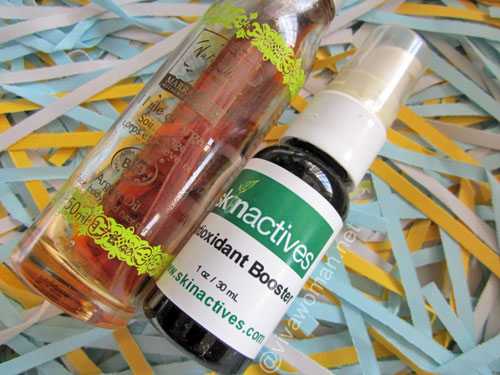 Skinactives Antioxidant Booster
So far, I have good results using the facial oils from Skinactives. Beside the Every Lipid Serum that I use before bedtime, I also use the Skinactives Antioxidant Booster along with the DIY sun protection oil I concocted using Argan Oil, Sweet Almond Oil and Astaxanthin in the day. While they're oil, they don't leave my face oily. In fact, I've discovered that my cheeks aren't as dry these days using this combination under my sunscreen. Another oil I've purchased from Skinactives is the Emulator Oil, which is not as great and has already gone rancid (purchased since end of last year).
Pump don't work well
The only gripe I have is that the pump don't seem to work too well. I had some problems pumping out the Every Lipid Serum and when it worked, it leaked! But granted, the product is cheap and so I won't complain too much. If any of you are keen to give this product a go, check it out at Skinactives.com. Even though the store is based in US, they provide reasonable shipping internationally too. And oh, if you're new to face oil and like to know why it works well for all skin types, read this article at The Huffington Post.

Comments