Dr Organic: Organic Pomegranate Body Wash
Hands up those of you who love your body wash to lather well! And hands up those of you who love your body wash to invigorate your bath! If you've raised both hands up, then you're gonna like Dr Organic Organic Pomegranate Body Wash. In fact, the pomegranate scent is so strong, it actually lingers in the bathroom and my skin for a good period of time after shower. I really don't mind smelling like pomegranate the whole day!
Okay, Dr Organic is a brand I've featured before in January last year. Then, I reviewed two products – Dr Organic Pomegranate Deodorant and Dr Organic Organic Pomegranate Lip Balm. I like the pomegranate smell and so decided to get this body wash since it was on sale.
Uses organic active ingredients
Dr Organic is a brand from UK and their products are formulated with no parabens, no SLS, no GMO ingredients and no mineral oils. In addition, the brand has received the Bio Cert certification, which guarantees that "each product contains organic active ingredients that the activity of each core ingredient is Bio Active; meaning it has the same activity as the ingredient in its raw state and that every individual ingredient is rigorously tested to ensure it conforms to strict quality guidelines." Where possible, Dr Organic products also contain Aloe Vera as the primary ingredient which helps other active ingredients absorb more efficiently.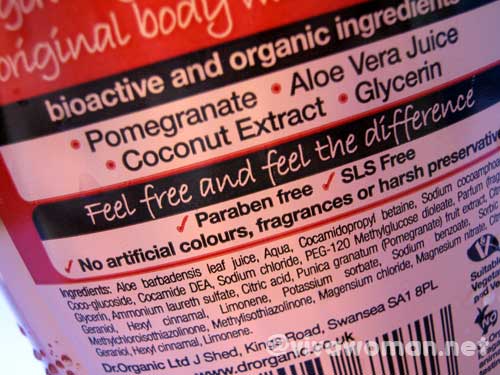 Organic Pomegranate Body Wash 250ml
This product is described as a refreshing body wash based on organic pomegranate and combined with aloe vera. Said to be a refreshing, softening, antioxidant and effective cleanser for the body, this Organic Pomegranate Body Wash is formulated to help skin stay beautifully clean with moisture and elasticity.
Questions on their ingredient label
Ingredients: Aloe barbadensis leaf juice juice, Aqua, cocoamidopropyl Betaine, Sodium cocoamphoacetate, Coco-glucoside, Cocamide DEA, Sodium chloride, PEG-120 Methyglucose dioleate, Parfum (fragrance), Glycerine, Ammonium laureth sulfate, Citric acid, Punica granatum (Pomegranate) fruit extract, Citronellol, Geraniol, Hexyl cinnamal, Limonene, Potassium sorbate, Sodium benzoate, Sorbic acid, Methylchloroisothiazolinone, Methylisothiazolone, Magnesium chloride, Magnesium nitrate, Citronellol, Geranoil, Hexyl cinnamal, Limonene. (according to listing on the product)
Personally, I'm a bit put off by the ingredient list because I think the label is rubbish – some of the ingredients are being listed twice and it really look more like a mistake to me, which doesn't reflect too well on their packaging. Plus, I can't tell which are the organic ingredients! And if the ingredient list is accurate, then I see five surfactants and one of which, Cocamide DEA, isn't all that great in terms of safety level. I also see five different preservatives used and both Methylchloroisothiazolinone and Methylisothiazolone have been flagged out in the red. I also wouldn't recommend this product to those whose skin can't take well to fragrance as there are as many as five different ingredients listed as fragrance although some of them are naturally ocurring scent ingredients derived from plants.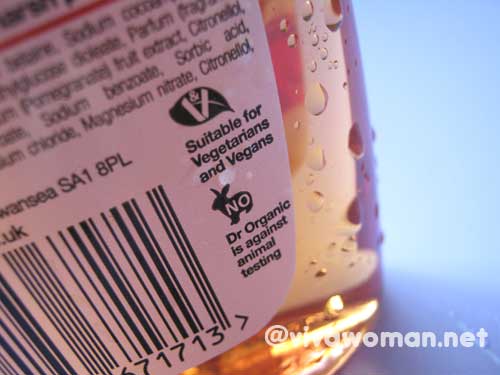 Performs as promised
But okay, ingredients aside, I love this body wash because it does what it promises. I love the slightly moisturizing feel it leaves my skin, and obviously, I'm enthralled with the pomegranate scent. However, I wouldn't have bought it if it were not on sale because there is nothing organic in that ingredient label, as far as my eyes can read.
Price and availability
This product retails at S$20.90 at Holland & Barrett, which I'll say is quite expensive but I got it at a discounted price of S$14+. So it's worth checking out during their sale and I believe the sale is still ongoing. For store locations in Singapore, check out their website. I haven't stepped into all their stores but for those I've visited, I'll say their customer service is above average.

Comments