Quick look: Pangea Organics Skincare Discovery Kit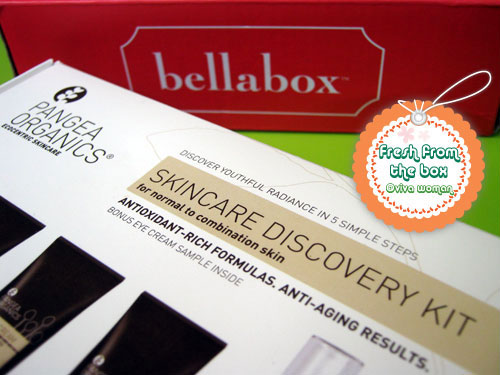 Hey, isn't this post about Pangea Organics? So what's that pink Bellabox lurking in the background of the picture? Oh wait, isn't Bellabox one of those that offers subcription-based personalized beauty box to your doorstep each month? So have they got an ecocentric beauty box for subscription now? Er…not quite. The Pangea Organics Skincare Discovery Kit came from Bellabox all right but nah, it's not part of the monthly subscription box. It so happens that Bellabox also operates an online store and Pangea Organics is one of the brands they carry in Singapore and this Skincare Discovery Kit was sent to me for sampling.
Some products are USDA Organic certified
Pangea Organics is a brand originating from Colorado, USA. According to the company, their products are antioxidant-rich with organic ingredients to deliver anti-aging results. The brand is actually not organically certified as an entity but some of their products like their bar soaps and lip balms have obtained the USDA Organic certification. So depending on the products, Pangea Organics are made from 100% naturally derived ingredients with 27% to 99.8% organic content. And like most of the natural brands, Pangea Organics avoid petroleum, sulfates or detergents, synthetic preservatives, artificial colors or fragrances, or GMOs. The products are also said to be gluten-free and not tested on animals.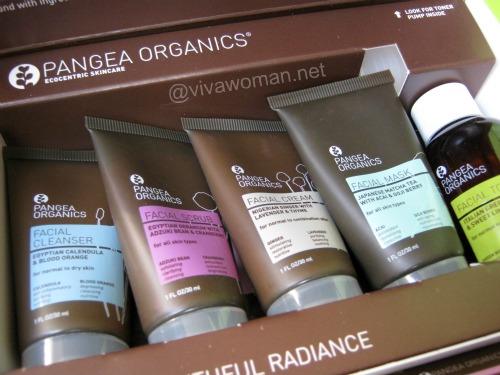 Three choices of discovery kits
The Skincare Discovery Kit I've received contains a 30ml facial cleanser, a 30ml facial scrub, a 30ml facial mask, a 30ml facial cream, a 30ml facial toner, and a sample size eye cream pack. There are three kits to pick from; one formulated for normal to dry skin, one for normal to combination skin, and the other formulated for oily to blemish-prone skin. Because I have a slightly oily t-zone, so I picked the one for normal to combination skin. To be honest, I did not really check the ingredient list before I receive the items because the products are smallish and I wasn't planning to use them for a prolonged period of time. In fact, other than the cleanser that I've been using daily, I've only tried the others sparingly and I haven't even checked out the eye cream.
Appealing to your senses
Going by texture and smell alone, I have to admit that this range is very appealing. If you're into aromatherapy, you should like the products quite a bit as all the products smell wonderful. The toner for example smells so good and I actually use it as a body spritz because the scent is both soothing and uplifting. The facial cleanser cleanses pretty well even though it does not lather up quite as much and the facial cream is not heavy but rather, very mattifying. I couldn't try the scrub and mask as often but I have to say, the scrub in particular smell delish.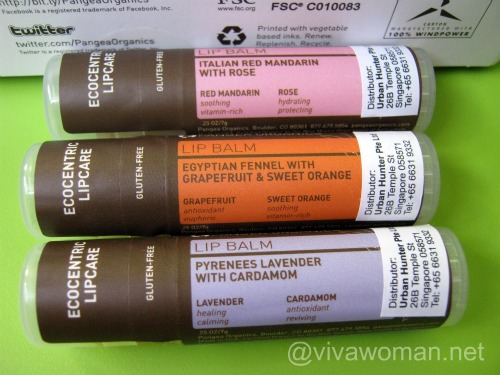 Some concerns over the ingredients
I can't say much for the performance since I've only tested them sparingly. Just looking at the ingredient list though, they are choked full of skin benefiting ingredients. However, the products are also made with Lavender Alcohol (SDA 38 B Organic Lavender), which the company says is a natural and stable preservative, suspension agent, absorption aid, carrier for aroma, and a skin toner/astringent. Personally, I don't like alcohol even if they're plant-based and so this one sticks out for me because it's high up on most of the items. Another thing that I was concerned with is that some of the essential oils used in the formulations might be photosensitive. As such, I only tested this range in the evenings. And something else…the cleanser stung my eyes quite a bit initially although it got better with daily usage. I also didn't understand why a facial scrub is needed when the facial mask actually doubles up as a scrub too.
Lip balms in three different flavors
I was also sent three of the lip balms in different scent to try. The lip balms smells wonderful but I have to say the performance is average for me. While they moisturize my lips upon application, but they do not last well and I have to reapply more regularly than my usual lip balm. But then again, it might just be my lips not taking well to lip products because I find myself having this problem with a number of lip balms already.
Prices & availability
You can purchase the Pangea Organics Skincare Discover Kit at S$59.95 online from Bellabox. Going by my experience, items like facial cleanser and toner can last you about 2 weeks or slightly longer while the rest can definitely stretch beyond a month. The lip balms on the other hand, retails at S$14.50 each and comes in Pyrenees Lavender with Cardamom, Egyptian Fennel, Grapefruit and Sweet Orange, and Italian Red Mandarin with Rose. Shipping is limited to Singapore residents and is completely free. Oh, if you need to check up the full ingredient list, you've got to look them up at the Pangea Organics website as they're not listed on Bellabox.
Comments