An-yong-ha-se-yo: Ecocare Pure Balancing Cleanser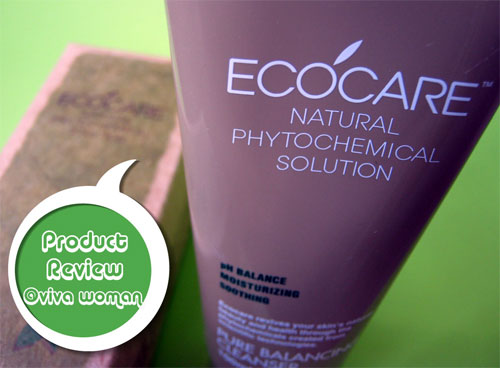 Some of you may have seen this brand sitting on the shelves at Guardian Pharmacy; it's been in the market since some time last year. While the range falls under the natural category, but there is just nothing compelling about the products that make me want to part with my money. The price point is very unattractive in my opinion for a new range that has no unique selling point. So what made me pick this cleanser out? Well, because it was going for just S$16 at the BeautyAsia exhibition I attended last month. Unfortunately, they didn't bring in the cream cleanser or I would have picked that too.
Skin friendly formulation
Ecocare range of Korean skincare appears to use mostly botanical ingredients with no synthetic preservatives, toxic surfactants, petroleum based minerals, silicones, steroids, synthetic fragrances, alcohol or colors. The ingredients used in the formulations are said to be skin friendly and the ingredient lists all look pretty agreeable to me.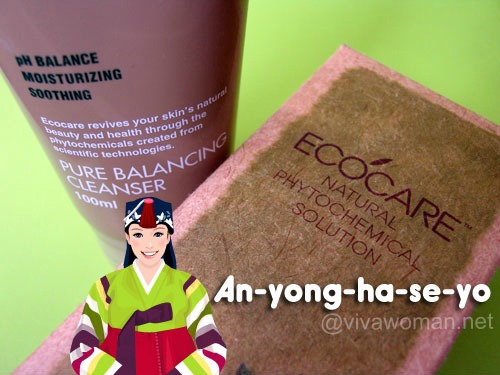 Review of the ingredients
Ingredients: bambusa vulgaris water, coco-glucoside, disodium cocomphodiacetate, sodium lauroyl glutamate, coco-betaine, sorbitol, trehalose, glycerin, sorbitan olivate, scutellaria baicalensis root extract, camellia sinensis leaf extract, rosmarinus, officinalis (rosemary) leaf extract, chamomilla recutia (matricaria) flower/leaf extract, glycyrrhiza glabra (licorice) root extract, centella asiatica extract, ploygonum cuspidatum root extract, thujopsis dolabrata branch extract, citrus grandis (grapefruit) fruit extract, propolis extract, magnolia kobus bark extract, salix alba (willow) bark extract, lecithin, sodium PCA, sodium hyaluronate, tocopherol, citric acid, fragrance.
This is a cream-based foaming cleanser that lathers up very well and yet, left my skin soft and non-drying. It's got a slightly herbal scent probably owing to the Bambusa vulgaris water, which is really bamboo water. There appears to be four surfactants in this product and they are: Coco-glucoside, Disodium cocoamphodiacetate, Sodium lauroyl glutamate, and Coco-betaine. In terms of preservatives, I only spotted Lecithin, Citric Acid and Tocopherol that acts as an anti-oxidant. I understand that the Propolis extract works as a mild preservative but other than these, I have no idea what other ingredients are helping to preserve the product.
Overall summary
Those who like foaming cleanser will probably like this one because it's rather gentle. I've tested the pH level and it's in the range of 5.5 – 6; so it should work for those with sensitive skin too. However, I have no idea about the expiry date of this product as it does not state so. But then again, this information could have been missing because I purchased this at an exhibition; it maybe stated on the retail boxes at Guardian. I really like this cleanser very much but I probably wouldn't have picked this up at the normal retail price because I just don't like paying S$39 for the 100ml tube. And because I've purchased it at S$16, it will have to take a sale for me to want to re-purchase this item again.

Comments