Apply your eye gel and cream with the piano tap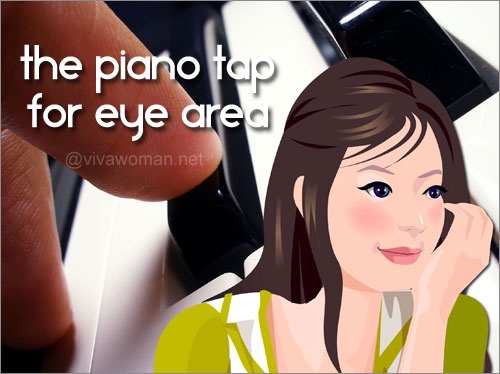 Even if you don't play the piano at all, you must have fingered the piano keys one time or another. No? Not even a toy piano? Then try it the next time you hit the toy section or a piano store. Just lightly tap your middle finger on one of the keys to make a music note – it's very easy! And you know what? That's how you can apply your eye gel or cream around your eye area too. Yes, as if you're a testing out on the piano keys for the very first time!
Helps reduce puffiness
This is not a new tip but it maybe a tip that have slipped your mind because you are always rushing for time. Tapping your eye gel or cream into your eye area will enhance absorption and believe me, helps a lot with issues like reducing under-eye puffiness. While tapping the eye cream around your eye area isn't anything complicated, but it's slightly time consuming because you'll need at least a minute per eye since we're all likely to just rely on activating one of our hands to the task.
Using your ring or middle finger
Because our eye tissue contains very few oil glands and not that much elasticity, it's a fragile area that needs careful moisturization. And that means no massaging and no rubbing because those actions will inevitably contribute to stretching the delicate skin. Most skin care experts will recommend you to use your ring finger to tap on your eye product because it exerts the weakest pressure but I'm actually more comfortable using my middle finger instead. In fact, I've tried both fingers and do not sense a noticeable difference in the pressure.
Method of application
I apply my eye product around my entire eye area and to give you a better idea, here's a visual to show you the direction of application.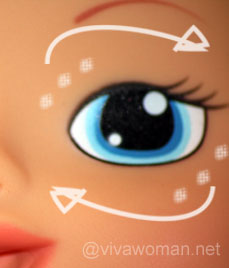 I begin by dotting a small amount of eye gel at the starting point from where the arrow starts and with my middle finger, tap the gel in the direction of the arrow. So for the upper lid, it's from the inner corner toward outer, and for the under-eye area, it's from outer toward inner corner. Basically, you can work your way around the eye area until all of the eye gel or cream are fully absorbed.
Direction of application
Some women avoid applying eye product on their upper lids but I believe that area actually needs moisturization too. In addition, the reason for adhering to the direction is because qualified beauticians tell me that this is according to the direction of how our lymph nodes circulate.
Same technique for applying under-eye concealer
You can also follow this method of application when using your under-eye concealer as you won't want to pull the delicate skin there to cause unnecessary creases and wrinkles. Remember, it's like playing the piano for the very first time – be really delicate and gentle!
Comments