Share: do you prefer using eye gel or eye cream?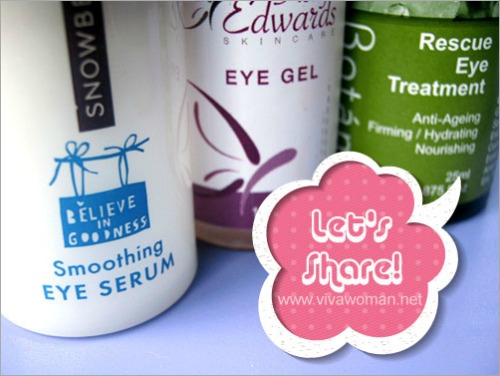 I'm still on a blogging hiatus because of some work I need to clear off but I miss this space and wanted to say hello! Since I was going to say hello, I thought I might as well just ask you a quick question regarding your preference of eye products as it's something that I've been mulling over recently.
One of the beauty goals I've just developed is to try to improve the look of my eye area; it's looking a little dismal with the eye bags, dark circles, and crow's feet. However, it's quite a challenge, given the delicate skin condition. I've used eye gels, eye serums, eye creams, eye treatments and I haven't seen anything noticeably better yet. I'll be reviewing some of these eye products in a bit but I wanted to know what sort of eye product you prefer.
Case for eye gel
When it comes to product preference, I'm actually more of a eye serum or eye gel kind of gal. My preference for eye gel really began when I realized that they are less likely to cause milia as gels are lighter and have less chances of clogging your pores. In the day at least, an eye gel leaves my eye area with a less greasy residue. I also find that an eye gel seems to help with my eye bags somewhat, giving them an instant relief because it does soothe and cool the skin. I also suppose that eye gel allows for better absorption of the active ingredient as some of the products have been claiming.
Case for eye cream
But I have to admit that eye creams do a better job of moisturizing because they contain emollients that nourishes the skin and plumps up my eye area to eliminate fine lines. Unfortunately, I don't like them much as they're richer in consistency and hence, they are only used in the night. Even then, I still prefer an eye serum or eye gel over an eye cream although I know very well that eye gel is better suited for those who do not need as much skin repair as others. As a result, I tend to apply moisturizer over my eye gel should I use that in the night.
Your say
So what about you ladies? Do you prefer using an eye gel, an eye serum, or an eye cream? Or you don't really care?
Comments