For beauty sake, cut down on your ice cold food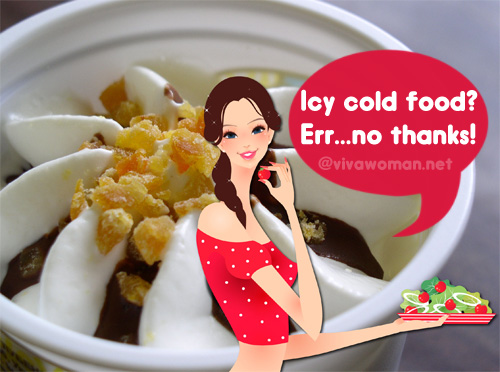 Do you like ice cold food such as ice cream or icy desserts? Well, if you do, here's some bad news for you. Jolin Tsai, the famous Taiwanese celebrity, has mentioned that ice cold food will speed up aging and hence, isn't great for your beauty sake. Well, that's really quite a bummer for lots of ladies in her country because Taiwan is really quite famous for their shaved ice desserts (剉冰)!
Best to consume hot or warm food
According to Jolin Tsai in her diet book that is published in the Chinese langague, she indicated that cold food causes our blood vessels to shrink, slowing absorption and affecting our metabolism rate. As a result, toxins tend to accumulate in our body too. Her recommendation is to consume hot or warm food, and to wait for 15 minutes if you wish to eat anything taken straight from the fridge.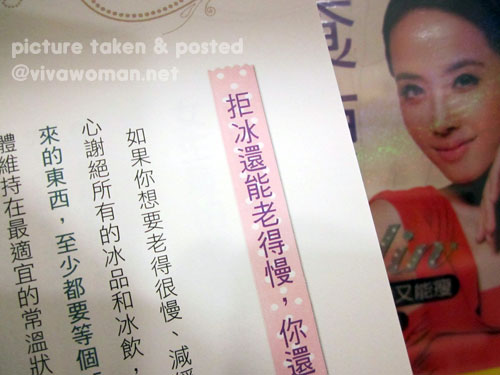 Body needs to exert more energy
Well, this is certainly a killjoy for those of you who love your food cold but boy am I glad what I wrote back in 2009 that drinking warm water is better than cold water finally has some celebrity endorsement! My grounds were however, different from Jolin's as what I've written is that our body has to exert more energy to restore our body temperature when consuming anything cold or chilled. This is definitely not good news if we're trying to slow down aging. In addition, anything cold actually solidify the fats from the foods we have just eaten and make it harder for us to digest and disperse the unwanted fats from our body. So that's a double whammy for those who want to stay slim.
Wait 15 minutes
I guess it's okay to indulge in some cold desserts once in a while but if you're a regular ice eater and you're concerned about aging, then it's probably time to heed Jolin's advice – wait 15 minutes after you remove the ice from the fridge. (#k8SjZc9Dxko#k8SjZc9Dxk)
Comments