Naturelle D'Orient 100% Pure Argan Oil & a giveaway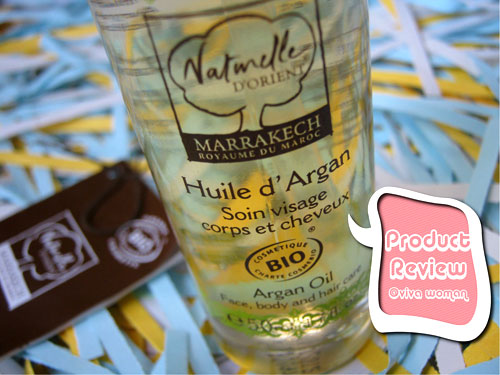 Those of you who have followed this blog long enough know that natural oils are big in my skincare routine. I use natural oils daily mostly for face care although I sometimes extend them to my body care too. However, even though I've been using oils in my skincare for about two years or so, I've not tried all the available oils out there. Argan oil, for example, is one that I've only seen as an ingredient in my pre-mix oil but I've not used it on its own. So when My Life Store approached me to review the Naturelle D'Orient Pure Argan Oil, I said yes because I was curious as to how it would perform on me given the raves I've read about using pure argan oil.
A great anti-aging oil with bountiful benefits
According to information I've gleaned from the web, argan oil is produced from the kernels of the argan tree and has many purported restorative and anti-aging benefits. Apparently, the oil is extremely rare and only found in a small region of Morocco. It is also said to be difficult to produce and hence, Moroccans have called it "liquid gold" as it can help with improving various skin conditions because it is highly rich in vitamins E and F, fatty acids, squalene, antioxidants, carotene, phytosterols, and phenolic compounds. Besides its moisturizing, protective, nourishing and regenerative properties, argan oil has been tested to contain excellent antioxidant and antimicrobial properties, and is effective in treating skin blemishes and eliminating scars. As such, it makes a great anti-aging oil for all skin types and is even suitable for usage on the hair.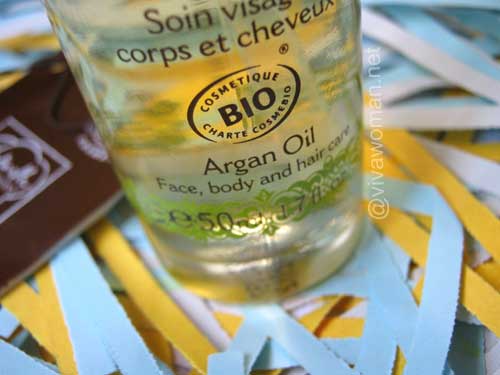 Certified organic by Ecocert
So argan oil has become something of a phenomenon outside Morocco and you probably have seen various brands carrying pure argan oil in the market. So this one is from Naturelle D'Orient, a French brand that offers organic certified face & body products containing the highest concentration of unscented pure organic argan oil made in Morocco. This product is certified organic by Ecocert and since it is 100% pure argan oil, is free from synthetic and GMO ingredients.
Works well under my sunscreen moisturizer
As argan oil is considered a heavier oil, I was initially concerned about using it on my face. However, after over two weeks of usage, I had no issues of breakout whatsoever. While it feels slightly thicker than most of the oils I've come across, this oil sinks in pretty quickly on my skin and doesn't leave a greasy residue. In fact, I found it perfect to use it under my daily sunscreen moisturizer, along with my Skinactive Antioxidant Booster. This oil is best applied onto damp skin and about two drops are enough for my entire face. I also apply this on my neck, chest and sometimes my arms. Those with dry or frizzy hair might like this as a pre-wash hair treatment too.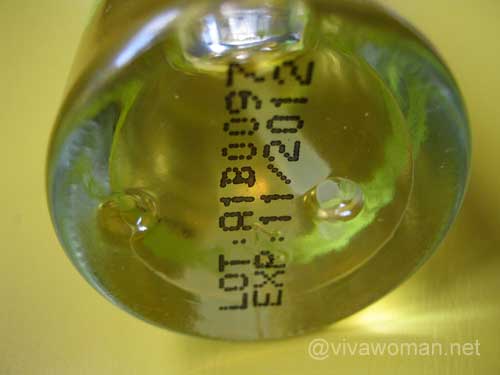 A multi-purpose oil
With facial oil, they all work to reduce fine lines very well upon application and this is no exception. As to whether it will actually reduce lines and wrinkles more permanently, I suppose the verdict will only come with longer term usage. The price of the 50ml bottle is S$69.55, which looks kind of expensive but if you consider that this is a multi-purpose oil that can be used on your face, body and hair, then the price sort of justifies. Plus if you use it sparingly as a face oil, this will last quite a long while. Anyway, in view of the International Women's Day, the product is currently available for just S$38 this week – while stock lasts.
Packaging gripe
Naturelle D'Orient Pure Argan Oil has hardly any smell so it should appeal to those who are scent sensitive. But I don't like that this oil comes in a clear glass bottle as natural ingredients can degrade with continuous light penetration and so I've transferred some of the oil into a dark glass bottle.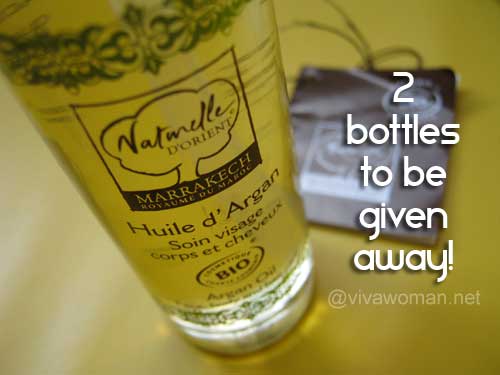 Giveaway details
Naturelle D'Orient 100% Pure Argan Oil is available at My Life Store, which is a new online store retailing 100% pure essential oils, natural skincare solutions and vegan nail lacquers. In celebration of their launch, two Viva Woman readers will get to win a bottle of the Naturelle d'Orient Argan Oil. Only two steps are required to participate in this giveaway:
1. Be a fan of My Life Store Facebook Page.
2. Leave your comment in this entry along with your Facebook name.
This giveaway is open to all readers with a local Singapore address. It will close next Monday, 12 March 2012 and the winners will be picked by the team at My Life Store and announced on the Viva Woman Facebook Page. So want to give this oil a try? Then enter right away!
Comments