Shine and volume with John Masters Organics Argan Oil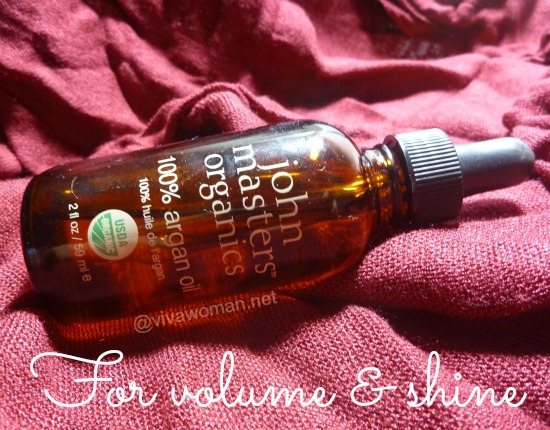 I haven't thought of using oil for my hair until I saw that John Masters Organics has an argan oil that is meant for both skin and hair. It comes in a 59ml glass bottle and is USDA certified organic. When used on hair, it is supposed to give shine and reduce appearance of split ends. At the same time, it can be used as a heat protectant for blow drying and flat ironing of hair. Anyway, I bought a bottle to try, hoping that this oil can help nourish the dry ends of my hair.
Distributing the oil using a hair brush
I usually apply the John Masters Organics Argan Oil to my hair from the mid to lower ends after I have towel dried and combed through. Then, I will use a hair brush to brush my hair once more so that the oil is evenly distributed. The glass bottle comes with a dropper and I find it extremely convenient to use. For my chest length hair, I use the quantity of about a 20 cents coin. What I do is I let my hair air dry and after that add more oil to the tip of my hair if I find the ends a little dry. I think this product will last quite a while too as I only need a few drops each time.
Non-greasy and non-staining
Frankly, I wasn't used to the oil in the beginning. I was worried I will end up with greasy scalp and hair. But nothing of that sort happened! As a matter of fact, it made my hair look a lot shinier and smoother after using it for a month now. For me, I find that there is a very slight floral scent but my husband can't detect any scent at all. I also find that it doesn't stain my pillow or bed sheets but I'm not sure if it is the same for white pillow case or bedsheets.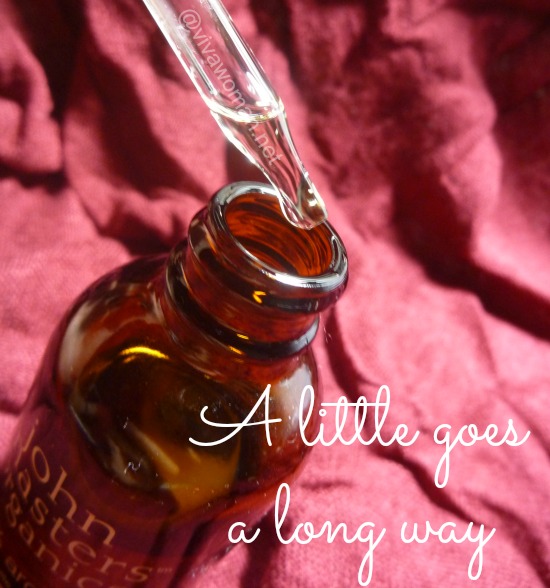 Adds volume and style
I really love how smooth the John Masters Organics Argan Oil makes my hair. I have very fine hair but the oil does not weigh my hair down at all or make it look flat. There was once I applied way too much hair oil and the next morning, my hair looked thick. It felt greasy to me but surprisingly, it didn't look greasy or flat at all. Instead, my hair looked voluminous, like I'd styled it with some kind of hair wax or something. It was pretty awesome looking except I couldn't shrug off the greasy feeling.
Supposedly works as a heat protectant
This product can be used as a heat protectant. I did some reading on the Internet and found that you can use oil with heat styling tools as long as the heating point of the oil is not the temperature of the styling tool you are using (different oils have different boiling points. Argan oil's heating point is pretty high). But personally, I am not comfortable with using oil as a heat protectant. The closest thing to a heat styling tool I have used with this hair oil is a plain old blow dryer, and it works fine.
Price and availability
I bought this from Bud Cosmetics at Novena Square 2 as usual, and the 59ml bottle retails for S$66. It is a little on the pricey side but I really like it. Whenever I use this together with my other John Masters Organics Shine On product, I get excellent volume and shine that feels like I just stepped out of the salon. But if I had to choose between the two products, it has to be this John Masters Organics Argan Oil.


Comments