Share: avoid contact when you don't look your best?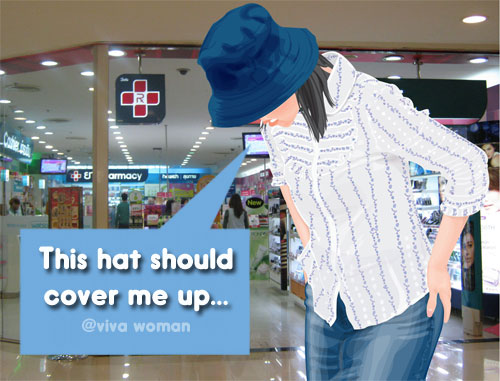 It's been a couple of months now and I realized that the frequency of going au natural when I head out of my home has been increasing. Okay, that's a bit of a tease really because what I meant to say is that I haven't been wanting to look my best. So it's sans makeup with my nerdy glasses most of the time. Well, that's really not much of a look and so yeah, I'm slightly conscious about bumping into people I know. Not exceedingly so but if I can avoid them, I most probably would although I'll say my decision to avoid or to establish contact really depends. And what exactly am I depending on?
Call it vanity, insecurity or whatever but my decision to deliberately avoid the person actually depends on how the other person looks. I'm more conscious about avoiding if the other person is all dressed up but I may actually go up to one who is in a casual looking state like me. The reason is simple enough: a well dressed person makes me more self-conscious while someone who is not makes more comfortable in my own skin. HEH.
I guess I could avoid all the awkwardness by dolling up a little but there are just times when I want to be myself even without a dust of powder or having to fill in the brows. Anyway I don't think I'm alone in this as many of you probably go au natural all the time. So are you very comfortable to be seen in your own skin? Or do you have a wee bit sense of awkwardness at times meeting some people when you're not looking your best?
© www.vivawoman.net copyright notice ☺
______________________________________________________________
Comments