Smack your lips with Miracle Lips Serum & Salve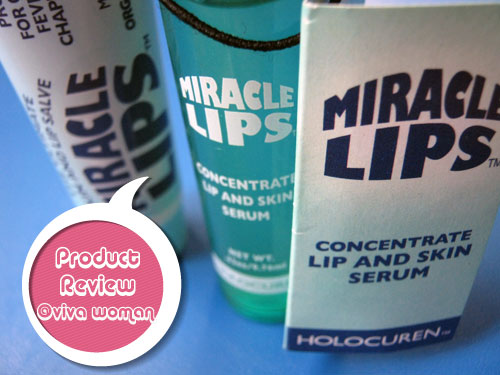 I was both excited and skeptical when I learnt of Miracle Lips from Holocuren. Going by the ingredient list and product description, it sounds like a wonder product but yet I couldn't help but squint at the word "miracle" used in the name. Miracle Lips is described as a 2-in-1 medicinal lip salve that may be used daily to enhance lip health; to heal and prevent cold sores, and to treat chapped lips. It contains a combination of highly active natural and organic phytochemical ingredients that make a difference in just one application because it is able to penetrate at a deep cellular level, giving long term benefits. So the question is, does it really deliver its promise?
Two products with the same ingredients
Holocuren, the company based in US, sent me two products – the Miracle Lips Roll On Concentrate Serum and the Miracle Lips Salve – for a complimentary review. Interestingly, both contain the same ingredients but comes in different packaging and delivery system as one is a serum based concentrate while the other is more like a thick lotion.
Ingredient list
Shea Butter Extract (Butyrospermum Parkii), Raspberry Butter, Cranberry Butter, Brazilian Propolis Extract, Tea Tree Leaf Oil (Malaleuca Alternifolia), Org Aloe Vera (Aloe Barbadensis), Sunflower Oil (Helianthus Annus), Carnuauba (Copernicia Ceriferera), Zinc Sulfate, Grape Seed Oil (Vitis Vinifera), Cranberry Fruit Extract (Vaccinium Macrocarpon), Cocoa Seed Butter (The Obroma Cacao), Elder Flower (Sambucus Nigra) , Vit B2 (Riboflavin), Avocado Oil (Persea Gratissima), Niacin (Nicotinic Acid), Chapparel Extract (Larrea Divaricata), Golden Seal Extract (Hydrastis Canadensis), Witch Hazel (Hamamelsis Virginiana), Licorice Extract (Glycyrrhiza Glabra), Myrrh Extract (Commiphora Myrrha), Shea Butter Fruit (Butyrodspermum Parkii), Boric Acid, Vit B7 (Biotin Seed), Menthol, Camphor, Vit E (Tocopheryl Acetate), Vit C (Ascorbyl Palmitate), Vit A (Retinyl Palmitate), Vit D3 (Cholecalciferol), Lichen Extract
Both are made in a shea butter base infused with a high concentration of Brazilian bee propolis, with antibacterial properties rich in amino acids, vitamins and bioflavonoids to reduce inflammation. The symbiotic combination of the Australian Melaleuca tea tree oil, butters, vitamins, enzymes, and peptides is also said to make the products effective on cold sores and other lips problems.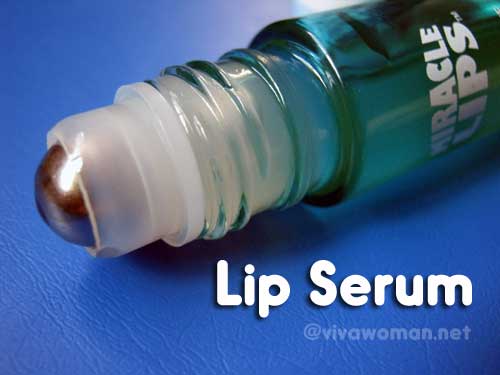 Miracle Lips Roll On Concentrate Serum 9.76ml US$14.95
This is a very handy roll on concentrate that comes packaged in a glass tube with a stainless steel roller ball. Because it is called a serum, I initially used this in the night and only discovered later that it's actually better used in the day because the application goes on smooth like a gloss, and melt into the skin leaving a slight sheen finish. It's a bit more greasy than the usual lip balms but not particularly more unless you apply too much. I like that it gives a cool, refreshing tingle, and leaves my lips very soft afterwards to apply lipstick if I wish.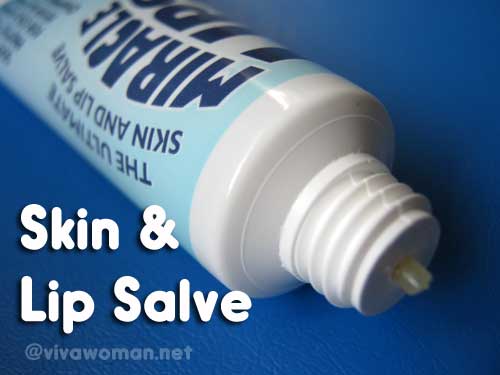 Miracle Lips Salve 10ml US$12.95
I didn't quite appreciate this salve initially because unlike the concentrate, this one does not feel smooth upon application. In fact, it feels a little gritty on the lips and I realized after reading the ingredient list, that those must be the Propolis Crystals. Even though both products have the same ingredients, this one feels thicker and greasier upon application, and is actually best reserved for bedtime usage as you'll wake up to very soft lips. The texture is more like a soft balm; it looks hardened in the picture only because that portion was from the initial squeeze. And like the concentrate serum, it leaves a cool, minty fresh tingle upon application.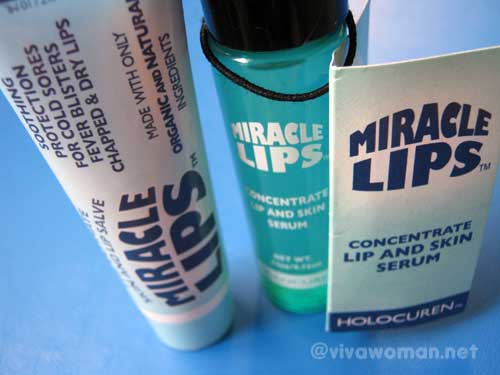 Works better than most lip balms
I don't have particularly chapped or dry lips but going by the results, I can say these two products have worked better for me than other lip balms in keeping my lips hydrated, moisturized, and softer for longer. Unlike some waxy lip balms, the ingredients of these products are said to penetrate deeply into the cellular level, and so it is true that they make a difference in just one application. Additionally, I like that the Miracle Lips Salve is able to exfoliate my lips with the Propolis Crystals. However, the results, while immediate, are not so long lasting for me and I find I would have to use the products continuously to enjoy the benefits. I think some of the ingredients like vitamins A & C also helped to regenerate the lip area too but I do wonder if they're safe health wise, considering we tend to ingest some of it in the process of application.
Works wonder on cold sores
But the Miracle Lip Salve works wonder for cold sores though as I tested it on my husband's. The healing was almost immediate and even he was impressed by how much the sore was reduced within the hour. This is because of the dual strength of the Propolis and Tea Tree Oil, which offer anti-viral, anti-bacterial, anti-fungal and anti-inflammatory properties that help to prevent and heal fever blisters, cold sores and persistent cracked lips. His cold sore was healed in two days, and that's pretty amazing considering he only applied the salve to his sore about once or twice a day; so that's quite miraculous!
Price & availability
Both products do not come with artificial flavors or fragrance. The inclusion of tea tree oil means they have a somewhat medicinal smell, and I wouldn't say I'm all too thrilled with that. So these products are best applied less generously and anyway, just a small dab is quite sufficient to moisturize and protect my lips. If you've particularly chapped lips or often have cold sores, you will probably find the products quite beneficial. They're not too expensive; the serum is US$14.95 while the salve is US$12.95 and you can get a set at US$25.90. Personally, if I have to choose, I'll pick the serum as it's great for daily usage because I find the salve better for treatment purposes. I mean you don't want to use a roller on your cold sore and then use it on your healed lips do you? International shipping is available on request via email. For more information, check out their website.
Comments