Having my brows groomed at Browhaus in Paragon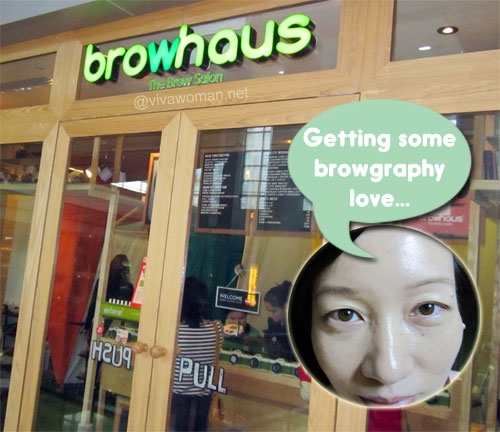 I emerged from Browhaus, the brow salon, with the skin around my eyebrows all red and slightly sore but yet I can't wait to get my next treatment with them! This is the first time I've experienced threading and I love it! Because my eyebrows were hardy unruly, they weren't dramatically transformed but they look a lot neater without the stray hair strands, which were impossible to be tweezed out completely even with my trusty Tweezerman.
Getting a more defined look
For those who don't know, Browhaus is a one-stop brow and lash grooming salon that basically takes care of all your facial hair grooming needs. This is also the first time I've been to Browhaus, having been invited to try their brow shaping and color tweak. However, I only ended up with a basic brow shaping complete with threading and tweezing because the therapist had noticed that the color of my eyebrows is too light and they're really too sparse to achieve a desired tweak. So instead of experiencing a total transformation to the shape and color of my brows, I only experienced a basic brow shaping with threading and tweezing to give my brows a more defined look.
Serum that slows stray hair growth
It's been five days since I've had my brows shaped and so far, I've yet to notice fine hair growing. Apparently, this is because the therapist had applied Peace, an instant cooling comforting serum containing Larrea Divaricata, a leaf extract that is anti-inflammatory, moisturizing and inhibits growth activity of the hair follicles. The serum certainly helped to provide instant calming of my skin post-hair removal and slower hair re-growth.
Fast and effective
My treatment was done in one of these seven colored tents at the newly expanded Browhaus Paragon, which is inspired by fun campsite memories. Basically, I just lay down on the treatment couch for the therapist to do her thing with my brows. I didn't time the treatment but it sure was fast. I think all in, everything was chop chop and over in about 15 minutes. And I was told that the color tweak will last about 10 to 15 minutes too.
Price
Browgraphy, which is a 2-in-1 treatment including shaping and color tweak is available at all 12 Browhaus outlets at S$38 for classic threading, S$40 for modern tweezing, and S$42 for thread & tweeze. If you just want a brow construction like what I had, then the price list is S$15 for classic threading, S$18 for modern tweezing, and S$20 for thread & tweeze. For more information on their pricing and store locations, check out their website.  Now, because I was invited, so customer service was obviously good and I'm not sure how it is in the real sense. Perhaps those of you who have had your brows done at Browhaus can share your experience?
So tell me ladies, do you like to have your brows professionally groomed? Where do you usually get them done? (Mine is usually done by the beautician at the facial salon – if I do go to one that is.)
Comments