Oskia Pure Nutritional Skincare: well worth a splurge
I really like this product because it is not greasy and yet is very nourishing, plus it comes with that distinct "leafy" scent. You can use it alone no problem but I've been using it over my facial oil and it's been working perfectly. I'll say the Oskia Bedtime Beauty Boost delivers what it promises – provides your skin with an overnight health and beauty boost to help prevent the signs of premature ageing and give a softer, healthier-looking morning complexion. I find it does help iron out the appearance of wrinkles and even out my skin tone, after having used it for over a month now. Great stuff, and yeah, at a great price too. LOL.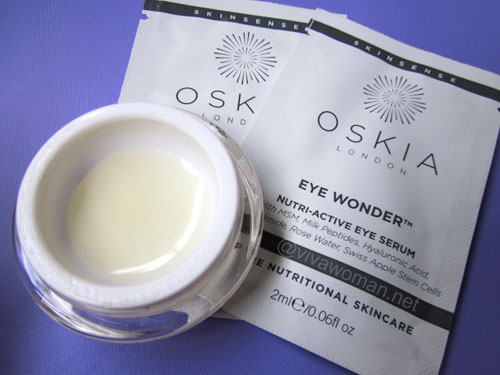 OSKIA Eye Wonder, 15ml S$140
Ingredients: Rosa Damascena Flower Water, Methyl Sulphonyl Methane, Glycerin, Niacinamide, Sodium Hyaluronate, Benzyl Alcohol, Whey Protein, Zinc Glycine, Arnica Montana Flower Extract, Laminaria Digitata Extract, Malus Domestica Fruit Cell Culture, Limonium Narbonense Flower/Leaf/Stem Extract, Saccharomyces Ferment Filtrate Lysate, Galactoarabinan, Panthenol, Biosaccharide Gum-1, Chondrus Crispus (Carrageenan), Lecithin, Xanthan Gum, Tocopherol, Dehydroacetic Acid, Phenoxyethanol, Lactic Acid.
I actually wanted to give this product a separate review but I think it's good to add it here so that you can have a better idea of the performance of the range. This eye wonder is described as a lightweight, super-active eye serum rich in youth-boosting nutrients, peptides and antioxidants to help rebuild cell health and efficiency. The plant bio-actives are said to visibly brighten dark circles, smooth the appearance of fine lines and wrinkles, increase radiance, reduce puffiness and protect DNA.
Well, I like the product on two counts – it reduces puffiness quite well and brightens dark circles to some extent for me. Wrinkle-wise, I think the performance is rather average and I don't see much improvement to them after having used this product both day and night for about five weeks now. But as with most eye products, I think my expectations need to be moderated and in this case, I will continue using this product (at least during the day) until I finish the last two sachets. As you can see, I've also given much respect to the sample packs. And yeah, I most probably won't mind buying this product for day use.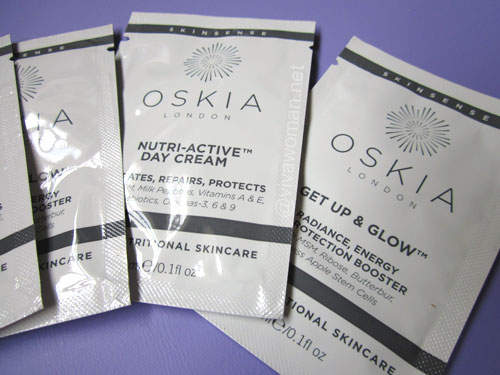 Day care products
I've also received sample sachets for the Oskia Get Up & Glow and Nutri-Active Day Cream. I've tried them briefly for a few days only and would say their textures and scent are all likeable. The reason why I don't use them daily is because I need SPF protection and these don't provide. The Oskia Get Up & Glow is a rather interesting product, and may I add a best seller because it's supposed to yield a radiant glow. I didn't really expect much from the product really but was surprised to receive a compliment from my usually clueless husband when I wore it under my foundation so maybe it delivers what it promises.
Current promotion at Bud Cosmetics
Overall, I would say the Oskia Pure Nutritional Skincare is a premium range well worth considering if you have the money to splurge. The ingredients are impressive and I really don't have much to complain about the products except for the price points. But the good news is that Bud Cosmetics is offering 10% off the range right now with their 5th anniversary celebration. If you're interested, you can check their website for details. And for those outside Singapore, you can also find the Oskia range being retailed at Lovelula.
Comments