Share: er…do you have a water drinking schedule?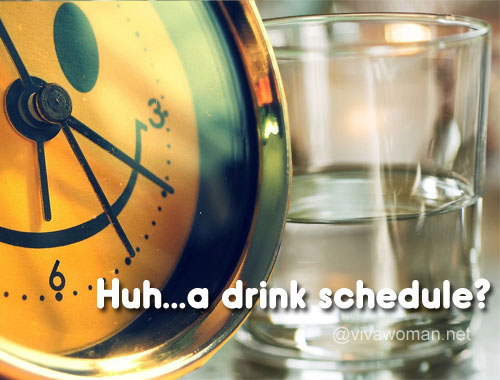 A reader had left me a question on my Facebook page asking if it's all right for her to drink a lot of water daily. At that time, I had told her that it should not be a problem but it's more important to be drinking quality water. However, shortly afterwards, I found out that there is actually a dangerous medical condition called Hyponatremia, caused by drinking excessive water and resulting in one not having enough salt in the body fluids outside the cells. So I guess that's why the recommendation is always for us to drink 8 glasses of water a day. But realistically, do we really count how much water we drink? Plus, how should these 8 glasses of water be spread out in the day?
Unless you're like my girlfriend who makes a conscious effort to count, I doubt most of us keep track. But personally, I've been increasing my water intake and I think I'm drinking almost a glass of water every hour. Because I wanted to moderate that consumption, I started reading more on the topic and found this interesting water drinking schedule in a Chinese book on when to consume 8 glasses of water daily:
1st glass at 6:30
Because your body starts to dehydrate after a long night of rest, you should drink your first glass of 250cc water at this time when you wake up to help your kidney and liver to detoxify. Also, do not eat your breakfast right away but wait about half an hour after drinking your first glass of water.
2nd glass at 8:30
If you're on the go such as traveling to school or work, you are likely to perspire and perhaps become tense because of having to rush, and your body will start to dehydrate. At this time, you should replenish by drinking 250cc of water.
3rd glass at 11:30
If you're working in an aircon environment, you may be losing moisture and it's good to rehydrate by taking 250cc of water.
4th glass at 13:00
After lunch, drinking 200cc of water aids your digestion and enable the food nutrients to be better absorbed by your body.
5th glass at 15:00
Instead of drinking tea or coffee during your break, trying drinking 200cc of water to refresh your mind.
6th glass at 17:00
Drinking 250cc of water at this time will make you feel satiated and prevent any overeating during dinner.
7th glass at 20:00
Drinking 200cc of water half an hour after your dinner will boost the performance of peristalsis, a series of organized muscle contractions that occur throughout the digestive tract.
8th glass at 22:00
Drinking 150cc of water an hour before bed will help in the your cell renewal process during your sleep.
I think the timings are meant only as a guide but it's kind of interesting that water intake is not recommended every hour but almost every other two hours. And I noticed that the water drinking frequency in the morning is rather low in this water drinking schedule whereas I've actually been drinking much more water in the mornings!
So tell me ladies, do you following such a water drinking schedule or do you have your own schedule? Do you also keep track of how much water you drink per day?
Comments