Cell-Gen AH antioxidant water system for anti-aging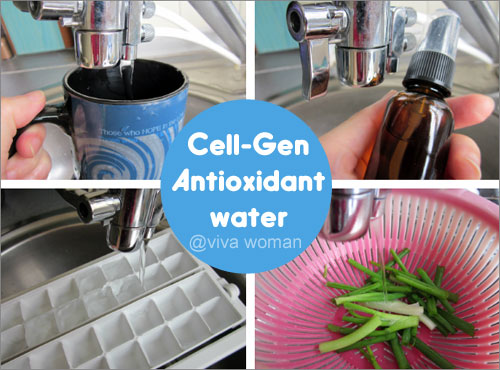 Today's post is about my experience with the Cell-Gen Activated Hydrogen Water System installed in my home since a month ago. It's pretty amazing how a simple system like that can actually change my perspective on the water I drink and use daily. So now, I bring my own water out every day, I no longer purchase distilled or mineral water, and I also no longer use the commercial face mists available in the market. As a matter of fact, I don't even use tap water to rinse my face and hair now.
Benefits of Cell-Gen AH Water
Before I discuss further, I need to let you know that this Cell-Gen Activated Hydrogen Water System was provided to me on a complimentary basis. However, I only agreed to review the system because I was convinced of its merits and its origin. Now, filtered water system is not really new to me because I used to benefit from one back when I was living with my mom. However, unlike the basic water filter system we had installed back then, the Cell-Gen Activated Hydrogen Water System is more than just a water filter as it is designed to create deoxidization via the activated hydrogen bonding with excess free radical oxygen to form "pure water (H20)". So the water filtered through this system contains natural antioxidant properties that neutralizes harmful free radicals in our body. In addition, the Cell-Gen system provides essential ionic and trace minerals element to supplement and provide the necessary mineral mix for our body.
Certification from Japan
Cell-Gen AH Water is also certified free from heavy metals and radiation – such certifications are not seen available in other filtration companies currently – and the products are backed by over 9 years of extensive research and clinical studies by a team of more than 22 doctors and specialists from renowned Japanese universities. And more importantly, unlike the other water filtration system in the market, Cell-Gen Activated Hydrogen Water uses plant based minerals comprising 10 ionic minerals plus 16 trace mineral, which have been certified by Japan Food Research Centre and Japan Ministry of Health to be safe for consumption as food.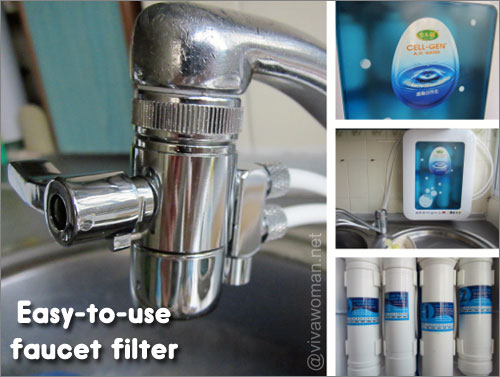 Installation & maintenance
I was actually quite concerned about the installation of the unit but the process was a breeze. The unit measures about 40(L)x30(W)x10(D) in centimeters and we had it placed right beside our kitchen sink. Because we wanted it mounted on the wall, drilling was required but otherwise, the unit could have easily just rested on the sink countertop. A water filter diverter valve was fixed on our existing faucet so that we can alternate between the filtered water for drinking purposes and tap water for washing needs. I also like that no electricity is required to power up or maintain this system. The unit comes with four filter cartridges – one for a sub micron anti-bacteria filter, one for an activated carbon block, one for a Cell-Gen jurassic mineral filter, and one for a Japan granular activated carbon. We were told that maintenance is once every six months; free for the first 6 month. Subsequently it's S$350 for 18 months – customers need to replace 3 cartridges which cost about S$200 on the 12th month and then another 6 months later, replace the cell-gen cartridge at S$150.
Experience of detox
Because of the smaller water clusters, the water being filtered from the Cell-Gen AH system is a delight to drink and I could actually take gulps without feeling bloated. In addition, the smaller water clusters provide better oxygenation and increase permeability to effectively penetrate cell and tissue membrane to provide better hydration as well as flush out toxic wastes from our bodies. I guess this is why about a week into drinking the water, I started experiencing a minor breakout on my face and was also having headaches and feeling sluggish. I realized that those were symptoms associated with detox, because my last detox yielded almost similar symptoms. My husband was also having a breakout, something which he hardly experiences. I was naturally quite intrigued because I hadn't realized that it was possible to experience detox just by drinking water! The symptoms lasted about a week and I'm all good now, and am still drinking lots of the water daily.
Other uses of the water
Apart from drinking the water, I've also used the water to wash my food, cook, make ice, and even use it to wash my face. Yes, I know, this sounds quite extravagant but well, the water is available for me! So what I do is fill up a tub of the antioxidant water just so that I can wash my face and give my hair a final rinse after shampoo. I can't say the exact effect on my skin but I'm definitely happy that I don't get heavy metal residues on my face. As for my hair, it sure feels a lot softer after reach rinse. I also stopped purchasing the commercial face mists and have since, use the Cell-Gen AH water for misting and even for toning purposes.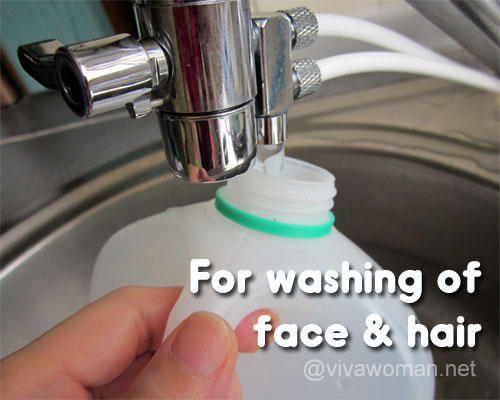 Costs savings
Besides the obvious benefits of cleaner water without traces of chlorine, heavy metals or bacteria, we get pH neutral water that is refreshing to drink and full of antioxidant benefits. In addition, we've also saved money from not having to purchase any more distilled and mineral water as well as the reduced electricity consumption that comes with boiling water. We used to boil our tap water daily, sometimes a few times a day to get our drinking supply. With the Cell-Gen AH Water System, we can drink direct from the faucet. We still boil some water in a day just to make hot beverages but have definitely cut down the electricity usage accrued to boiling of water.
The Cell-Gen difference
I was told that the key difference between Cell-Gen Activated Hydrogen Water System and others in the market is the availability of certification plus the fact that the minerals used in the system are plant based, which have been certified to be safe for consumption as food. So long term consumption of this water is very safe to our body and I guess that's the reason why it has been well received in the Japanese market.
My recommendation
Would I recommend this system? Well, yes. If you've read my earlier entry on drinking quality water for health and beauty, you will remember that I've mentioned that quality water neutralizes free radicals that cause premature aging, let you feel more energy and vigor with increased blood circulation and enhance body metabolism too. There are lots of benefits to drinking quality water and having something like this that is installed in your home will provide lots of benefits and cost savings to the entire family.
Price and availability
A full unit of the Cell-Gen Activated Hydrogen Water System cost S$1588 but is currently on offer at S$1488. This price comes with a full year of warranty for the parts, one time free cleaning after six months of purchase, and one Dermamoor Facial Bar (free of SLS & contains 30,000 years old glacial iceberg water and catalytic anti-aging hydrating water) with skin healing properties. If you're interested, check out www.purifybywater.com to find out how to order a unit.
Comments