Selexir Peace Balm calms irritated & sensitive skin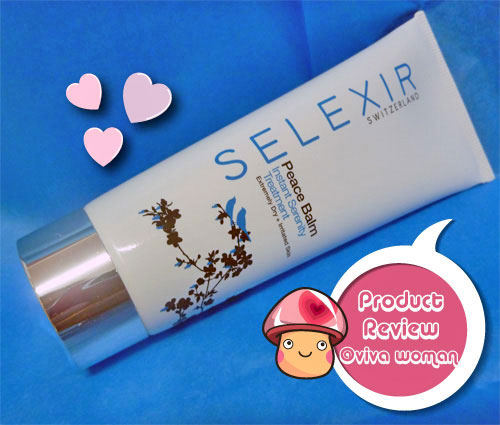 Those suffering from mild to medium eczema know how frustrating it is when the skin becomes dry, flaky and itchy and nothing seems to be able to improve the condition. I've been suffering from mild eczema and it can be upsetting and stressful when I get bouts of flare ups. And while there are many moisturizers out in the market that are made for dry and sensitive skin, very rarely do I see moisturizers that claims to address those with eczema issues until I come across Selexir.
Swiss made formulation for dry & flaky skin
Selexir is a company of two, with Elena Herdieckerhoff and Mirella as the founders. It started with Elena, who suffered from the effects of extremely dry, red and flaky skin, and wanting to find a solution to her skin's condition. She used her knowledge and passion for cosmetics and natural ingredients to concoct her own mixture that worked for herself. What was intended as a private endeavor became much more as others who also had skin problems like herself used her balm and found that it worked wonders for them. From there, with the help of her friend Mirella, who had professional experience in the cosmetic industry, they started a modest company that provided friends and family the product that Elena started from her very own bathroom. Today, after several years of success, they have now officially set up their company in Switzerland and the brand Selexir is born.
Free from various chemical nasties
Known for the powerful 21 ingredients in their Peace Balm, this company's product is dermatologically tested and is free of parabens, paraffin, silicones and petroleum. The packaging they use is also free from bisphenol and phthalates.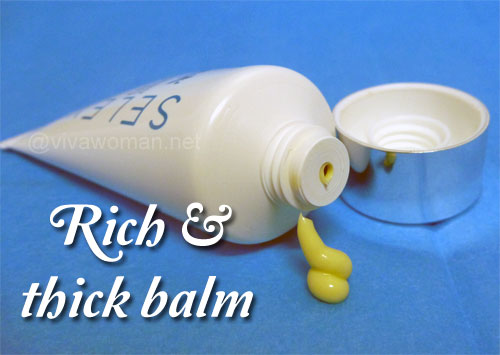 Ingredients
Ingredients: Aqua (Water), Butyrospermum Parkii (Shea Butter), Aloe Barbadensis Leaf Juice, Glycerin, Honey, Polyglyceryl-2 Dipolyhydroxystearate, Ribes Nigrum (Black Currant) Seed Oil, Nigella Sativa Seed Oil, Beeswax, PEG-22/Dodecyl Glycol Copolymer, Sorbitan Oleate, Persea Gratissima (Avocado) Oil, Oenothera Biennis (Evening Primrose) Oil, Leuconostoc/Radish Root Extract Ferment Filtrate, Lonicera Japonica (Honeysuckle) Flower Extract, Lonicera Caprifolium (Honeysuckle) Flower Extract, Populus Tremuloides Bark Extract, Centella Asiatica Extract, Calendula Officinalis (Flower) Extract, Hamamelis Virginiana (Witch Hazel) Leaf Extract, Theobroma Grandiflorum Seed Butter, Tocopheryl Acetate, Chamomilla Recutita (Matricaria) Flower Extract, Mangifera Indica (Mango) Seed Butter, Lavandula Angustifolia (Lavender) Oil, Gluconolactone, Zinc Stearate, P-Anisic Acid, Levulinic Acid, Sodium Levulinate, Sodium Hydroxide, Magnesium Chloride, Linalool, Limonene, Geraniol
Ingredients
Texture and scent
The texture of the balm is rich and a little thick. There is barely any scent when applied onto the skin. Because of the thickness and richness of the balm, I found it a little difficult to spread onto large areas of the skin, until I was able to figure the right technique. But I sometimes find I needed to use quite a substantial amount in order for it to spread quickly. It feels a little tacky during and after application but this is probably because I'm not quite used to using such products, which is unlike most liquid or oil-based body moisturizers.
How it worked for me
I applied the balm on the shins of my legs as that is the area that tends to get dry for me. I used it after showers at night in place of my moisturizers. Apart from my legs, I also used it on certain flaky patches of eczema on a few small areas on my body. While my leg did not seem to have any significant difference, I noticed that the other small flaky patches I have on my body did seem less flaky. It also acts like a protective layer over the flaky patches and upon application, those areas seemed to not itch as much, if not at all. However, I've to admit that I was using this product for some time before I realized that this might not be a moisturizer, but a product you put over dry areas on your body – which is what a balm is for! I felt really silly after that. But silliness aside, this balm is really wonderful for my dry and flaky patches. I now carry it in my bag whenever I know I will be in air conditioned place for most of the day.
Price and availability
I received this product for a complimentary review from Selexir. This item retails at 100 Euro Dollars and is approximately S$162 for a 100ml product, not including shipping. That's steep and another drawback is that the product is currently only available in Europe for now.  I was informed that it will become available to us later and so it's best to check out their website and sign up for their newsletter to keep track of the product's availability.
Overview
I have rated this product 4 out of 5 hearts because it does what it promises and it is effective in relieving dry, flaky skin. The price is very steep but because I hardly buy or come across any products that are made with eczema sufferers in mind, so I wouldn't know if this might actually be considered as reasonable for something made for a specific skin condition. Anyway, if money is not an issue for me and I have a lot to spare, I will repurchase this Peace Balm for sure!

Comments