Beauty Lunchbox Ideas: pack your own beauty lunch box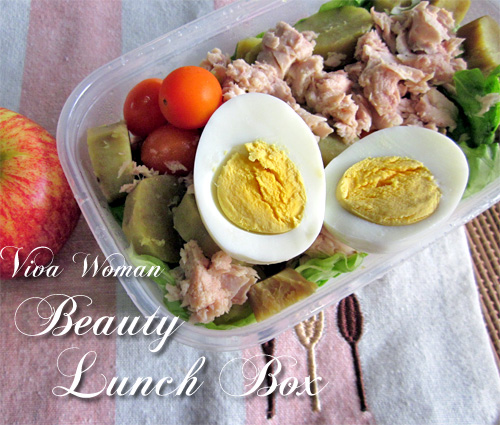 Hands up those of you who lunch out almost daily! I've got mine up. Now, hands up those of you who are concerned about the quality of lunch you're consuming daily! My hand is up too. Okay, let's face it: lunch is not an easy affair if you're thinking in terms of your beauty. Most of the time, you end up eating stuff that aren't helping your skin or your body. So wanna join me in this challenge to pack your own beauty lunchbox at least once a week? I admit it's not the simplest thing to do and so I thought we can inspire one another with some lunchbox ideas.
Easy-to-prepare beauty lunch boxes
At the moment, my lunchbox is limited to a salad. I mean, given the limited time I have each morning, I don't have much choices as to the food I can prepare. But I'm trying to be creative and have been scouting for easy-to-prepare beauty lunchbox recipes. I call mine a beauty lunchbox because I include ingredients that are beneficial for my skin. Like this one. Leafy greens with cherry tomatoes, sweet potatoes, tuna chunks and an egg. I also bring an apple.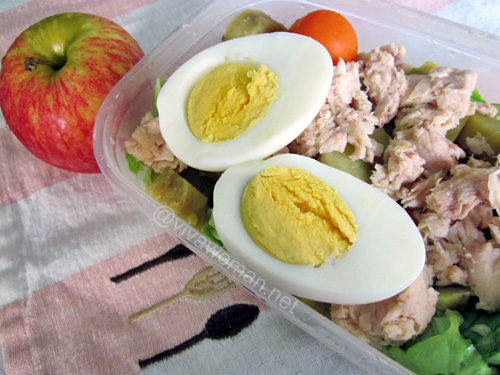 Beauty benefits of cherry tomato and sweet potato
Both cherry tomato and sweet potato are packed with large amounts of beta carotene, which is an antioxidant that can provide protection against UV damage. You don't have to cook the tomatoes and as for the sweet potato, it just needs about 10 minutes of boiling.
Balanced meal of protein, healthy fats & fiber
The other ingredients like tuna chunks and egg are great source of protein. In addition, tuna is also a good source of omega-3 fats. Sometimes I add some ham. And the green lettuce and apple provide a good source of fiber too, which promotes a good digestive system that will bring benefits to a healthy, radiant skin.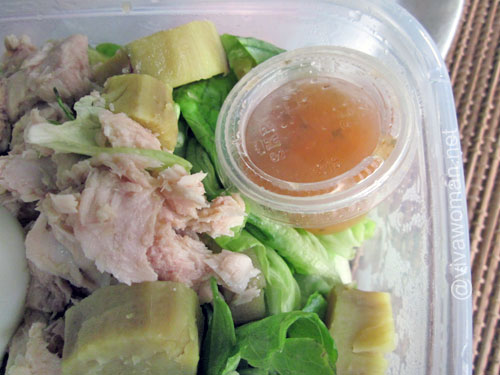 Use a non-fattening dressing
I do add an Italian dressing to make my salad tasty. That's definitely not fattening like a cream-based dressing. Oh, and with a salad, you need to ensure you can store it away in a fridge.
Looking for pretty lunch boxes
To inspire myself to pack my own beauty lunchbox frequently, I'm looking into getting some nice lunchboxes that'll allow me to keep my food either chilled or warm. If you know where I can get my hands on pretty boxes that won't cost me an arm and a leg, do let me know. I'm already thinking about those from Shinzi Katoh!
Over to you
So ladies, are you ready to take up this challenge? Is this something you're inspired to do? And do you have any healthy beauty lunchbox ideas or recipes to share with me?
Comments