Beauty Lunchbox Ideas: 5 Easy Sandwich Recipes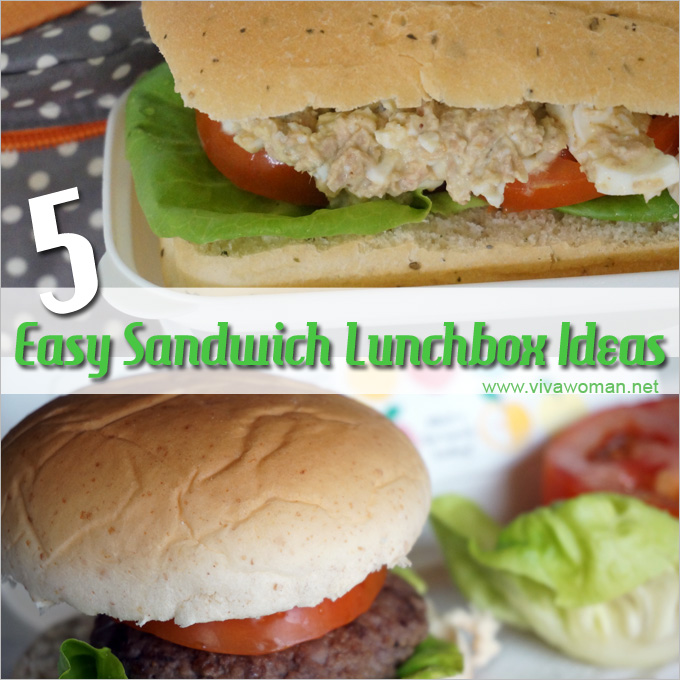 Six months down the road and I'm still not done with my beauty lunchbox series. In fact, it is here to stay, especially now that I've been officially initiated into a club for those of us who pack our own lunch to work. Some of my colleagues have even gone as far as "cooking" their meals in the office. Don't ask me how they do it but for me, I prefer to prepare my food at home. I admit it can get a bit rush on some mornings so for days when I'm pressed for time, I'll just prepare a sandwich.
So today, I'm going to show you five easy sandwich recipes. Okay, two of them are not sandwiches but they are bread recipes which you can easy improvize into a sandwich. I like my sandwiches with a variety and so I try to use different types of bread like baguette, panini or even a hamburger. I suppose it'll be much healthier if I were to bake my own bread but until I do, all the bread you see in this post are by Gardenia bought at the supermarket.
Although what you see in these pictures are ready made sandwiches, I usually pack my bread and ingredients separately. If you know sandwiches, they taste a lot better when freshly made.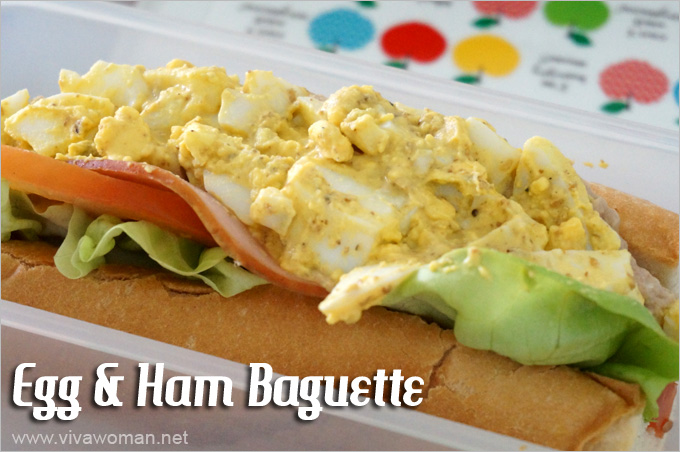 Egg & Ham Baguette Sandwich
Like in this case, all I need is to prepare a hard boiled egg and bring it to work together with the ham, the vegetables and the baguette. To make the sandwich tasty, I'll lightly toast the baguette. Meanwhile, while waiting for the baguette to be ready, I have the egg mashed and mixed with some Mizkan Sesame Sauce (click here to see the sauce), pepper and salt. Once the baguette is ready, I just stuff everything in together with some leafy vegetables and slices of tomatoes. Yum factor? 10 out of 10!
Preparation time: 10 minutes

Tuna & Egg Panini Sandwich
Instead of baguette, I use panini this round but the preparation process is similar. The only difference is that I mix tuna with the mashed egg. You can put in anything you like. These just happen to be what's available in my kitchen on that day.
Preparation time: 10 minutes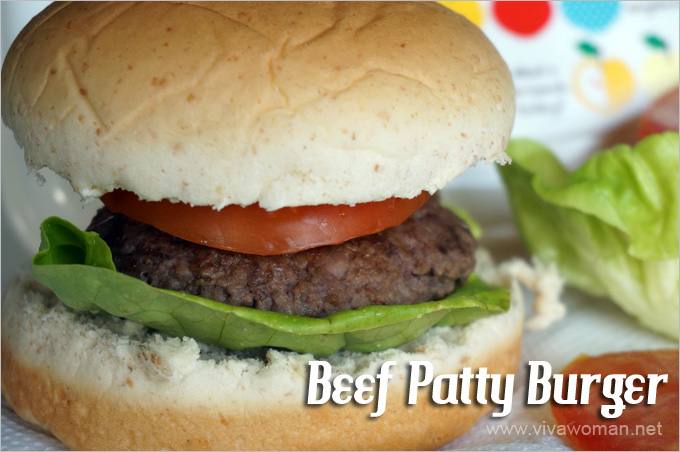 Beef Patty Burger
This one requires a little bit of preparation at home. The patty, made using minced wagyu beef, chopped onions and seasoned with pepper, is lightly pan fried for around 5 minutes or so. When lunch time comes, it's warmed up in the toaster and added to my lightly toasted burger along with green leafy vegetables and tomatoes. Sometimes I'll eat it plain but sometimes I'll spread some ketchup to make it more tasty.
Preparation time: 15 minutes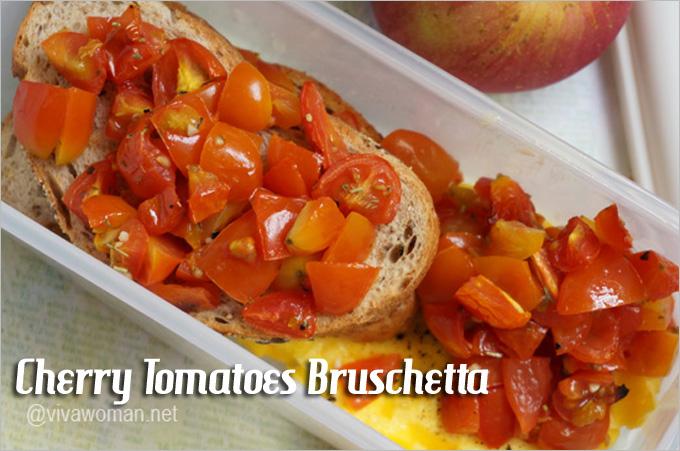 Cherry Tomatoes Bruschetta
This is a simplified version of a bruschetta and all I did was to chop up some cherry tomatoes and stir fry them with olive oil, garlic, and Tuscan spice. You can add other stuff like onions and capsicums if you like. Also, these ingredients can be used with a baguette or a panini. It's really up to you. Technically, this isn't a sandwich but it can be once you top it up with another piece of toast!
Preparation time: 15 – 20 minutes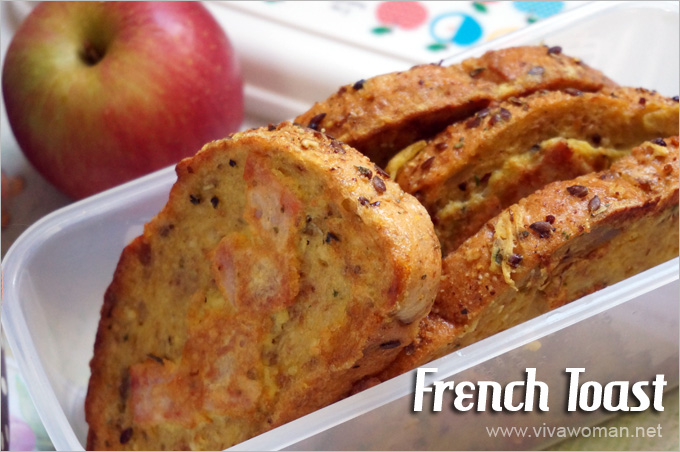 French Toast
French toast really taste nicer with white bread but because I don't buy white bread at home, I used my multigrain bread instead. So these are prepared at home, pan fried with beaten eggs and some cut up ham. It's a bit tough but doesn't taste too bad. I could improvize it into sandwiches by adding something else in the middle of two french toasts.
Preparation time: 15 – 20 minutes
Be creative
If you're thinking of packing your lunchbox and don't know where to start, start with sandwiches! They're easy to make and pretty filling. There are a variety of bread you can choose from in the supermarkets and you can basically add any ingredients you like. Make a 100 percent vegetarian sandwich if you like or try an smoked salmon sandwich if you have a fridge at the workplace to store the ingredient. I don't like to eat my food cold but if I were to eat a smoked salmon sandwich, I'll probably just take the salmon out of the fridge 15 minutes before lunch time.
I won't eat sandwiches every day but once or twice a week with different choices of bread and ingredient is good by me. But hopefully, I'll be able to get down to baking my bread one of these days. When I do, I certainly won't mind eating them more frequently.
Do you pack sandwiches to work or to school? If you do, do share with us your sandwich recipe.
Comments