Germ-killing & mood-lifting essential oil towelettes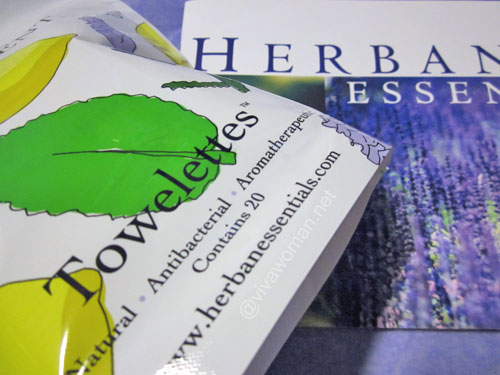 I love novelty items. Better still if they smell good. So my interest was naturally piqued when I was asked to review these Herban Essentials Essential Oil Towelettes. Wipes that contain essential oils? They certainly look like something simple that can make me happy. And it helped that each towelette came wrapped in a clean but cute looking pack.
Made with pure grade essential oils
The Herban Essentials Towelettes are essential oil towelettes and are available in essences of orange, lavender, lemon, peppermint, eucalyptus, Pet and Yoga. They are made in the US and according to the company, using only the highest quality, 100% pure, therapeutic grade, steam distilled or cold pressed essential oils. All towelettes contain three ingredients: water, the respective essential oil and Tween 20, which is a natural fruit sugar emulsifier that is derived from olive oil and fruit sugars to keep the essential oil and water mixed in the towelette. No alcohol is included and the towelettes are stated to be cruelty free and never tested on animals.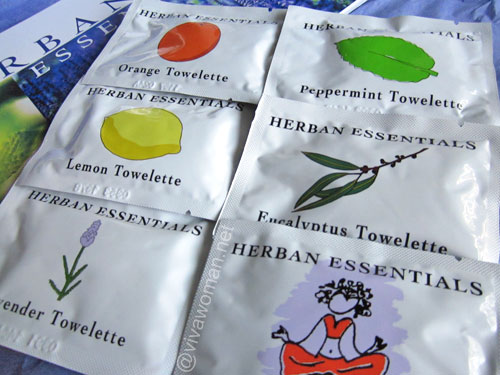 Germ-killing and mood-lifting
These essential oil towelettes are not just naturally germ-killing, they are mood-lifting! I love the various scents and they don't just make great hand wipes, but also refreshing on the neck or arms on a hot day. Now, they're recommended for the face as makeup removers too but I'm not in the habit of using wipes on my face. And unlike the wipes I've tried before that are usually quite wet and kinda sticky, these are not dripping wet but damp enough for wiping purposes.
Scent lingers for quite long in an enclosed space
Because each towelette is individually packed, they're handy everywhere you go. I noticed that the smell of the essential oil doesn't linger long on my hands but the smell lingers quite long in an enclosed air-conditioned room. I passed some of the towelettes to my colleagues to try and they were not only impressed with the quality, but most impressed that the scent remained in the room for more than two hours. And of the wipes, the Lavender Towelettes are strongest in terms of smell and staying power. I personally dislike the scent of the Peppermint Towelettes.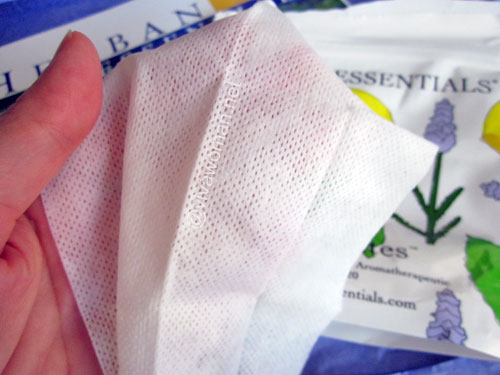 Soft and sturdy
According to one of my colleagues who tried the towelette, the quality of these are better than those she has tried. They're soft and nice to use, and I actually found it a pity to use them just once and throw them out. So I tried washing them and recycling for other household purposes and they do withstand some hand washing. Okay, that's just me because the whole idea of these towelettes is that you are supposed to discard them after use.
Double up as toilet seat wipes
But what I like about them is that because their uplifting scent, they're great to bring along in crowded places where smell can get unbearable. I think these can also double up as toilet seat wipes after you've used them on your hands. I definitely need them for times of emergencies when my child needs to use a public toilet urgently.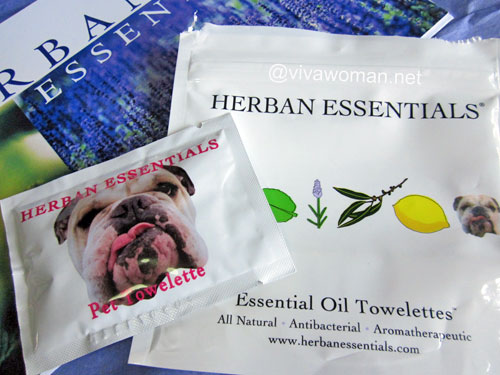 Can be used on pets
Interestingly, there is also the Pet and Yoga version of the Herban Essentials Essential Oil Towelettes although they both contain lavender essential oil. I guess it's a marketing spin to make the products more attractive to consumers. I do not have a pet and have no idea if they would like to be wiped with these towelettes as they're recommended as wipes for their ears, scrapes or skin irritation to disinfect, promote healing and prevent licking.
Pricing and availability
Herban Essentials Essential Oil Towelettes are available from the online store or selected locations in US. A bag of 20 towelettes will cost you US$15 or if you just want to try, you can grab the mini-pack of 6 towelettes per bag at US$6. For more information, check out their website. You can also purchase them from Amazon and for those in Singapore, these towelettes are being retailed at Bellabox.sg for S$18 per pack of 20.
Comments