Share: do you like using makeup remover wipes?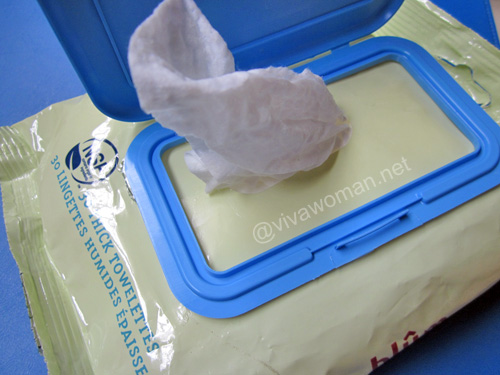 I can certainly understand why makeup remover wipes are popular with ladies, given how convenient they are especially during times of emergencies. Some people have told me that if you have no time to wash your face, these wipes do come in handy. But I hardly ever use them because I just don't like them much. I think the scent of the wipes just turn me off. That, plus the fact that I tend to associate wipes with babies' bottoms. (U_U)
Less synthetic ingredients
But I decided to order these makeup remover towelettes from Blum Naturals because the ingredient list look more agreeable to me – alcohol-free, paraben-free, fragrance-free, SLS free, and free of most synthetic preservatives.
Ingredient list
Aqua (water), Decyl Glucoside**, Organic Chamomile Extract*, Organic Aloe Vera Extract*, Organic Ylang Ylang Oil*, Organic Cucumber Extract*, Gluconolactone***, Sodium Benzoate***, Glycerin*.
*Plant Derived **Sugar Derived ***Naturally Derived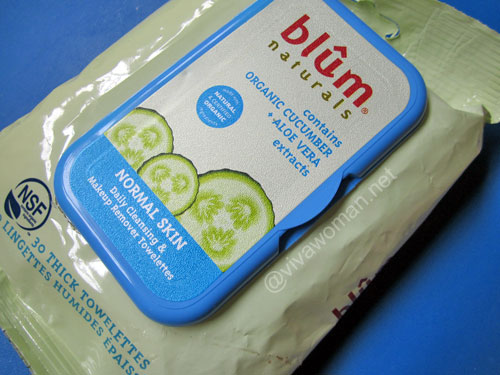 Infused with natural botanicals
These normal skin towelettes are infused with natural and organic botanicals that removes eye & face make-up. Although they do a decent job of cleaning my face, I find them kinda dry compared to others I've tried.
May not be so great when used long term
Since these are towelettes, I have to use them to wipe away whatever impurities are on my face. Sure, they're soft but there's a bit of rubbing of the skin if you really want to remove the makeup and impurities on your skin thoroughly. So I'm not sure if they're all that great for our skin when used in the long turn.
Over to you
So how about you ladies? Do you have a habit of using makeup remover wipes? Which is your favorite then? Or are you like me, preferring to avoid using them as far as possible?
Comments