Brown rice: keeps my acne and weight under control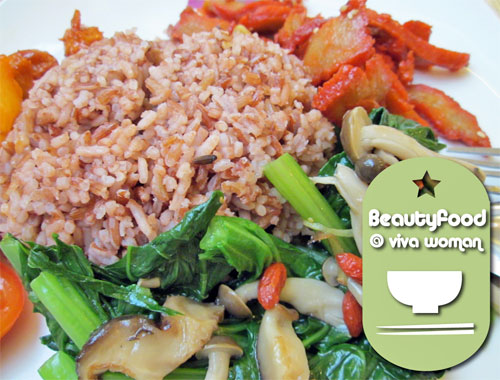 For the past three to four years, I've been eating mostly brown rice especially during dinnertime. Because of the increased fiber content that encourages my digestive system to function better, I find that it helped contribute to clearer skin especially during the period when I had a bad acne flare-up. And despite the somewhat bland taste, I continued eating brown rice because it contains amino acids which are very useful in helping rebuild skin tissues.
Contains more nutritional value
For those who don't know, the difference between brown rice and white rice is not just color. Unlike white rice, brown rice still has its outer covering of bran intact. Only the hull is removed and this process is the least damaging to the nutritional value of the rice. This is why brown rice is classified as an excellent source of manganese, and a good source of the minerals selenium and magnesium. It has three times as much fiber as white rice and the bran layer also contains key minerals which are beneficial to skin health, such as zinc and magnesium.
Provides a powerful source of phytonutrients
More interestingly, research reported at the American Institute for Cancer Research (AICR) International Conference on Food, Nutrition and Cancer, by Rui Hai Liu, M.D., Ph.D., and his colleagues at Cornell University shows that brown rice contain many powerful phytonutrients with health-promoting activity equal to or even higher than that of vegetables and fruits (source:WHFoods).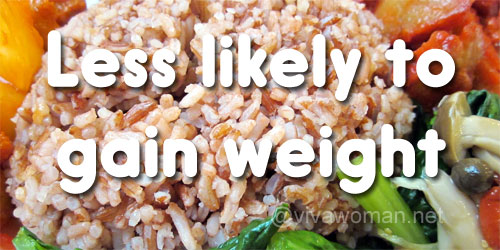 Helps keep weight down
And besides being a great skin food, WHFoods also quoted a study published in the American Journal of Clinical Nutrition that underscores the importance of choosing whole grains such as brown rice rather than refined grain, i.e., white rice, to maintain a healthy body weight.
In this Harvard Medical School / Brigham and Women's Hospital study, which collected data on over 74,000 female nurses aged 38-63 years over a 12 year period, weight gain was inversely associated with the intake of high-fiber, whole-grain foods but positively related to the intake of refined-grain foods. Not only did women who consumed more whole grains consistently weigh less than those who ate less of these fiber-rich foods, but those consuming the most dietary fiber from whole grains were 49% less likely to gain weight compared to those eating foods made from refined grains.
Well, this could be the reason why I've been so slimmed even though I eat a normal amount of food and I don't exercise at all.
Try a brown rice detox
If you have acne issues, you may want to consider switching from eating white rice to brown rice. At one point, I actually did a detox and I ate mainly brown rice with simple vegetable dishes. I'm currently using the short grain brown rice from Origins Just Natural Brown Rice from Australia, which does not require me to soak at all. In fact, I cook brown rice like I do with white rice except that I add slightly more water. In the picture you see in this entry, this is what I call the Asian brown rice which looks a lot redder. I don't cook this variety but this is something I order when I'm out eating at some vegetarian stalls that offer choices of white and brown rice.
Get use to the taste
Having eaten brown rice for a few years now, I actually love eating it. The taste is something you'll get used to quickly and it isn't all that bad. However, I've got to admit that certain dishes do not taste that great with brown rice. Curry is a prime example!
So are any of you eating brown rice regularly and loving it?
Comments