Clean Eatery: Build Your Own Healthy, Hearty And Hero Bowls At Grain Traders

Have you noticed more and more clean eateries are springing up in Singapore? We definitely have better choices for healthier meals these days. Now who says eating clean is just a food fad?
I don't know about you but I'm delighted with the change in our eating scene. So much so that I've decided that I want to feature some of these eateries whenever I can. I mean eating healthy is part of clean beauty right?
And to kick-start the series, let me bring you to Grain Traders which began business at CapitaGreen Building in late 2015 and now operates a second store at 100AM Mall.
At first impression, Grain Traders looks like a typical hip salad joint. Technically, it is but this is also a food eatery that aims to feed people right with their healthy and hearty comfort food comprising a mixture of grains, veggies, and proteins with unusual toppings and exotic sauces.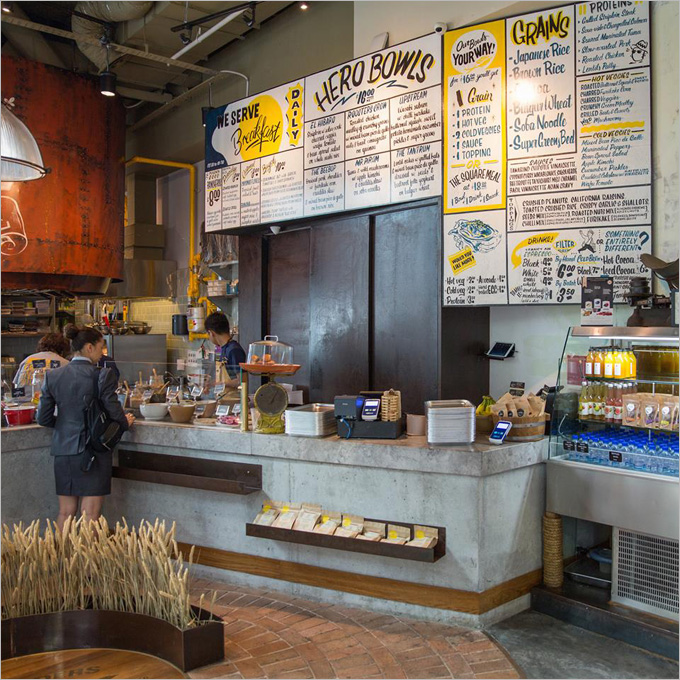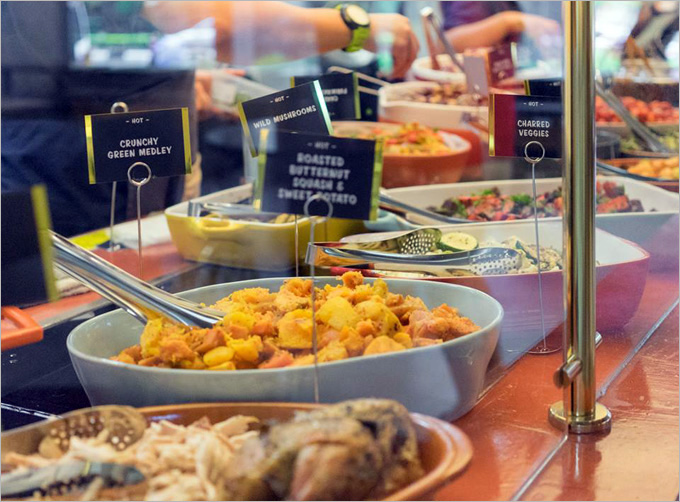 Signature bowls or build-your-own
Once you step inside the eatery, you could either feel frenzied or bulldozed after seeing the medley of food. For someone like me who is always clueless when it comes to variety, I felt completely lost and overwhelmed, not knowing what or how to order.
But Grain Traders obviously knows better about people like me. That's why they've introduced signature hero bowls like The Beehop, Rooster's Crow, Upstream, The Tantrum, Mr Pirom, and El Hibaro. The names are appealing. Choices are narrowed down. The ordering process is simplified. And you'll feel far less intimidated if you're anything like me.
Of course, if you are more adventurous and you want to be different, you can create your own bowl by choosing what you want in yours. Add whatever you want. Make it real colorful. I admit the concept is fun and it's something I'd want to try another time, when I've become more comfortable to experiment.
Anyway, I visited Grain Traders once with my colleagues and I do want to visit them again soon. I love the ambience and the food they serve is right up my alley. In fact, I've been reminiscing about their bowls since my last meal there. Now, exactly what have I eaten?
I ordered Upstream which came with wasabi salmon with chili furikake, butternut squash, sweet potato, homemade cucumber pickles, and super greens (like kale). I think I might have added cherry tomatoes…I can't remember.
A signature hero bowl starts from S$16 and cost more with every add-on. Or should I say S$16 gets you one grain, one protein, one hot veg, two cold veggies, one sauce, and one topping. I think the price is fairly reasonable given the quality and freshness of the food. Plus you actually get a lot in one bowl so a meal is very filling. Only thing is nothing in there is organic as far as I know.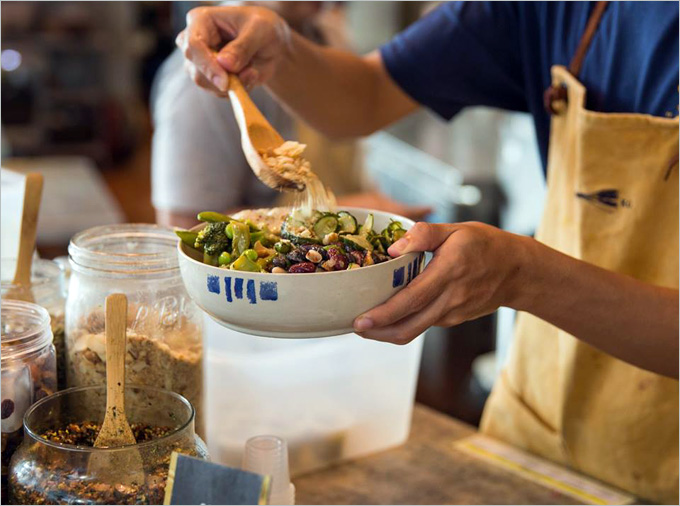 Eat in, takeaway, or home delivery
If you're building your own bowl, you can choose from different kinds of grains like Japanese rice, brown rice, quinoa, bulgur wheat or soba noodle. Those of you who dislike eating cold veggies can choose hot ones instead–like roasted butternut squash and sweet potato, charred veggies, grilled beets and carrots, wild mushrooms, and charred furikake corn.
What's interesting for me was their interesting sauces like tarmarind chipotle vinaigrette, coconut curry, wasabi sauce, beetroot feta yogurt, miso caramel, kaffir lime vinaigrette, and Asian gravy. Definitely not your normal salad sauces.
Grain Traders also serve porridge and oatmeals for breakfast, on top of polenta eggs and bagels. I haven't tried them but they sound really wholesome and nutritious. Maybe some of you have tried and if so, do share your review.
Their outlet at CapitaGreen Building (138 Market Street #01-01/02/03, Singapore 048946) serves breakfast, lunch and dinner from 8am to 8pm on Monday to Friday. You'll be surprised that many don't mind paying a bit more to get healthy food as it gets pretty crowded with the office folks during lunch time. I don't know about dinner time but I suspect it's as crowded.
I haven't been to their second store at 100AM Mall (100 Tras Street #01-03/04, Singapore 079027) that just opened in August but it's larger and is operating daily, even on weekends (Monday to Friday from 8am to 8pm but weekends from 11am to 8pm).
And those of you who are not keen to eat at the outlets have the option to take away your order or request for a delivery. So clever these traders…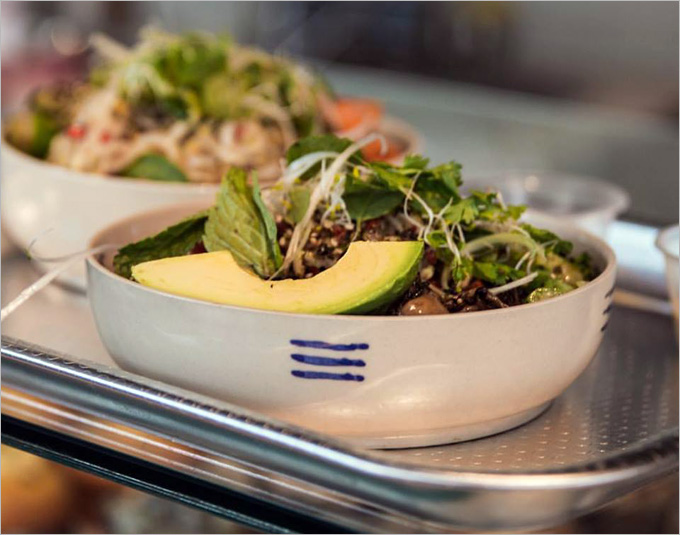 Sample different bowls with friends
Anyway, because of the variety, I would recommend you visit Grain Traders or order their food with a few other people. That way, you can sample the different food and share the love.
Besides the food bowls, you'll also find a tempting array of sweet treats to round up your meal. If sweet is not your thing then there's always coffee. I was told their coffee is to die for but I have no idea and will never have because I don't drink coffee at all. But I do know they have filter brew and cold brew, whatever that means.
Like I'd mentioned, I love the food at Grain Traders and can't wait to visit them again. Heck, I'm even inspired to do my own hero bowl. Well, let's see if I concoct yummy sauces but first, let me go find an interesting handcrafted bowl first. Heh.
Level of service? Well, the staff were very helpful and friendly so I would say it's good. Obviously I have to visit them more often to know for certain if their standard is always above expectations.
Location
Grain Traders is located at:
#01-01/02/03
138 Market Street
CapitaGreen
Singapore 048946
#01-03/04
100 Tras Street
100 AM Mall
Singapore 079027
Look up full menu at their website.
So any of you tried Grain Traders yet? Loving it? Any favorite hero bowls that you simply can't resist?
This is an independent review and I paid for my food. The pictures you see here are taken from Grain Trader's Facebook page because I didn't have my camera with me when I last visited. Well, I wasn't intending to review but it's too interesting not to share the love. ?
Comments