Arm candy: handmade fashion bracelets & bangles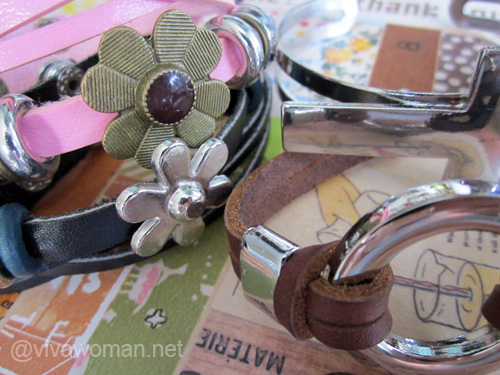 I recently decided to shop for more bracelets and bangles to dress up my bare wrist. Okay, I know that chunky bangles are in but they don't look too good on me – I'll probably end up having to hold my hand constantly at 90-degree angle just to prevent them from dropping off. So I got these instead because they caught my eye and were wallet-friendly.
I love shopping for handmade accessories on Etsy because of the varied choices and I found this shop selling rather cool looking bracelets and bangles for under US$10. The shipping cost was also reasonable as the shop is based in China. So here are my loot.
This girlie pink leather bracelet is just eye catching but not too loud. A few more colors are also available – like green, yellow, white, and blue.
My favorite of the lot I picked. Black is always easy to coordinate. This is even work safe for me.
Okay, I was disappointed with how this bangle looked on my wrist. I think it'll look better on a bigger wrist. Anyway, it's just US$8 including shipping and so it's not a problem even if I end up not wearing it.
This bulb cuff bracelet is totally cute! What an idea! And it's only US$4 with shipping factored in!
Okay, this isn't handmade and it isn't from Etsy but from ASOS. But it's a cuff bangle nonetheless. Again, it looked better on the model's than on mine. I really need a fatter wrist!
Stacking different bangles and bracelets can be a little tricky to coordinate and can end up looking really off if you're not careful. So one of the ways to coordinate is via the same color tones or same design like what I've got here. Yeah, I'm having a mini arm candy party fun!
Comments