Luzern Serum Absolut – Vanish tired looking eyes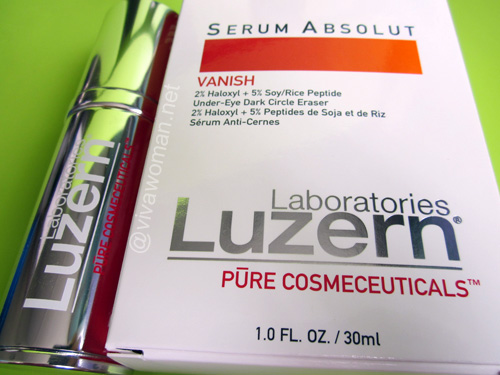 Apart from the Luzern Pure Cleansing Creme and Gelee that were sent to me for review, I also received the Luzern Serum Absolut – Vanish, which is really an eye gel. I'm quite keen to test out eye products for the reason that that's my most challenging area and it's very hard to find something that works. My primary concern with my eye area is my eyebags, followed by my crow's feet. My undereye dark circles aren't as bad but I would be happy to find something that eliminates them.
Reduce dark circles and puffiness
So the Luzern Serum Absolut – Vanish is really a 2% Haloxylâ"¢ + 5% Soy/Rice Peptide Under-Eye Dark Circle Eraser. It is described as a sophisticated undereye care that neutralizes visible discoloration, puffiness and inflammation. The product apparently works to brighten the eye area and reduce the appearance of dark circles and hyper-pigmentation by decreasing capillary permeability and inhibiting tyrosinase. It also diminishes puffiness by improving lymphatic micro-circulation and inhibits inflammation and swelling from rubbing, surgery, allergies, etc. All in all, it is supposed to erase signs of fatigue so eyes look fresher and more youthful.
Suitable for sensitive skin
Like all other Luzern products, this is formulated without parabens, sulfates, propylene glycol, synthetic fragrances, synthetic dyes, petrochemicals, phthalates, and GMOs. Even though it contains potent antioxidants, it is described as being suitable for all skin types, including sensitive and rosacea-prone.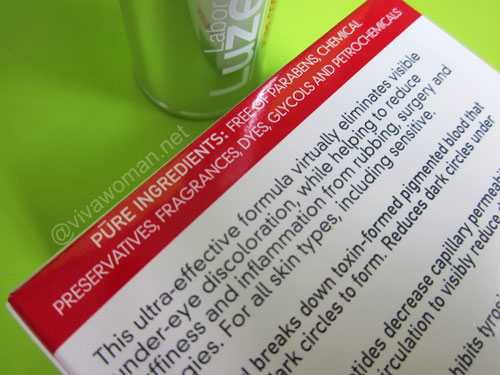 Luzern Serum Absolut – Vanish | 30ml, S$160
The texture of this serum is very watery and I had some difficulties dispensing the right amount initially. I can't really smell anything distinct with this product but the early stages when I used this, I felt a slight tingling sensation around my eye area. It worked well for my delicate eye area though, causing no redness, irritation and it is also not greasy or sticky. I kinda like it and have been using it for slightly over 6 weeks now, both AM and PM.
Helps to make my eyes look less tired
I think it delivers what it promises to some extent for me as I noticed that my eye area is not as puffy before. It actually seems to work better than the other eye products I've tried in reducing the puffiness. As for dark circles, I really can't tell. But as a whole, I do think my eyes don't look so tired on most days unless of course I'm lacking in sleep or rest. But overtime, I realized that this product is best used in the morning because I need something more moisturizing in the night as this serum does not aid in reducing fine lines or wrinkles around my eye area.
Ingredient list
Organic Aloe Barbadensis Leaf Juice, Purified Water, Vegetal Glycerin, Algae Extract, Organic Arctostaphylos Uva Uris Extract, Epilobium Angustifolium Extract, Sodium Ascorbyl Phosphate, Salix Alba Bark Extract, Oxido Reductases, Soy Peptides, Aesculus Hippocastanum Extract, Organic Edelweiss Extract, Cupressus Sempervirens Seed Extract, Wasabia Japonica Root Ferment Extract, Organic Camellia Sinensis Extract, Linden Wood Extract, Hydrolyzed Rice Bran Extract, Panthenol, Organic Echinacea Purpurea Extract, Saccharomyces Lysate Extract, Organic Buddleja Davidii Extract, Organic Thymus Vulagaris Extract, Glucose, Glucose Oxidase, Lactoperoxidase, Lecithin, Swiss Mountain Water, Panthenol (Vitamin B5). Plant Extracts Certified Organic BIO-SWISS/ECOCERT.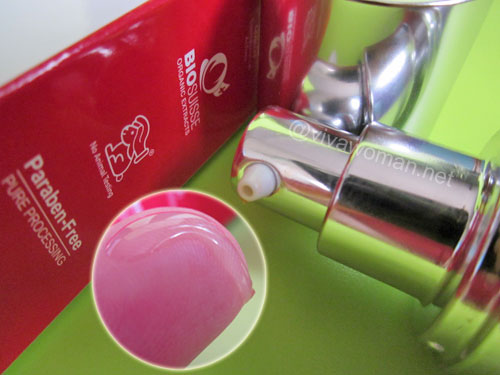 Availability
Luzern Pure Cleansers are available both online and offline at various locations:
– naturelova.com
– Zalora.com
– Luxola.com
– Superberry @ #03-29 Orchard Central
– Nourish Naturally @ 215C Upper Thomson Road
– My Type Store @ #B1-83E Parkway Parade & #B2-15 Raffles City Shopping Centre
Discounted price at S$144
The price point is a bit steep but the 30ml is probably going to last me quite a while. I mean, most eye products do take forever to deplete. Anyway, if you're interested to check it out, naturelova is offering the Luzern Serum Absolut – Vanish at S$144 instead of $160.
Facial promotion
Those who are into facials may like to know that the Luzern Bio-Swiss Oxygen Facial Treatment is available at Nourish Naturally, and they are currently running a Buy 1 Get 1 Free Launch Promotion. For more information on the promotion, check out the website.


Comments