10 lesser-known reasons your eyes look puffy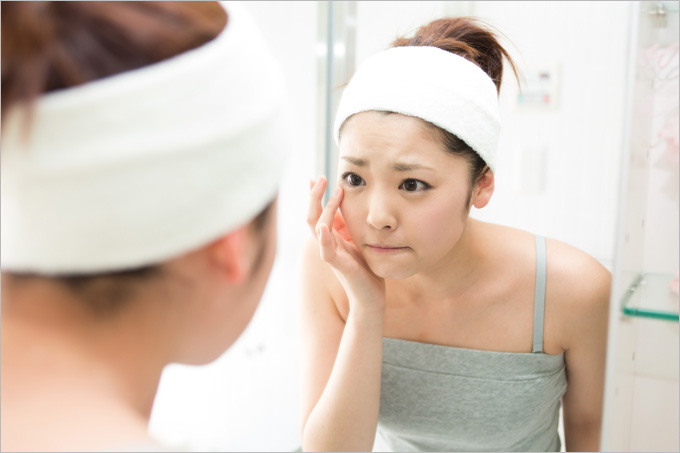 Are puffy eyes cute? Not to me. They can make a woman look older or tired. So what's the reason for getting them? I think it's common knowledge that drinking too much water in the night before bedtime causes your eyes to look puffy in the morning. And I'm sure you already know that crying causes puffiness too. But if you haven't been doing either and yet your eyes look unusually puffy, there could be other reasons.
Puffiness is caused by an accumulation of fluid and unfortunately, the skin around our eyes tend to be so thin that any collection of fluid shows up as puffiness. Here are some other reasons that may be causing your eyes to look puffy:
1. Having hormone fluctuations?
Puffiness around your eyes could also be due to hormone fluctuations, causing the body to retain more fluid than usual. Hence, for some women, your eyes may look more puffy just before and during your menstrual period. The same is true if you're pregnant. In this case, the puffiness will go away as soon as your hormones normalize.
2. Using a heavy eye cream?
Ironically, your eye cream maybe the culprit for your puffy eyes. How so? Well, if your eye cream is too rich, the heavy oils can migrate into the eyes while you sleep and cause your eyes puffiness when you wake up in the morning. So it's best to avoid eye creams that are too heavy and also not to apply them too near the lash line.
3. Sleeping on a flat pillow?
A flat pillow can cause fluid to pool around your eyes and the expert advice is to sleep on a higher pillow as it allows your head to be elevated to allow for better circulation and to prevent fluid from collecting around your eyes. The only drawback is that a higher pillow may cause your neck some discomforts.
4. Not sleeping on your back?
I advocate sleeping on your back a lot because this is the best position to help preserve a youthful looking complexion as you are not persistently pressing your face into a pillow to encourage facial crinkling. Well, one more benefit to sleeping on your back is that gravity does not route fluid directly to your eyes.
5. Eating foods that are too salty?
Salty food increases fluid retention as the body can only store salt in fluid suspension. So if you have a habit of feasting on processed food high in sodium especially prior to going to bed, you may find yourself waking up to a set of puffy eyes due to swelling of your eye tissues.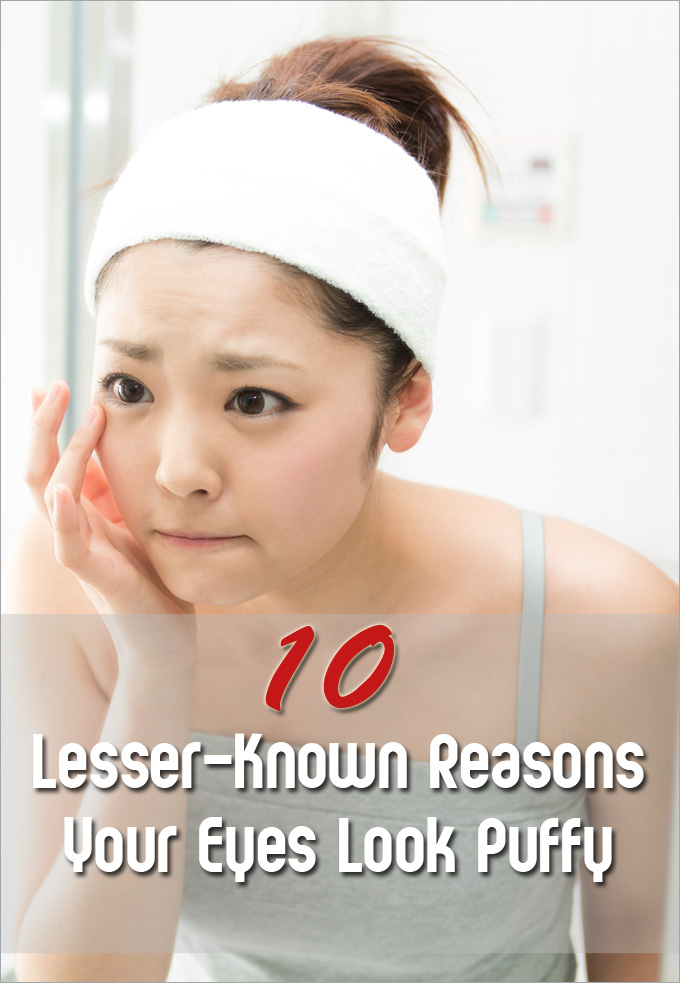 6. Suffering from medical disorders?
If you have health issues such as sinus, chances are, you'll have puffiness around your eyes. Another possible issue could be edema, which is swelling caused by a collection of fluid in the small spaces that surround the body's tissues and organs. Health problems related to hormonal imbalance can also cause puffiness.
7. Not drinking enough water?
Although puffiness could be due to drinking too much water before bedtime, not drinking enough water can also cause your eyes to be puffy. This is because when your body starts to dehydrate, it attempts to store extra water by retaining fluid, which in turn can lead to puffy eyes.
8. Drinking too much alcohol?
Related to point 7, alcohol can cause dehydration in your body too and as a result, puffiness in your eyes. In fact, alcohol is generally not recommended for women who really want to take care of their skin.
9. Contact lenses irritating your eyes?
Your contact lenses could be a culprit for causing your eyes to look swollen than normal if it is causing irritation. Usually, the swell is in your eyelid and even then, that can cause your eyes to look puffy!
10. Genes or age?
Some people are born with naturally looking puffy eyes or very heavy eye bags. So for these people, they can't really do anything to reduce the puffiness other than going under the knife. Your skin also loses its elasticity as you get older causing the eyes to be more susceptible to swelling. Puffy eyes, especially under your eyes could be a sign of natural aging. Not much you can do unless you go for an eye tuck.
Good thing many of the reasons I've listed can be remedied and unless your puffy eyes are a result of genes or age, they are not here to stay for long. Some products can reduce puffiness in the eye area to some extent and I've also found drinking a hot cup of tea every morning helps mine.
So do you have an issue with puffy eyes? Can you identify with any of the reasons listed above? Tell me!
Comments