VMV Hypoallergenics Skin-Specialist: safe skin haven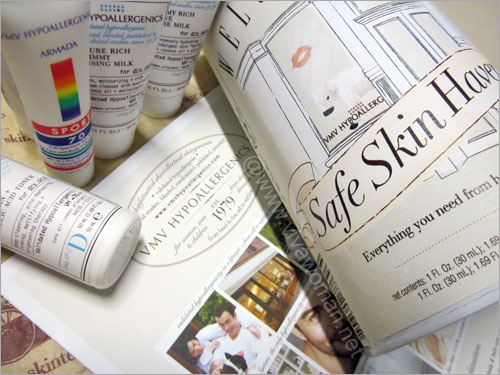 I was pretty excited to learn that VMV Hypoallergenics Skin-Specialist Boutique has opened at ION Orchard. Although this is the first time I'm learning of VMV, this cosmeceutical brand with the world's only validated hypoallergenic rating system has actually been around for over 30 years since 1979. And given that a number of you have told me that you've got sensitive skin, I'm guessing that skin care solutions that are safe and boast of a rate of less than 0.1% reported reactions with a rating system that show the number of allergens absent might get your interest too.
Back by evidence-based studies
With a wide range of hypoallergenicity-validated products to attend to every need of men, women and children of all ages, I've learnt that VMV Hypoallergencies is included as a safer product alternative in CAMP, the Contact Allergen Management Program of the American Contact Dermatitis Society. Their claims are also said to be backed up by evidence-based clinical studies. So VMV products are said to be as skin safe as you'll ever see: Validated Hypoallergenic VH -76 (sans all 76 common allergens).
All ingredients tested for skin safety
Each individual raw material, ingredient, brush—every little thing that goes into or touches a product, and the product itself—is patch tested for skin safety in addition to what is described as a "dizzying barrage" of clinical tests, both in laboratories (in vitro) and on volunteers (in vivo), but never on animals. Plus, the non-comedogenic products are free of fragrances, dye, parabens, preservatives and phthalates.
Global presence
Besides Singapore, VMV Skin-Specialist Boutiques can be found in the United States, Italy, Mexico, Philippines, Thailand, and the Middle East, and its products are a Hollywood-favourite amongst celebrities such as Jennifer Garner and Selma Blair. It's apparently popular and the brand has been featured in international magazines and TV programmes like Allure, Elle, Teen Vogue, Nylon US, Harper's Bazaar, Fox News and NBC's The Today Show.
Store impression
I couldn't attend the media launch but I did pop by the store as a browsing customer about a week ago because I was in the vicinity. Well, I was surprised that it's quite a boutique store in terms of its limited space and if I hadn't read about the store concept, I really couldn't tell how different their products are, compared to some of those available in the market. You can say I wasn't really impressed. But to be fair, I was browsing really quickly and was only specifically interested in their liquid foundation.
Liquid foundation with SPF60
I'm on a hunt for a good natural liquid foundation but I held back my purchase because I wasn't sure how the high SPF would complement my sunscreen. Anyway, it's a good thing I didn't buy the bottle at S$66 then because I realized that I now have a voucher to offset the purchase – which means, less heartache if the product turns out unsuitable for me.
Alcohol in some products
Meanwhile, I've received a bunch of samples, which I'm not keen to try because of some of the ingredients I spotted like paraffin, SLS and alcohol. I was kinda surprised that some of their products contain a high content of alcohol and the alcohol scent is rather strong too. If the products are all tested for safety, then this naturally implies that alcohol is skin safe. Well, whether or not it's backed by studies, I'm still not keen to try products with a high alcohol content because I find them drying out my skin over time.
Availability and pricing
You can find VMV Hypoallergencies Skin-Specialist Boutique located at #B3-48 ION Orchard. Prices of their products start from S$15 for a soap and above S$100 for a facial serum.
Comments