Sukin Sensitive Cleansing Lotion & Cleansing Gel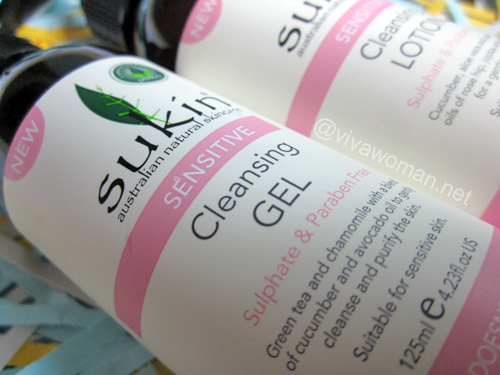 I wonder how many of you remember when I used to rave about Sukin Organics product range back in 2008. In fact, I was pretty enamored with the Sukin Organics Foaming Facial Cleanser and had used up quite a few bottles during that stretch. But actually, if you've seen Sukin, you'll know what I mean when I say the brand is unexciting but yet appealing. I mean, it doesn't feature any interesting ingredients nor is it a cult brand but somehow, the simple natural concept, affordable price plus easy accessibility work together to give this brand a certain mass appeal.
Three products formulated for fragile skin
So I was naturally keen to try Sukin Sensitive when a few of you mentioned it here. This range, which comprises three products – a cleansing lotion, a cleansing gel and a moisturizer – is introduced for those with fragile skin conditions such as eczema, psoriasis, rosacea and dermatitis. In addition to being free of sodium lauryl sulphate, mineral oil, parabens, harsh detergents, animal derivatives, artificial fragrances or colours, the range uses selected actives of chamomile, aloe vera and cucumber to calm, soothe and balance such fragile skin.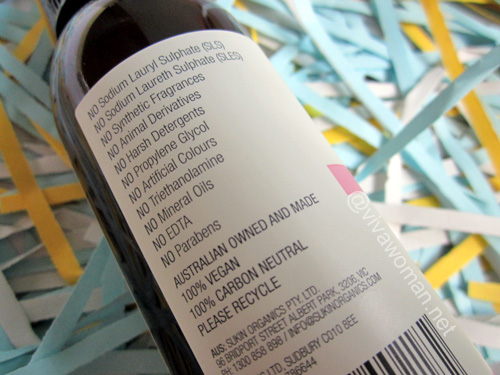 Purchased both cleansers
Because I don't have a habit of using a facial moisturizer in the day and I need something with anti-aging properties in the night, I decided to skip the Sukin Sensitive Moisturizer and just picked up the Sukin Sensitive Cleansing Lotion and Sukin Sensitive Cleansing Gel for my double cleanse routine. The three products are available at S$14.90 at Watsons and I got both the cleansers at a 20% discount. The items seem to be fast moving because the cleansing gel was down to the last bottle when I spotted the range. That, or the distributor had deliberately put out limited bottles to test the market.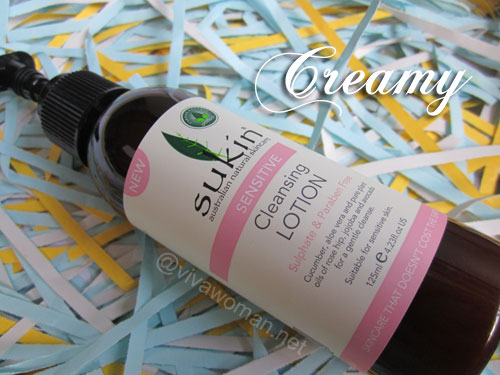 Sukin Sensitive Cleansing Lotion | 125ml pump, S$14.90
Ingredients: Aqua, Aloe Barbadensis Leaf Juice, Sesamum Indicum (Sesame) Seed Oil, Cetearyl Alcohol (and) Ceteareth-20, Cetyl Alcohol, Glycerin, Chamomilla Recutita (Matricaria) Flower Extract (Chamomile), Cucumis Sativus (Cucumber) Fruit Extract, Tocopherol (Vitamin E), Triticum Vulgare (Wheat) Germ Oil, Phenoxyethanol, Simmondsia Chinensis (Jojoba) Seed Oil, Persea Gratissima (Avocado) Oil, Benzyl Alcohol, Rosa Canina Fruit Oil (Rose Hip), Vanilla Planifolia Fruit Extract.
t
I prefer to use a cleansing lotion or cream as my pre-cleanse, to remove makeup and impurities and so this product works great for me. This gentle cleansing lotion with a vanilla scent is said to offer the perfect combination to cleanse and soothe delicate skin because of the choice of ingredients – cucumber, aloe vera and pure plant oils of rose hip, jojoba and avocado to gently cleanse, remove makeup and impurities, while a blend of vitamin E and chamomile to leave skin feeling clean, soft and refreshed.
Although this product is called a cleansing lotion, I feel the texture is more creamy. That works well for me because a creamy cleanser always helps remove my makeup and impurities better. And in the instance of this product, only one pump is sufficient for me to remove my foundation and light eye makeup. If you use heavy eye makeup, you probably need extra help like using a cotton pad to gentle wipe the eyeshadow and mascara with this cleansing lotion.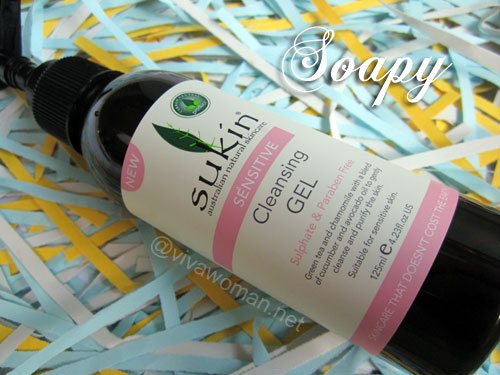 Sukin Sensitive Cleansing Gel | 125ml pump, S$14.90
Ingredients: Aqua, Aloe Barbadensis Leaf Juice, Cocamidopropyl Betaine, Decyl Glucoside, PEG-150 Pentaerythrityl Tetrastearate, Cucumis Sativus (Cucumber) Fruit Extract, Chamomilla Recutita (Matricaria) Flower Extract (Chamomile), Camellia Sinensis (Green Tea) Leaf Extract, Persea Gratissima (Avocado) Oil, Rosa Canina Fruit Oil (Rose Hip), Glycerin, Phenoxyethanol, Benzyl Alcohol, Vanilla Planifolia Fruit Extract, Citric Acid.
t
I use this cleansing gel right after using the cleansing lotion in the evenings. In the morning, I use this alone. Although this product only contains two surfactants – Cocamidopropyl Betaine and Decyl Glucoside – it lathers up quite well. So while it is a soap-free cleansing gel, I'll say it feels more soapy than foamy. I use it with my Konjac sponge and I'll say it does a decent job of cleansing my face without drying my skin. So the ingredients like green tea and chamomile with a blend of cucumber and avocado oil do help to gently cleanse and purify the skin without stripping the natural lipids.
The only thing I dislike about this product is the vanilla scent, which is particularly strong on initial contact but quickly dissipates during usage. So in terms of scent, I really prefer the original Sukin cleansing gel, which I remember to be more citrusy.
Overall summary
I don't have sensitive skin but I have slightly sensitized skin and these two cleansers have worked well for me. I like everything about them except for the vanilla scent in the cleansing gel – the combination of ingredients in the gel formula and the vanilla extract need some getting used to for me. Otherwise, I think they're both great, affordable products that'll work well for most skin types. At S$14.90 each bottle, I really think they're worth a shot. Anyway, if you have normal skin type, then the original Sukin range should also work well for you.

Comments