5 reasons why you may need a sulfate-free shampoo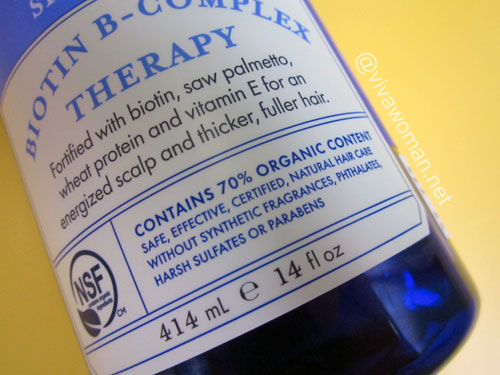 When it comes to hair products, sulfates are often said to be best avoided. Why? They can be damaging for your hair and your hair follicles. However, unless you're looking at a no foam shampoo, chances are, your shampoo is going to contain some sort of sulfate. But the most common and also most notorious ones to take note are really sodium lauryl sulfate, sodium laureth sulfate and ammonium lauryl sulfate. Shampoos containing these ingredients are best avoided if you can help it (unless they're listed way down the ingredient label) for the following reasons:
1. Sulfates can cause you hair loss
It's kind of ridiculous when you read the labels of some of these so-called hair loss shampoos. I mean we have studies to support that sodium lauryl sulfate causes damage to the hair follicle and can contribute to hair loss and yet, this is the ingredient that I often see listed in the top five on some of these shampoos.
2. Sulfates can give you scalp acne
The same study also indicates that 1% and 5% sodium lauryl sulfate produced significant number of comedones, which can develop into zits when they become inflammed and red.  Have you ever had acne on your scalp? Then you'll know what I mean by "ouch"!
3. Sulfates can irritate your scalp and face
If your scalp and skin are sensitive, then you need to know that prolong usage of products with both sodium lauryl sulfate and ammonium lauryl sulfate can cause irritation as they are irritants in patch testing at concentrations of 2 percent and greater (source). So shampoos containing such ingredients are really a double whammy because they can irritate both your scalp and face.
4. Sulfates can strip the natural oil from your hair and scalp
Sulfates are great for cleaning up oil and greasy buildup. However, it can be too harsh when used on a long term basis on the hair and especially if the formula has insufficient conditioning agents. And when used on those with oily scalp, it can be a problem as the dryness may promote more secretion of oil.
5. Sulfates can strip your hair color
If your hair is colored, it is best to opt for a sulfate free shampoo. There appears to be no studies to support this and the issue is divided. However, sulfates are well known as harsh detergents and hence, while they clean very well, is also prone to stripping what's on the hair. A few people I know personally have told me they maintain their hair color better using a sulfate-free shampoo.
Alternative to sulfates
Anyway, sulfate-free shampoos may still contain surfactants but they are usually milder, like decyl glucose, coco glucoside and lauryl glucoside. Sulfosuccinates is also considered a milder sulfate while cocamidopropyl betaine, a co-surfactant, is another ingredient often seen in natural formulations. I'm fine with that ingredient but understand that it does not work well for some of you.
Variants of sulfates
And while sodium lauryl sulfate, sodium laureth sulfate and ammonium lauryl sulfate are what I'll generally avoid when choosing a shampoo, I've come to realized that there are also other variants of sulfates like ammonium laureth sulfate, sodium myristyl sulfate, sodium myreth sulfate, sodium coco-sulfate or the same ingredient called differently such as sodium dodecyl sulfate. Like recently, I almost bought a new shampoo in the natural category but stopped short when I spotted sodium coco-sulfate in the list. So much for an everyday natural shampoo!
Comments