Handmade embroidered silk ribbon flower necklaces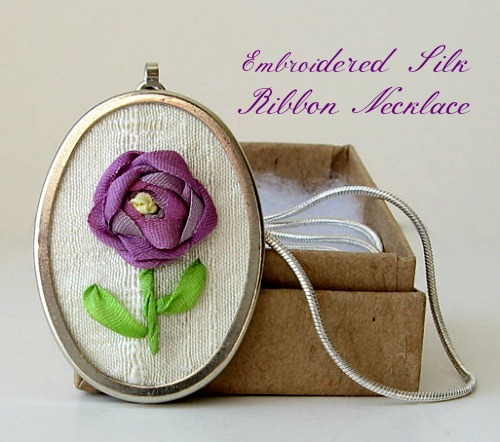 I haven't been shopping at Etsy for a couple of months. As a matter of fact, I haven't even visited the site for awhile. But I did today and was blown away by these handmade embroidered silk ribbon necklace pendants! Embroidered rose, daisy, iris, lily, daffodil, sunflower, hollyhocks, chrysanthemum, and more! Wow, they are SO SO pretty! I probably never mentioned it but I have a soft spot for any type of embroidery work. Yes, and I even did embroidered craftwork some years back and I'll show you one of my pieces in a bit if you like to see. (^_-)
But first, let me show you some of the lovely embroidered silk ribbon flower necklace pendants from bstudio based in Canada. Brenda, the owner of bstudio, has designed and made quite a number of necklaces but here are some of my favorites.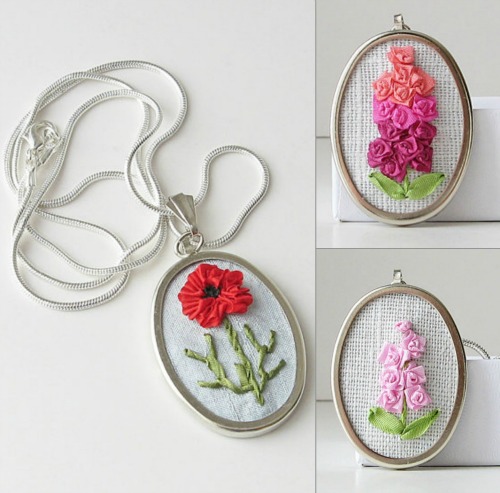 Just look at the silk ribbon embroidered flower cluster made up of three pretty colors: beginning with magenta on the lower part of the stem, then bright pink in the center and finally finishing with a peachy coral for the top. And check out how the blooms are accented with spring green silk ribbon for the leaves and stem. The handiwork is so intricate! You can say they're so fresh and delicate! I also love the hand embroidered rose in the top picture, which is made with variegated purple silk ribbon with a variety of purple shades throughout the bloom. Never seen a purple rose in my life but I definitely heart this!
All the designs are set into an oval metal pendant frame with a matte silver tone finish and is lead and nickel free. Prices for the necklaces vary slightly but most of those I've featured here cost around S$50, excluding shipping. Brenda ships internationally and you can check out her store for the fees.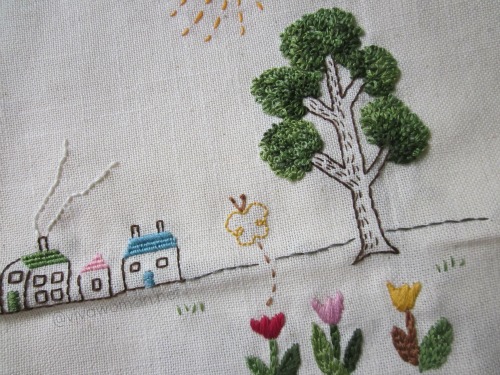 And here's what I put together some years ago. I had a bit more time then and decided to dabble with some embroidery. I don't know why I love embroidery work so much but it could have been influenced by my mom. I used to watch her embroider pretty flowers on the pillow cases and was kinda of fascinated with her needlework.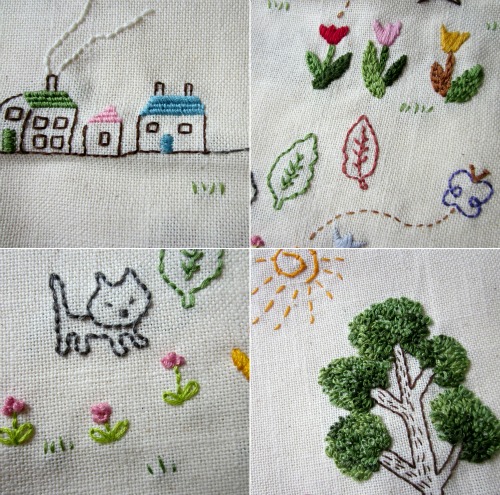 If I remember correctly, these are one-stitch embroidery. The cute visuals were copied from a Japanese craft book and I had stitched a few hankies for fun too. I really like to get back to doing them again but I haven't been able to find time. Well, maybe when in a few more years? Haha…definitely a pretty idea to retire to eh?
Comments