Acure cell mask stimulates the green sea-monster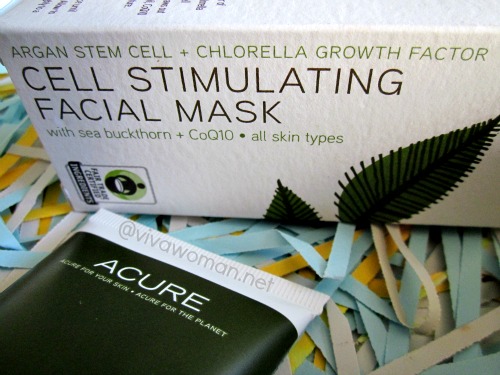 So it says on the Acure Organics Cell Stimulating Facial mask that you're to apply the mask over your face until you look like a green sea-monster. That sure sounds intriguing and fun but it was not that that stimulated my purchasing decision. What had spurred my purchase were the rather glowing online reviews plus the fact that I'm almost done with my Now Solutions European Clay Power. Well, I also needed something new to play with and after using the Acure mask a few times now, I've to agree that it is indeed stimulating…too stimulating actually.
Brand hails from US
Before I touch on the performance, here's a quick introduction to the brand. Acure Organics is a family owned USA company with a range of natural and certified organic personal care products. The brand's products are created free from animal testing, gluten, parabens, sulfates, phthalates, PEG, petroleum, silicone, synthetic fragrances, harmful preservatives and artificial colors. What's unique about their products is that a number of them are formulated with active stem cells and chlorella growth factor (CGF) to protect collagen and elastin fibers from enzymes.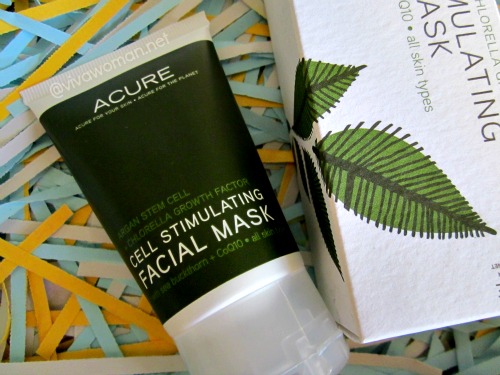 Acure Organics Cell Stimulating Facial Mask | 30 ml, US$13.81
Like this product is formulated with argan stem cell and chlorella growth factor for cell revitalization. It also contains sea buckthorn, argan oil and CoQ10 to provide moisture to the skin. In addition, it has potent purification properties because the french green clay draws out impurities.
Application of this mask is straightforward. After cleansing your face, apply a layer of the mask evenly over the face until you look like a green sea-monster. Allow the mask to set for 10 to 15 minutes and then rinse thoroughly to a refreshed and renewed face! Easy peasy huh?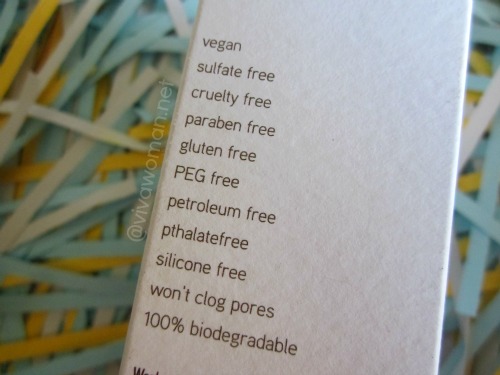 Ingredient list
Here are the ingredients of the mask:
Organic euterpe oleracea (acai) berry, organic rubus fruticosus (blackberry), organic rosa canina (rosehips), organic punica granatum (pomegranate), organic fair trade certified rooibos, organic aloe barbadensis vera leaf, french green clay, vegetable glycerin, sodium methyl cocoyl taurate (from coconut + amino acids), vegetable cellulose gum, sodium cocoyl isethionate (from coconut), chlorophyll, organic chlorella pyrenoidosa extract (chlorella growth factor), glucono delta lactone (sugar enzyme), fair trade certified organic theobroma cacao (cocoa) butter, carrageenan (algae), hippophae rhamnoides (sea buckthorn) seed oil, ubiquinone (CoQ10), spinosa (argan) stem cell, potassium sorbate (food grade preservative), organic argania spinosa (argan) oil, and sage and spearmint essential oil blend.
Lathers a little and foams
Seriously, I don't think this stuff is suitable for those with sensitive skin. I felt a rather strong tingling sensation on my skin as soon as this mask was applied. In fact, the whole time I had it on, I felt something "happening" to my skin. And while this mask works similar to other masks I've used, I've never come across one where it foams up during wash. The lather isn't that much but this definitely washes the skin quite clean, which also means, it can leave the skin a tad drying considering I applied it after I've already cleansed my face.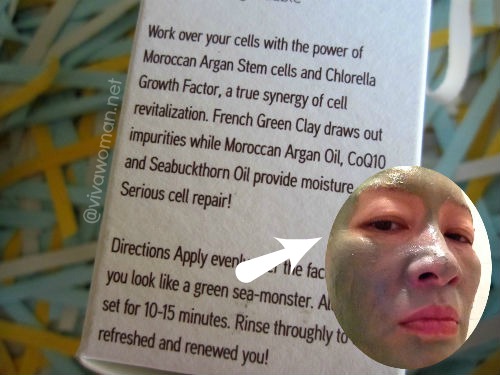 My take on the product
I totally agree that this mask cleanses the skin very well and draws out the impurities. However, I would only use this once a week and even then, I consider it a bit much for my combination skin. Like I mentioned, I don't think this is suitable for those with sensitive or even dry skin. But it probably works better for those with oily and combination skin. I'm unlikely to repurchase this. I think the Now Solutions European Clay Power is much milder and does an excellent job of purifying my skin without leaving it drying.
Availability
Acure Organics Cell Stimulating Facial Mask is available at iHerb for US$13.81. It's not costly and those outside US may like to know that the international shipping fees for purchases up to US$80 is a flat US$4 at iHerb. Alternatively, you can opt for DHL Express, which is quite fast and quite affordable. I usually buy about US$150 to US$200 worth of products and the DHL Express fees comes up to just around US$15 or so. And if you're purchasing from iHerb for the first time, consider using my promo code below to enjoy some discounts.

Comments