S-Skin: 6 secret weapons for radiant & silky skin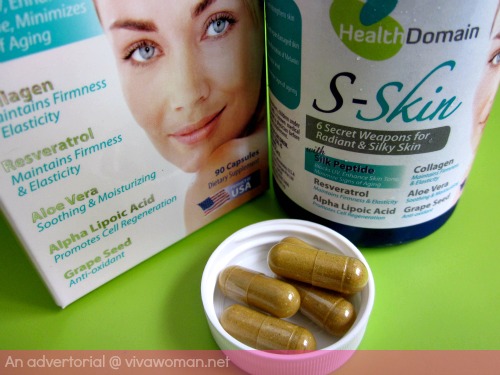 Oral beauty supplements are definitely my kind of thing. In fact, they are an integral part of my daily beauty routine. I was taking the AFC Collagen pills and had stopped to try S-Skin for the past three weeks. I realized that this product is readily available at the pharmacies but I had totally missed it. Anyway, I doubt I would have bought it had it not been introduced to me. I mean, there are just so many beauty supplements out in the market now! But I've been taking S-Skin for three weeks now and am pretty impressed with what I'm seeing. This is a beauty supplement that not only firms the skin but blocks UV and prevents melanin formation. Hey, that's exactly what my skin needs!
Okay, I'll like to clarify that I don't usually review for advertorials but this is an exception because of the results I'd seen and decided to try it for longer before I write about it. So if you're interested to know more, read on to find out what I've got to say about this product that comes with six secret weapons for radiant and silky skin.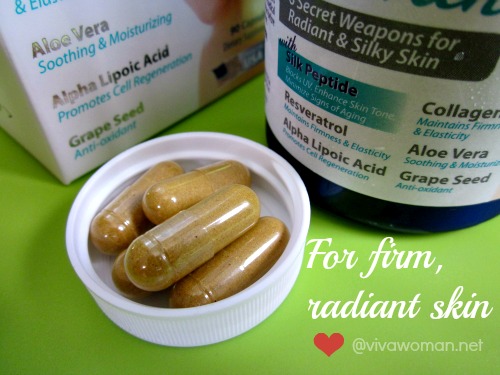 Manufactured in USA with six key ingredients
Made in USA, S-Skin is formulated with six key ingredients and that's why it is promoted as having six secret weapons. Very quickly, here are the ingredients and their key functions:
1. Silk Peptide: provides skin whitening
2. Resveratrol: strengthens skin foundation
3. Aloe Vera: soothes & moisturizes
4. Collagen: firms & maintains elasticity
5. Grape Seed: acts as an antioxidant
6. Alpha Lipoic Acid: promotes cell regeneration
Protects against UV & restraints formation of melanin
Silk peptide found in S-Skin acts as a UV blocker and helps to even out the skin tone by restraining the formation of melanin. In addition, the ingredient is said to be able to promote skin cell regeneration. I don't know about you but that definitely got my attention because I often wish my AFC collagen pills can do that too.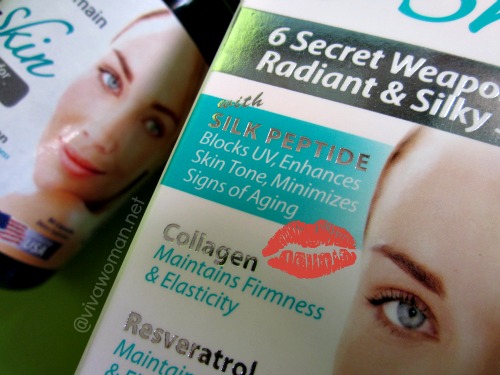 Maintains skin firmness and elasticity
The ingredients in S-Skin such as collagen, resveratrol and silk peptides are also able to maintain skin firmness and elasticity. And that's what keep our skin smooth and firm. In addition, collagen is a key element in the health of joints, cartilage, tendons, bones and all connective human tissue.
Moisturize and hydrates from within
Because of the different ingredients found in S-Skin, taking this supplement also helps the skin to retain hydration, locks moisture and protect its barrier.
Recommended dosage
The recommended dosage for S-Skin is to take two capsules in the day and two in the night before bedtime. So far, I've not taken four but tried taking two and three on separate days and I find that three works optimally for me. And I found that taking it at night before bedtime actually gives me more results than taking it in the day so what I do is to take just one in the day and then two in the night before going to bed.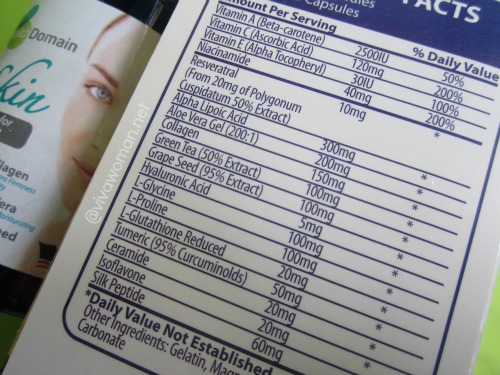 Difference to my skin within the first week
I have to say that there is a slight distinct taste with this supplement. It's not very strong but you can discern it. Otherwise, they're easy to swallow. Within the first two days of taking this, I've already noticed that my skin looking firmer than before. I also noticed that a hormonal pimple on my chin healed up very speedily during this period. In addition, my skin does not feel as dry as before during the middle of the day. Beyond that, I don't see any noticeable difference to my skin tone but perhaps I'll need to take this over a longer period or to take up to 4 capsules to see visible results.
Price and availability
S-Skin is available at the National Health Group Polyclinics, Guardian, Watsons and Unity. Each bottle of S-Skin comes with 90 capsules and cost S$89.90. Since I'm taking three capsules each day, a bottle would last me a month. It's not exactly costly considering it has both skin firming and sun protection properties, as I had to buy two separate supplements in the past to gain those benefits and they definitely cost me more than S$100 each month. Anyway, if you need more information on the product, check out Health Domain.
A word of caution
I'm likely to continue using this supplement as I have experienced good results with it thus far. I'll leave you to decide if you wish to try but as with all supplements, please exercise your discretion before taking them especially if you have health issues or you are pregnant. When in doubt, please consult your medical professional.

Comments