Badger Daily Aloe Vera SPF30 Zinc Oxide Sunscreen Lotion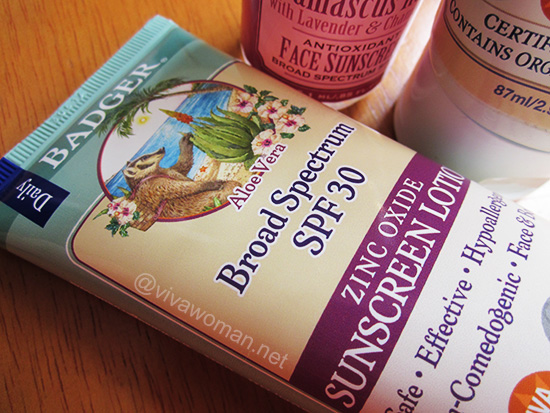 The one skincare product that never fails to get my attention is sunscreen. So when I learned in January that Badger was introducing their Badger Aloe Vera SPF30 Zinc Oxide Sunscreen Lotion with a similar texture to their Badger Balm Damascus Rose Antioxidant Face Sunscreen SPF 16, I was super excited! I went into a bit of a frenzy to hunt it down almost immediately. However, it took some time after the news broke out for the product to be ready but when it was finally available, the tubes got snapped up instantly. I had to wait like a month or so before getting my hands on it. The wait was a little agonizing but yippee, finally the sunscreen is mine!
Non-greasy lotion formula that is easy to apply
Okay, Badger already has some SPF30 sunscreens but if you know Badger, their sunscreens are greasy, thick and leaves a whitecast. The company started introducing a series of sunscreens with better texture and their SPF16 sunscreen was very popular. However, the SPF was really low and I would only recommend it to be used indoors. So it was a godsend when the company decided to introduce this easy-to-apply, non-greasy zinc oxide sunscreen lotion with SPF30 perfect for everyday use on your face and body. Finally, a non-gooey sunscreen that doesn't make one look ghastly!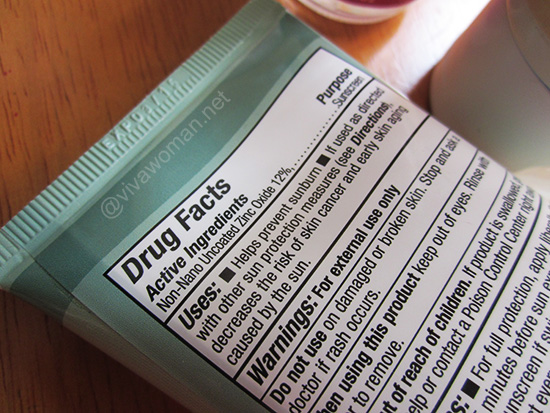 Low zinc oxide at 12%
I've always like Badger. I remember one of the retailers of the products here telling me that it is one of the better natural brands. And I think so. I like their choices of ingredients and I just feel safe using their products. However, I am a little iffy about this one because the zinc oxide is only 12%.
Active Sunscreen Lotion Ingredient:
Uncoated, Non-Nano Zinc Oxide 12%
Inactive Sunscreen Lotion Ingredients:
*Aloe Barbadensis (Aloe) Juice, *Helianthus Annuus (Sunflower) Oil, Carthamus Tinctorius (Safflower) Oleosomes, *Sucrose Cocoate (from Coconut), Water, Microcrystalline Cellulose, Citric Acid (from Non-GMO Corn), Leuconostoc Ferment Filtrate (from Radish), *Glycerin (from Sustainable Palm), *Aloe Barbadensis (Aloe) Extract, Tocopherol (Sunflower Vitamin E), Gluconolactone (from Non-GMO Corn), Xanthan Gum, *Lecithin (from Soybean), Cellulose Gum.
* = Certified Organic
100% Certified Natural by NPA
87% Certified Organic by NSF
I know the formulation has been tested to provide SPF30 but I really wish the zinc oxide content to be higher at 16% or more. It's just something I read about zinc oxide and my personal comfort level. However, reviews for this product have been good. I recall one reviewer stating that this sunscreen prevented sunburn for her so that must count for some good protection.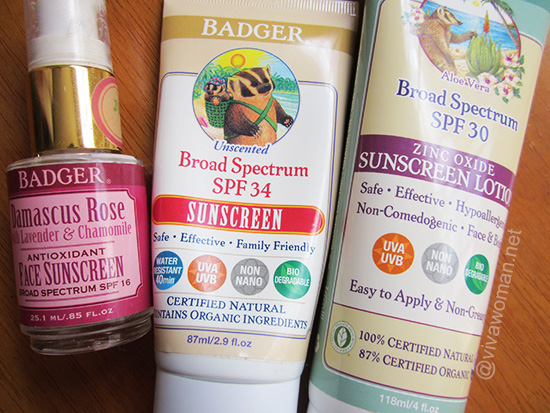 Good for daily casual sun protection
This Badger Aloe Vera SPF30 Zinc Oxide Sunscreen Lotion is really for daily use, suitable for casual sun protection. It is not water resistant and hence, not a heavy duty sunscreen for outdoor usage. In terms of texture, it is runnier than the Badger Balm Damascus Rose Antioxidant Face Sunscreen SPF 16 and much thinner and lighter than the Badger Broad Spectrum Sunscreen SPF34. It is non-greasy and does not leave a whitecast upon application. In fact, it looks matt and a tad dry when applied on the skin.
I am able to use this sunscreen on my face and neck without any issues. No oily residue and no unsightly whitecast! I also apply it on my arms. If you like the SPF16 version, you should like this too. Although this lotion is a breeze to apply, I do find the SPF16 version a bit faster to put on without leaving white streaks on my skin. With the Badger Aloe Vera SPF30 Zinc Oxide Sunscreen Lotion, I spend a wee bit more time blending in the lotion.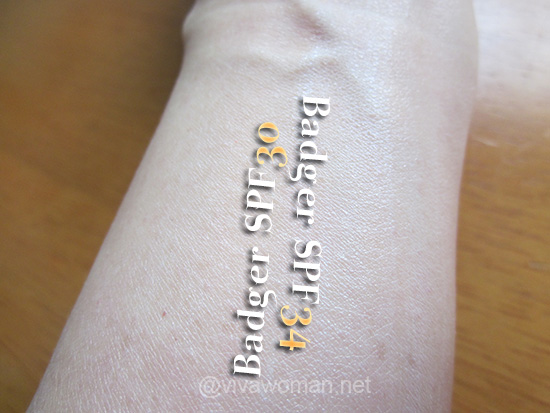 Not drying and smells normal
Having tried the three sunscreens, this is definitely my favorite on account of the higher SPF. Although the SPF16 is easy to wear, I don't have peace of mind using it. Hence, I kept it to my neck and arms only. As for the SPF34 formula, that's really something I wear when I head out for the sun and water play.
While I'm slightly leery of the low zinc oxide content, I don't mind using this on days when it's cloudy or when I'm spending more time indoors. It doesn't dry out my skin and doesn't cause my skin to become tight or oily after a couple of hours. Oh, and it smells pretty normal to me too.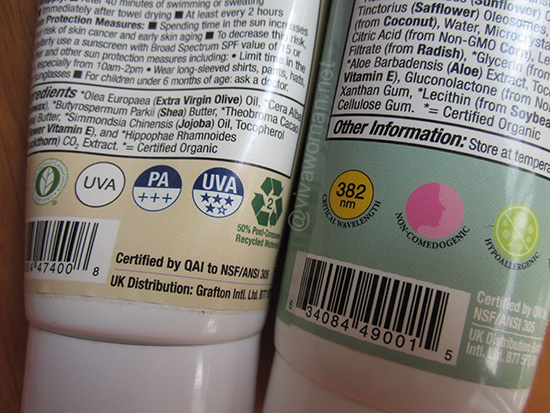 Price and availability
The 118ml tube cost just slightly over US$16 at iHerb (search under 'Badger Sunscreen'). That price is a steal if you ask me! However, it's always out of stock. Hence, I highly recommend you to sign up for the alert so as to be notified when the new stocks arrive. That way, you have a higher chance of getting the product. For those in Singapore, you'll probably have to wait awhile before you can find this available here. If you want it sooner, grab it from iHerb!
I'll definitely be repurchasing this one. Somehow I think it's way better than the DeVita Solar Body Block SPF30+ even though the latter comes with a higher zinc oxide content. The price is also slightly better.
Comments