New from Fancl: 5-step Mutenka anti-aging care line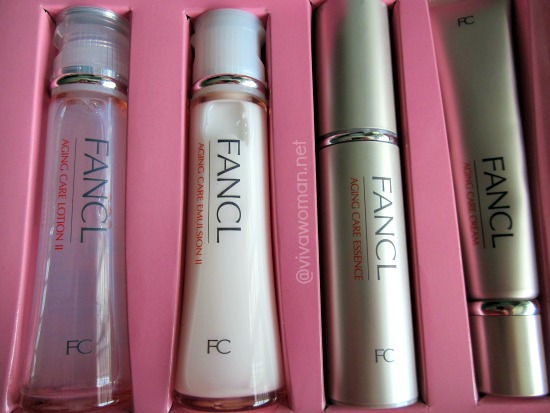 Last month, I made quite a major change in my skincare routine. I stopped using facial oils both day and night and went back to using a Japanese brand. I need to qualify that I still love using facial oils and there's absolutely nothing wrong with them. It just so happened that I was sent a set of the new Fancl aging care line and I thought I'll just make a complete switch. Plus, adding oil on top of the 5-step skincare seems too much anyway.
About Fancl and Mutenka
For my international readers who might not be too familiar with Fancl, this is a leading Japanese skincare brand and one of the few I know of that is established on the unique philosophy of absolute Mutenka. This means that their products are created with only essential ingredients beneficial to our skin and are free of additives like fragrance, petroleum surfactants, mineral oil, parabens, and artificial colorings. The brand places a lot of emphasis on their products being gentle and safe. Many of their products are deliberately packaged in small bottles, enough for a 30-day supply to ensure freshness and all bottles come with fully sealed caps to be removed before use. Best of all, all skincare packages bear a manufacturing date, providing total transparency to consumers.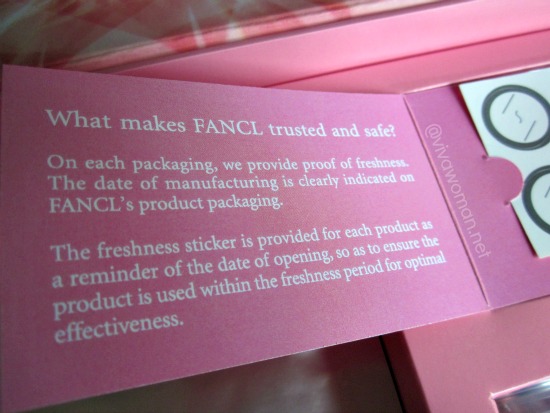 Products are always fresh
I like that Fancl's products are fresh and effective because all products only have a year of lifespan from the manufacturing date if they're unopened. Once opened, they must be used within 60 days. So yeah, this brand is right up my alley and the new aging *ahem* care line is definitely suitable for my skin although I don't really like how it's called. But never mind about that if it works to renew my skin with its promises of breathing new life into any complexion eh?
Use of Malvidin to purify
According to the Japanese brand, skin must first be purified from stress and Fancl aims to achieve this through the use of Malvidin, which is distilled from flowers like the Malva Sylvestris (Mallow) and the Blue Sweet Pea. Additionally, Fancl's new breakthrough technology using advanced penetrating nano capsule technology promotes the maximum absorption of the concentrated ingredients, allowing skin to look younger instantly. It is said that a higher amount of beauty ingredients is delivered to each layer of the skin through the use of a high-penetration cellular-sized capsule that is protected with highly skin-affinitive membranes. Results are faster than before, as products protect skin from aging with the very first use. I'll be telling you if this is true for me but let me just give you a quick breakdown of the products I've used.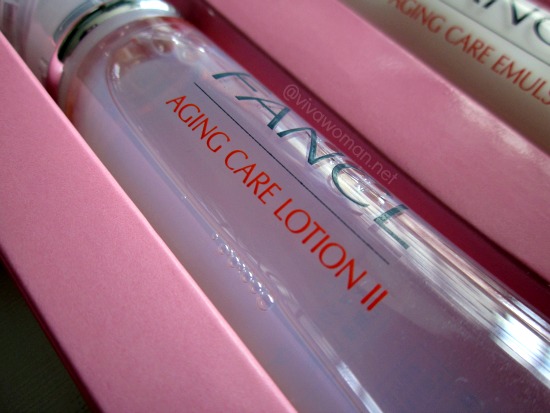 Intensive Hydration | Aging Care Lotion I and II | $36 for 30ml
This is really a toner applied after cleansing to hydrate and prepare the skin. I like it because I can feel a difference to my skin when I skip this step. It so happened I was reading a Chinese book that highly recommended usage of a such a lotion and so I'll most probably be getting another one after I'm done with the bottle. Lotion I is for those with oily skin while lotion II is for those with combination, normal or dry skin.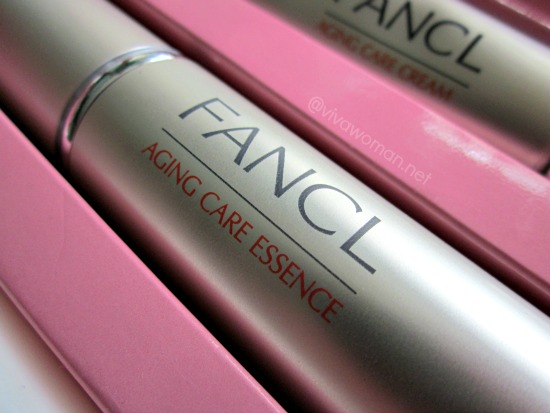 Nourishment | Aging Care Essence | $78 for 18ml
This is the star product of the range and also my favorite. This essence is formulated to "intensively repair and strengthen damaged collaging" and is packed with concentrated active ingredients, Jujube Fruit Extract, to enhance the absorption of important nutrients to boost collagen synthesis, necessary for young, glowing skin. I started using this in the night first but have also been using it in the day after I realized that it behaves well with my sunscreen as it's non-greasy and non-sticky.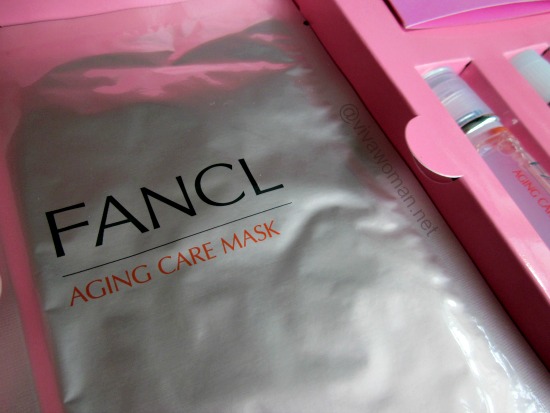 Lifting | Aging Care Mask | $78 for 6 sheets
According to Fancl, this product fits into step 3. It's said to contain abundant beauty ingredients designed to boost moisture level, promote collagen production and increase hydration. For a person who is not keen on sheet masks, I'll say this is likeable as it's not messy to use and does provide instant softness and plumpness to my skin.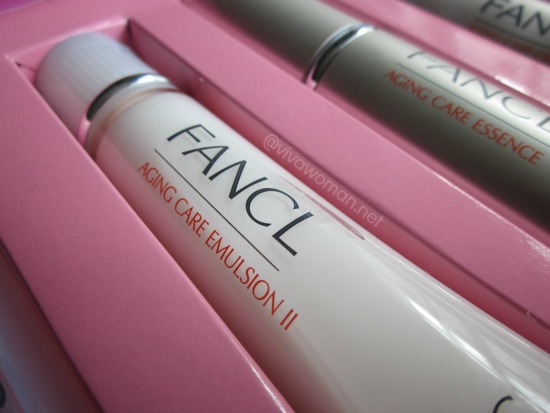 Seal in Moisture | Aging Care Emulsion| $36 for 30ml
In step 4, it is between the Aging Care Emulsion and the Aging Care Cream. I chose the latter because it performed better for me. Hence, I hardly use the emulsion much and only gave it a try a few times. It's kinda milky in texture and rather moisturizing. I can't comment too much about it since I hardly used it except that it didn't contribute any problems for me.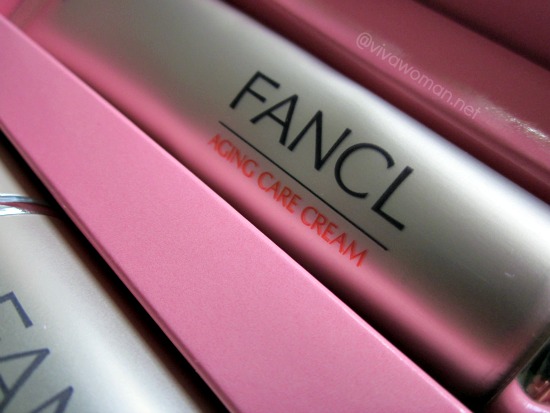 Aging Care Cream | $36 for 30ml and $66 for 18g
This cream contains ingredients such as HTC Collagen and Hydrolyzed Yeast to replenish dehydrated skin and to enhance collagen production within the skin. It also contains hyaluronic acid, which sometimes causes my skin to breakout. However, using this only once in the night didn't give me any problems. In fact, I rather like this because I noticed my skin more dewy the morning after compared to using the Aging Care Emulsion. It's not rich but rather matifying.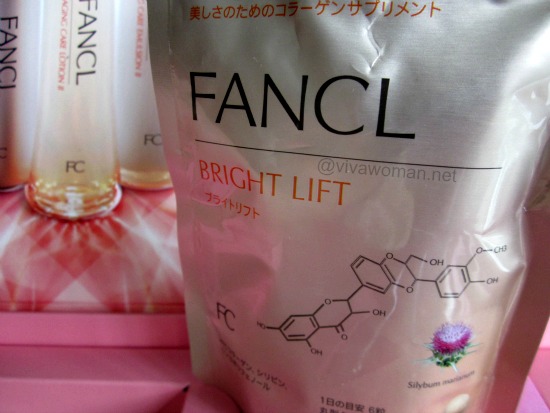 Fancl 5-Step Anti-Aging Line
reviewed by
Sesame
on .
Inner Care| Bright Life Supplements | $45 for 180 tablets
Skin care supplements are an integral part of Japanese skincare and these Fancl Bright Lift Supplements are supposed to support healthy skin with three key ingredients: HTC collagen for firmness and softness, apple polyphenol to prevent photo-aging and strengthen skin collagen, and silybin to remove old collagen trapped in skin, restoring skin's radiance. I was surprised that the price point for these supplements are so reasonable and might just continue using it because I like that it is able to prevent photo-aging.
Overall summary
This is the first time I'm using products from Fancl and I'm quite happy with the performance. Although I can't say I've seen a remarkable difference in terms of a reduction in lines or wrinkles after using this set of products for four weeks, I do notice my skin feeling taut and firm. In addition, I think the hydration level in my skin is better now as my skin does not feel dry even in the later part of the day. So this range can work for those with mature skin type and looking to prevent their skin from getting saggy. The only drawback is that the products use nanocapsule technology and while I've no problems with it, some of you may have your concerns. Additionally, the prices are not exactly affordable but so far, apart from the lotion, the rest of the products can probably last me another month or more.
If you're keen to find out about the new range of Fancl anti-aging care line, check out more information on their website.
Rating: 4


Comments