John Masters Organics Shine On Hair Treatment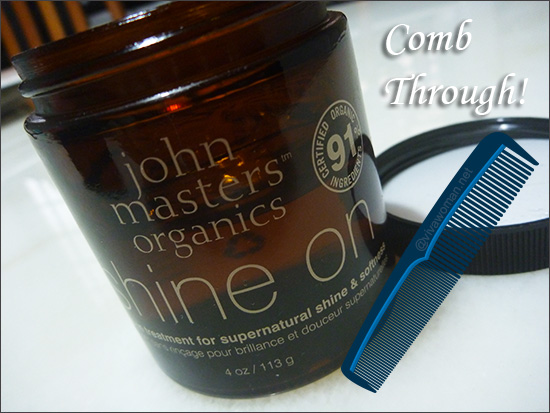 Part of my John Masters Organics shopping haul is this leave-in hair product called "Shine On Hair Treatment". It is supposed to give what its name implies—shine—definitely something I need because my hair has absolutely zero shine due to the frequent dye jobs I've done. To be honest, the state of my hair has never bothered me in the past till now. I've grown a lot more concerned about how I look and I think having shiny straight hair definitely lends me more credibility at work.
Before I go on with this review, I have to state that I have never used any hair straightening products before. As a matter of fact, I don't think I've used ANY hair products before, apart from shampoo and conditioner! So while I can't compare this to non-organic hair products, I can definitely tell you the difference I felt in my hair before and after using it.
Ingredients
This product uses some certified organic ingredients and here's a quick glance at them: Aloe barbadensis (aloe vera leaf juice) gel,* aqua (water), glycerin, guar gum,* sodium alginate, daucus carota sativa (carrot) seed oil,* olea europaea (olive) oil,* calendula officinalis (calendula) extract,* anthemis nobilis (chamomile) extract,* xanthane gum, methylcellulose gum, macrocystis pyrifera (kelp) extract,* marine phytoplankton, fagus sylvatica (beech) extract*
*Certified Organic by QAI / CCOF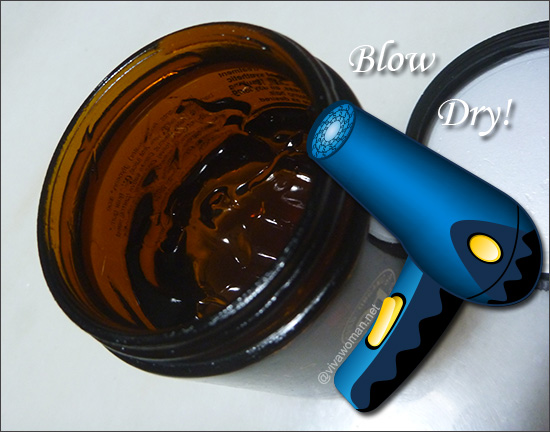 Scoop or dig
John Masters Organics Shine On Hair Treatment comes in jar of 113g. The packaging is very sturdy and design is minimally simple. The only thing is, in order to get the product out, you have to use your finger to scoop it out. Of course you can always use a spatula but to avoid the hassle, I usually just use my fingers. Since this product goes on my hair and not my face, I'm less particular about using my bare fingers to dig into the container.
No sticky feel
This treatment is a gel-like substance that is clear and colorless, and kind of looks like the old school hair gel. Surprisingly, there is no smell to this product at all. So how do I use this? Well, after stepping out of the shower and towel drying my hair, I will comb my hair first and then apply the product from the middle of my hair to the ends. You can also apply the product on your hair before combing. Either way, the choice is yours. This product is similar to the John Masters Organics Honey & Hibiscus Hair Reconstructor I reviewed last week in that it doesn't leave a sticky after texture. It actually turns more and more watery and makes washing it off your hands a lot easier.
Thicker, voluminous and shiny
If you shower in the mornings before heading out, there is another way to use this fantastic product. What I do is I comb and put it on my still slightly wet hair as usual, and then proceed to blow dry. I find that my hair ends get harder to dry when I use the product. I see it as a good thing because the gel prevents the heat from doing too much damage to my hair. And the result after blowing dry with John Masters Organics Shine On Hair Treatment is always a thicker and more voluminous head of hair that looks shiny. The difference is quite significant for me because even my husband commented about it and was envious!
Worth every penny
I been using the gel once every two to three days, sometimes more depending on whether I need to have a good hair day or not, and I've only just used up half the jar after a month. I bought it from Bud Cosmetics at Novena Square 2. The 113g jar retails at S$56 and to me, it is worth every penny!

Comments