Eating pineapple daily helps keep my tummy flatter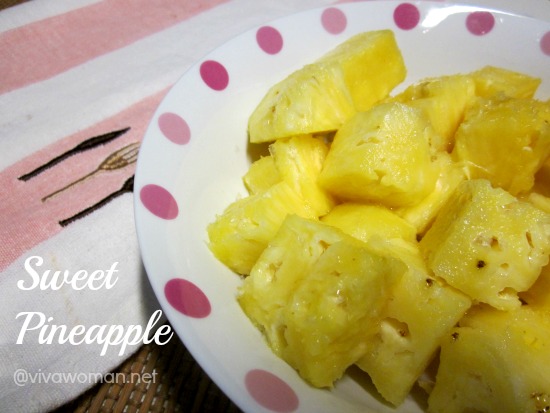 Almost every day, I try to eat a slice of pineapple. I love the taste and of course, the high dose of vitamin C in the fruit. But most of all, I've found that eating a slice of pineapple daily helps keep my tummy flatter effortlessly. I know some of you are reading this with much skepticism but I'm telling you that it works for me.
Pineapples and slimming
In fact, I've written about the link between pineapples and slimming back in 2008. At that time, I was eating a lot of pineapples and it caused me to lose weight pretty drastically. But the amount of pineapples that I was consuming also caused me to suffer from constant backache. As a result, I stopped eating pineapples totally. Until this year.
Good source of bromelain enzyme
To recap, what I've discovered back in 2008 is that pineapple is a good source of manganese and contains significant amounts of Vitamin C and Vitamin B1. In addition, the fruit contains an enzyme called bromelain that aids digestion and helps prevent inflammation and swelling.
Bromelain and slimming pills
Bromelain is popularly used in slimming pills with claims that it can help to break down body fat and enables slimmers to lose weight effortlessly. However, this claim has not been backed up and it is said that bromelain, like any other protein in the gut, would be digested and should have no action on body weight.
Vitamin B1 (Thiamine) and weight loss
But pineapples also contains Vitamin B1 (Thiamine) which is said to help metabolize carbohydrates. When I searched about this vitamin, it came up in a lot of weight loss resource websites!
Great for detox
Anyway, you can run a search on your own and you'll discover many articles written about pineapples and flatter tummies. I don't like to exercise and I sit a lot daily. Surprisingly, my tummy isn't all that fat and that's how I know eating pineapples works for me. In addition, I've found pineapples to be a great detox fruit as it aids in cleansing the colon—naturally removing oil, fat and toxins that may have become lodged deep in the colon tract. I just wish that it also helps to keep the fats off my butt!
Do you like eating pineapples?
So any of you like to eat pineapples as much as I do? I like eating the fruit over drinking the juice though. And pineapples are great eaten on its own or served with salad or a meat dish. It's one of those foods that I can eat daily and still crave for more!
Comments