DERMAGOLD Skincare: for skin you dare to bare
_-)
Developed in 2003
Not many people are familiar with DERMAGOLD but the brand has been around for 10 years to a small niche group of customers. Based on what is dubbed a 3S philosophy—Science, Simple, Sensorial—DERMAGOLD products are sourced from manufacturers around the world including Israel, USA, Europe and Asia. I understand that many products are available under the brand but I was prescribed the Bright Skin Essentials Set comprising five products based on my skin type and concerns to be used both day and night, right after cleansing and toning. While these products cannot be categorized in the natural category, they are made without mineral oil, alcohol denat, silicones and parabens. I also like that their ingredient lists are rather short.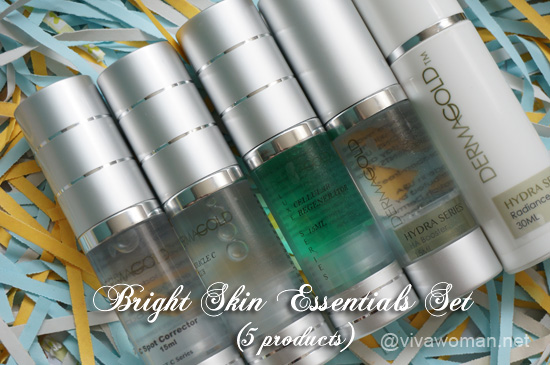 Formulated to be lightweight and effective
I was initially hesitant about using all five products at one go. However, I went ahead anyway because I was assured that DERMAGOLD products are formulated to be light, allowing all five products to be used systematically and synergistically without clogging my oil glands. Interestingly, all products are gel-like in their texture and none are lotion or cream based. Yet, all are supposed to be able to provide sufficient hydration and moisture. So how did my skin feel about them?
Enhancing hydration level
This is the first time I've used so many products without feeling like my skin was burdened in any way. Each product is uber lightweight and sank into my skin almost immediately upon application without leaving any tight, sticky or greasy feeling and residue. I would even say my skin felt normal yet soft and velvety upon touch. Can I say they're amazing? What's worthwhile to note is that all five products contain hyaluronic acid and that really made a difference in terms of enhancing my skin's hydration level. I don't think I ever had so much hyaluronic acid on my face!
Here's a quick look at the individual products and what they contain: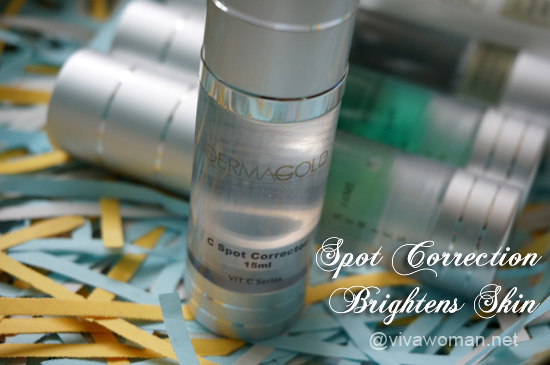 Step 1: C Spot Corrector | 15ml, S$79
An activated vitamin C for spot correction that is colorless and of low viscosity, this product evens skin tone and brightens skin. Although called a spot corrector, I was recommended to use this on my entire face. Has a very faint scent.
Ingredients: Ethyl Ascorbic Acid 10%, Butylene Glycol, Panthenol, Xanthan Gum, Methylisothiazolinone, Iodopropynyl Butylcarbonate (Manufactured in Taiwan)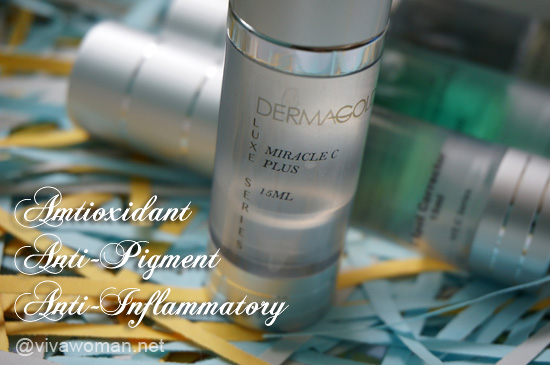 Step 2: Miracle C Plus | 15ml, S$69
Because of my pigmentation, the second product also contains vitamin C and is a silky smooth concentrated 18% vitamin C ester serum with anti-oxidant, anti-aging, anti-pigment and anti-inflammatory properties. Said to refine skin texture, reduce wrinkle formation and also minimize existing wrinkles, the Miracle C Plus is formulated in a base of hyaluronic acid to boost, protect and restore skin. Great for for oil control too. Colorless but slightly thicker texture than the C Spot Corrector. Almost scentless.
Ingredients: Organic Herbal Infusion, Organic Aloe Barbadensis Leaf Juice (Aloe Vera), Sodium Ascorbyl Phosphate (Vitamin C), Methylsulfonylmethane (MSM), Hyaluronic Acid, Hamamelis Virginiana (Witch Hazel), Carbomer, (2s)-2 Amino-5-guanidinopentanoic Acid, Organic Simmondsia Chinensis (Jojoba Oil), Ethylhexyl Glycerin, Phenoxyethanol. **Paraben free (Made in USA)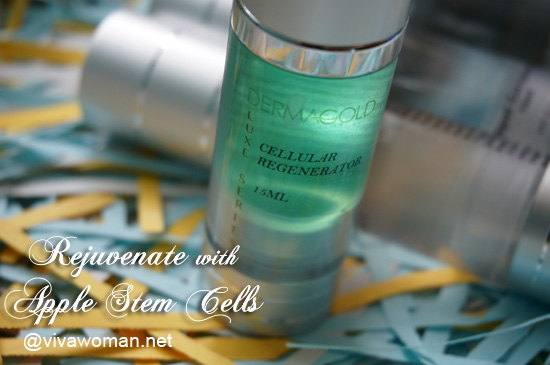 Step 3: Cellular Regenerator |15ml, S$99
Described as a luxury serum developed using Switzerland apple stem cells, this product rejuvenates the skin and reduces chronological effects of aging resulting in more youthful and radiant skin. Additional benefit of protecting skin from UV rays. Looks greenish-blue, this feels more like a serum and I can't detect any scent.
Ingredients: Water, Rosehip Seed Oil, Vegetal Glycerin, Hyaluronic Acid, Xanthan Gum Gel (from fermented sugar), Apple Stem Cell Culture, Lecithin, Citric Acid (from limes), Ascorbyl Palmitate (vitamin C ester), Tocotrienol (vitamin E), Potassium Sorbate ** Paraben free (Made in USA)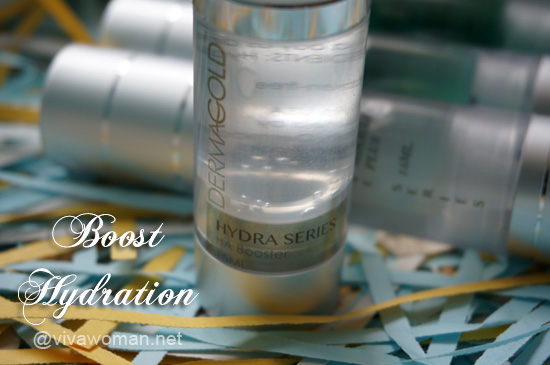 Step 4: HA Booster | 15ml, S$39
This is a 100% pure hyaluronic acid product to boost skin hydration. Colorless and feels like a serum. Almost scentless.
Ingredients : Hyaluronic Acid, Leucidal ( an organic preservative) ** Paraben free (Made in USA)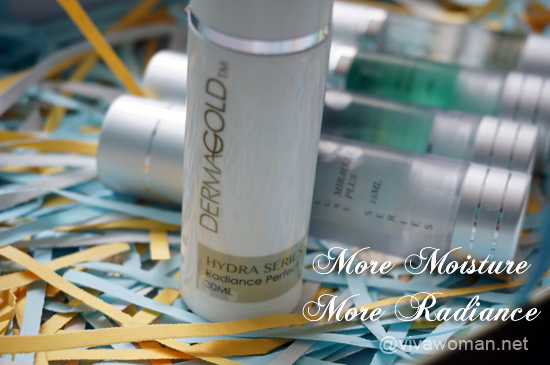 Step 5: Radiance Perfect | 30ml S$59
The last product in the series is an ultimate blend of natural ingredients for enhancing the skin's moisture retention only to be used at night. Also the only one with a longer ingredient list and a noticeable scent. Interestingly, even though it contains oil such as from seabuckthorn, the product does not come across as oily. Slight orangey color and has a light fruity scent.
Ingredients: Water (Aqua), Glycerin, Hippophae Rhamnoides Fruit Oil, Laminaria Hyperborea Extract, Lonicera Caprifolium Extract, Echinacea Purpurea (Coneflower) Extract, Carbomer, Phenylpropanol, Butylene Glycol, Caprylyl Glycol, Allantoin, Simmondsia Chinensis (Jojoba) Seed Oil, , Soluble Collagen, Isopropyl Myristate, Chondrus Crispus (Carrageenan), Xanthan Gum, Sclerotium Gum, Glycine Soja Oil, Tocopherol, Phospholipids, Beta-Sitosterol, Glucose, Squalane, Sphingolipids, Sodium Hyaluronate, Carthamus Tinctorius, Linoleic Acid, Disodium EDTA, Fragrance, Tocopheryl Acetate, Lithospermum Erythrorhizon Root Extract, Retinyl Palmitate, Dunaliella Salina Extract, Hexyl Cinnamal, Linalool, Geraniol, Citronnellol. **Paraben free (Manufactured in Israel)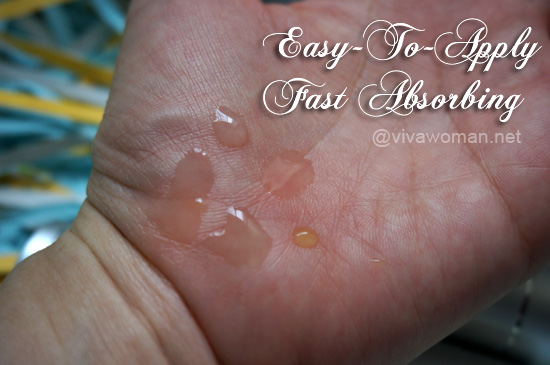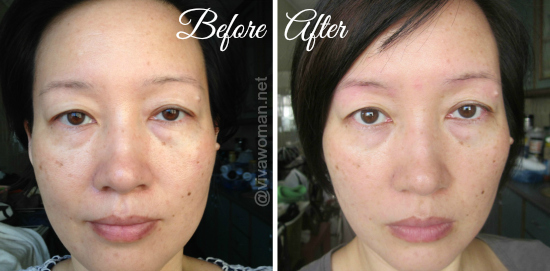 Before and after
I started using the products on 8 December. I took a picture of my face before I started the regime and another on 11 January. But strangely my face shape looks different in both pictures! I don't remember the products having a face contouring effect! It's as if I'd a facelift done to the lower portion of my face. LOL. Okay seriously now, I think you would agree that there is a marked difference to my skin tone. Although I can't say my pigmentation marks are gone but my skin tone is noticeably clearer and brighter. Some spots have also lightened. Well, I'll leave you to decide if you want to trust the pictures. I did my best to take them under the same lightings with no flash as far as possible but one was taken earlier in the morning than the other.
A word about using with MVO sunscreen
The only thing I had an issue with while using the range was with my MVO sunscreen. I needed a bit more time to apply my sunscreen because it doesn't sit too nicely on most facial serums if applied hurriedly. I had to press in the sunscreen to minimize flakiness. But otherwise, I was able to use the Badger sunscreen along with this range without the same issue.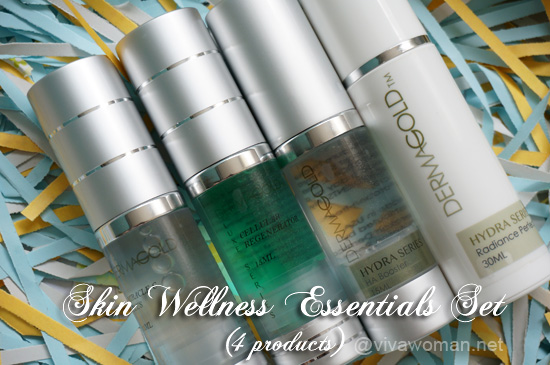 Price
DERMAGOLD skincare series is suitable for all skin types and recommended to be used as a set to receive optimal results. You can purchase the products individually but I was told that the sum of the products is great than the effect of each individual product. Surprisingly, the products are quite affordable, considering the ingredients and quality. The 5-product Bright Skin Essentials Set that I used cost S$345. If you don't have hyperpigmentation issues like me, you can start with the 4-product Skin Wellness Essentials Set that include the Miracle C Plus, Cellular Regenerator, HA Booster and Radiance Perfect at S$266. They should last you anything from one to two months depending on how much you squirt each time. I'm just about reaching the halfway mark, having been using the products twice daily (except for Radiance Perfect). Oh, I also use the Cellular Regenerator, HA Booster and Radiance Perfect around my eye area.
Availability
DERMAGOLD skincare is distributed by Berakah Dermcare Pte Ltd. You can check their website at Dermagold or their Facebook page at www.facebook.com/dermagold. Alternatively, you can also send an email to enquiries@dermagold.sg to get a list of stockists or call hotline: 86695510. DERMAGOLD Miracle C Plus ($69) is also stocked at: Signature Image Academy International,52 Telok Blangah Road, Telok Blangah House, #01-02, Tel: 6278 7855, Email: consultant@signatureimageacademy.com.
Final words
Would I recommend the products? Yes, based on my positive experience using them. I think the DERMAGOLD skincare products are worth trying out if you're serious about a skincare system that is great to apply and also make a difference to your skin condition. Plus, they don't cost an arm or a leg.

Comments