Dermagold: Simply Effective Skincare Solutions That Feel Great And Work Wonders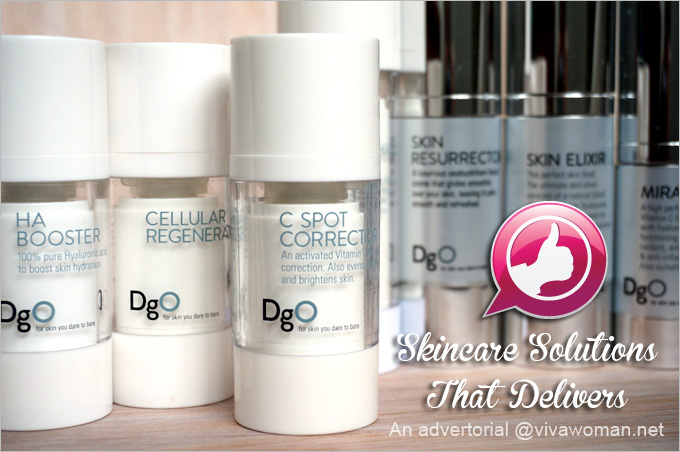 If you're serious about improving the condition of your skin and are looking for a fuss-free skincare system that actually works, I would recommend Dermagold. The reason? Not because I'm paid to do so but rather, I have confidence in the products and the people behind the brand for I have tried them and am impressed with how well they'd delivered according to their promises.
When did I use the products? Well, I began using the system of five products in December 2013 till April 2014. You can check out my review published on 14 January. The reason I'm writing about them again is because the brand has since gone through a major rebranding and so I'm working with them to reintroduce their new look to my readers.
Lightweight and effective
First, let me say this is the first time I've used so many products without feeling like my skin was burdened in any way. I was surprised at how lightweight the products are formulated as all five products could be used systematically and synergistically without clogging my oil glands. In fact, each product is uber lightweight and sank into my skin almost immediately upon application. No tight, sticky or greasy feeling and residue! I would even say my skin felt soft and velvety upon touch.
After using the products for about six weeks, I also noticed my skin tone becoming noticeably clearer and brighter. Some pigmentation marks had also lightened up. The following before and after picture was what I shared in my post of 14 January. I concede that there were some differences to the lightings as the pictures were taken on two different dates but the reality is that I did see an improvement.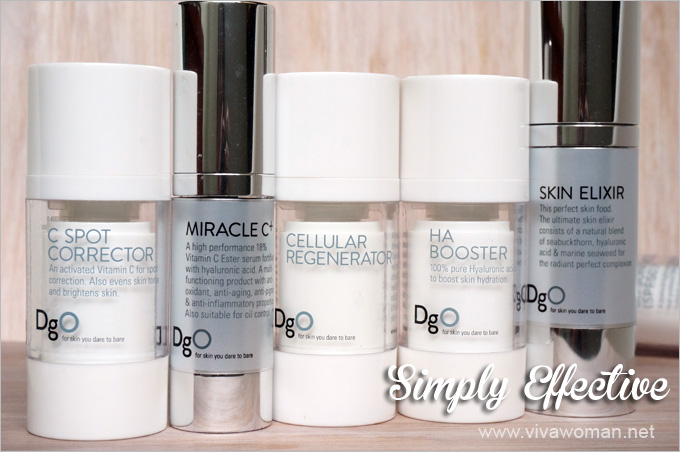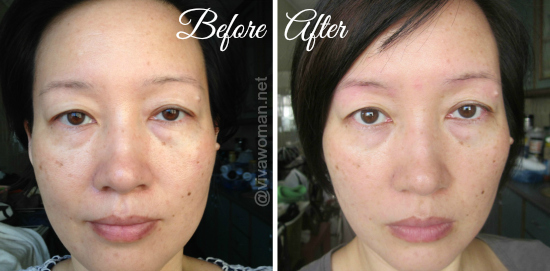 Developed in 2003
Dermagold is a local range of fuss-free products developed especially for Singapore and Southeast Asian climate with effective active ingredients and easy to apply texture. Behind the history is a story of friendship and dedication toward searching and later developing a range of products that has quietly but steadfastly served a niche group of women for about 10 years now.
The women behind the brand, Grace Ling and Lim Luping who are trained in medical aesthetics, are two childhood friends who were looking for skincare products for themselves. They wanted something that was simple, effective and yet lovely to the senses. When they could not find anything in the market to suit their own needs, they decided to invent and create a skincare line of their own that harnessed the best of science and nature.
Plethora of products for all skin types
So Dermagold was birthed and products were created after working with manufacturers around the world including Israel, USA, Europe and Asia. Based on what is dubbed a 3S philosophy—Science, Simple, Sensorial—Dermgold products can work for any skin care condition because the brand has a plethora of products to meet different skincare concerns, including those with sensitive skin.
The five products I was given to try was specially curated based on my skin type and concerns to be used both day and night, right after cleansing and toning. While these products cannot be categorized in the natural category, they are made without mineral oil, alcohol denat, silicones and parabens—something that works for a less than 100 percent purist like me. So it's not a one formula for all skin types but a system of products that can be mix and match to suit specific concerns.
Here are highlights of some products I like as well as three new products in the revamped series: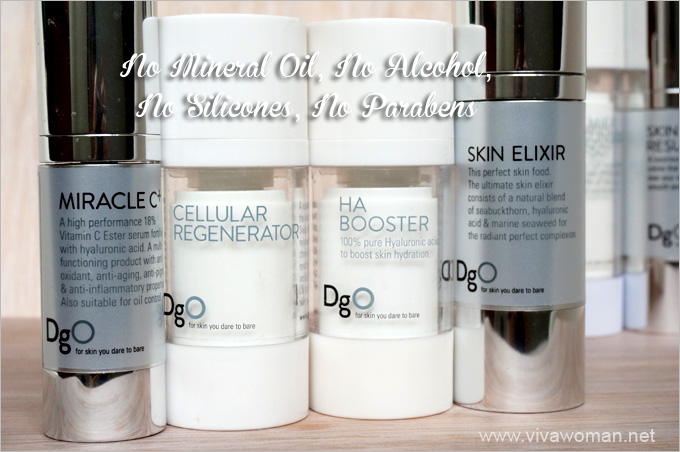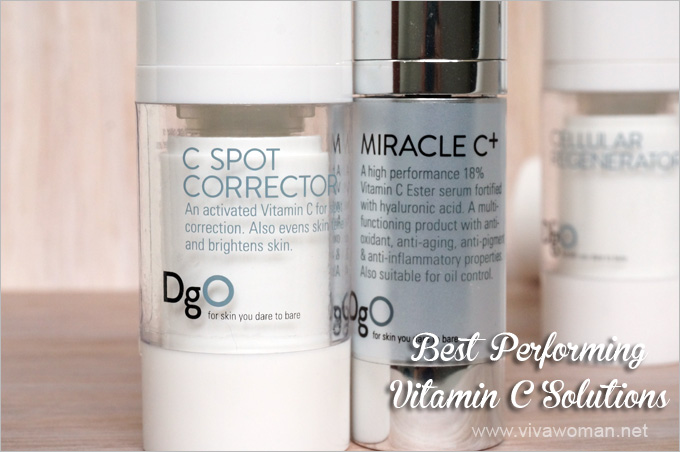 Dermagold Vitamic C products
The main products that helped clear my complexion were the Dermagold C Spot Corrector (15ml, $79) and the Miracle C Plus (15ml, $69). One is an activated vitamin C for spot correction that is colorless and of low viscosity, and the other is a silky smooth concentrated 18% vitamin C ester serum with anti-oxidant, anti-aging, anti-pigment and anti-inflammatory properties.
I like that both products are easy to use, do not come with a funky smell like most vitamin C serums, and they are effective.
Ingredients of C Spot Corrector:
Ethyl Ascorbic Acid 10%, Butylene Glycol, Panthenol, Xanthan Gum, Methylisothiazolinone, Iodopropynyl Butylcarbonate (Manufactured in Taiwan)
Ingredients of Miracle C Plus:
Organic Herbal Infusion, Organic Aloe Barbadensis Leaf Juice (Aloe Vera), Sodium Ascorbyl Phosphate (Vitamin C), Methylsulfonylmethane (MSM), Hyaluronic Acid, Hamamelis Virginiana (Witch Hazel), Carbomer, (2s)-2 Amino-5-guanidinopentanoic Acid, Organic Simmondsia Chinensis (Jojoba Oil), Ethylhexyl Glycerin, Phenoxyethanol. **Paraben free (Made in USA)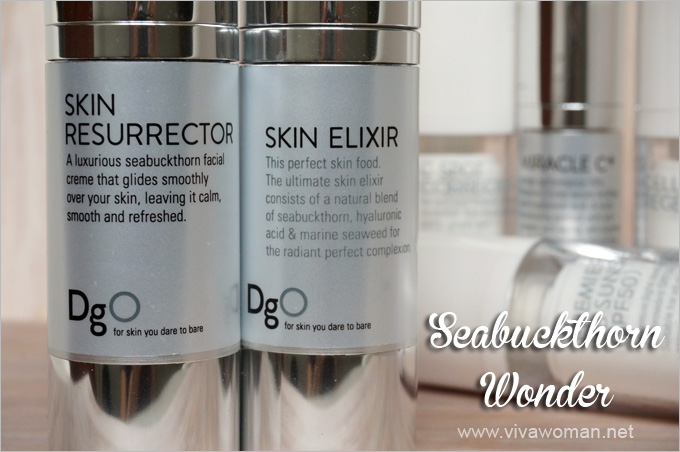 Dermagold Seabuckthorn Star Products
Interestingly, the creators behind the Dermagold brand has a penchant for seabuckthorn, which has traditionally been utilized to promote the healing of skin injuries as well. This mighty berry has a high omega fatty acid content including 3, 6, 9 and the rare 7 which helps combat skin dryness, visible fine lines, wrinkles and other signs of premature aging.
So products containing this ingredient in the Dermagold slate are the Dermagold Skin Elixir, a skin lotion (30ml, $128) and Dermagold Skin Resurrector, a skin velvety skin cream (30ml, $168). I have not tried them but going by the their ingredients and descriptions, they sound like stuff I would be able to use on my own skin.
Ingredients of Skin Elixir:
Water (Aqua), Glycerin, Hippophae Rhamnoides Fruit Oil, Laminaria Hyperborea Extract, Lonicera Caprifolium Extract, Echinacea Purpurea (Coneflower) Extract, Carbomer, Phenylpropanol, Butylene Glycol, Caprylyl Glycol, Allantoin, Simmondsia Chinensis (Jojoba) Seed Oil, , Soluble Collagen, Isopropyl Myristate, Chondrus Crispus (Carrageenan), Xanthan Gum, Sclerotium Gum, Glycine Soja Oil, Tocopherol, Phospholipids, Beta-Sitosterol, Glucose, Squalane, Sphingolipids, Sodium Hyaluronate, Carthamus Tinctorius, Linoleic Acid, Disodium EDTA, Fragrance, Tocopheryl Acetate, Lithospermum Erythrorhizon Root Extract, Retinyl Palmitate, Dunaliella Salina Extract, Hexyl Cinnamal, Linalool, Geraniol, Citronnellol.
Ingredients of Skin Resurrector:
Water (Aqua), Aloe Barbadensis Leaf Juice, Cyclomethicone, Glycerin, Lonicera Caprifolium Extract, Sodium Polyacrylate, Hydrogenated Polydecene, PPG-5-Laureth-5, Dimethicone Crosspolymer, Isopropyl Myristate, Triticum Vulgare (Wheat) Germ Oil, Tocopheryl Acetate, Retinyl Palmitate, Sodium PCA, Dimethicone, Hippophae Rhamnoides Friut Oil, Phenethyl Alcohol, Phenoxyethanol, Caprylyl Glycol, Chlorphenesin, Parfum, Disodium EDTA, Butylphenyl Methylpropional, Hexyl Cinnamal
*Paraben free*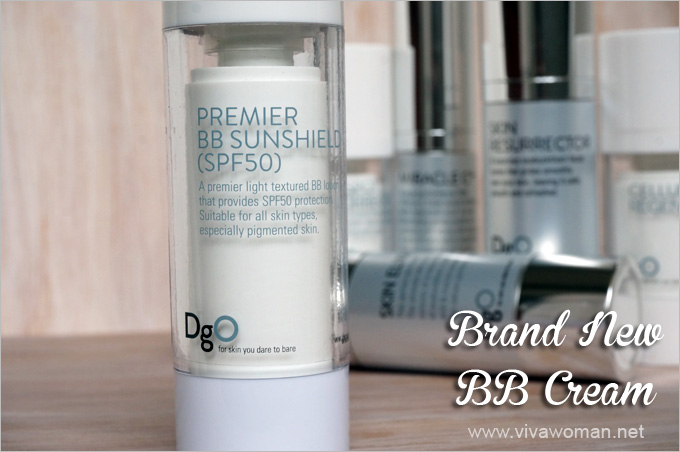 BB cream with SPF50
Also in the revamped series is the new Dermagold Premier BB Sunshield (30ml, $49) which contains Titanium Dioxide and Octyl Methoxycinnamate. So yes, this product doubles up as a sunscreen and a makeup base.
I have not used this product but I did check it out and the texture is light, making it very suitable to be used daily as a protective BB cream. I know of women who swears by this alone in their makeup arsenal.
Ingredients:
Pure Water, Titanium Dioxide, Octyl Methoxycinnamate, Butylene Glycol, Talc, Mica, Aluminum starch octenylsuccinate, Diethylamino Hydroxybenzoyl Hexyl Benzoate, Cetyl PEG / PPG -10/1 Dimethicone, Diethylhexyl carbonate, Dimethicone,
Iron Oxide(CI 77491, CI 77492, CI 77499), Trehalose, Aloe Barbadensis Leaf juice, Cassia Angustifolia Seed Polysaccharide, Bisabolol, Tocopheryl Acetate, 2-Phenoxyethanol, Chlorphenesin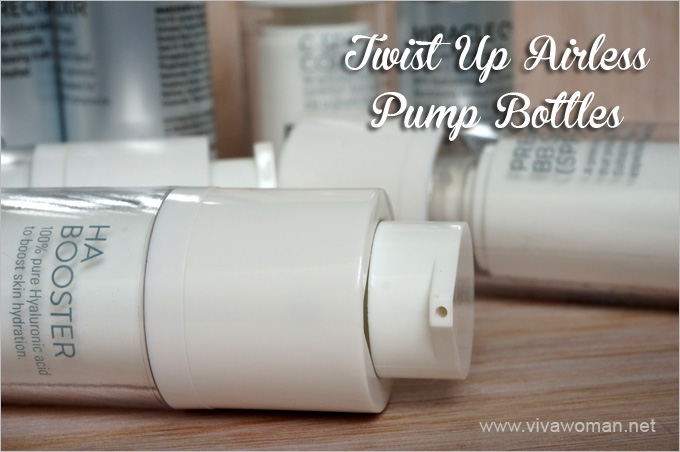 I also noticed the new revamped series come in interesting twist up airtight bottles. The only thing is the bottles are not transparent and so you can't tell how much products are left. Otherwise, I found them to be very elegant and functional.
Availability and discount promo code
More information on the Dermagold range of products are available at their website at Dermagold or their Facebook page at www.facebook.com/dermagold. You can also find them at Hadara Aesthetics Boutique at 23 Lorong Telok #01-01 Tel: 69693022 Email: info@hadaraaesthetics.com.
From now till end December 2014, quote 'Viva Woman' to enjoy the following discounts:
– 5% off for any purchase of Dermagold products
– 10% off if purchasing 3 Dermagold products or more
Oh don't worry about hardselling at Hadara because I've been there and I know it's not something they practise. In fact, if you like to try the Dermagold products without commiting to them first, you can try out the facials at Hadara because they only use Dermagold products. Check out my review (click through) to read all about it and quote 'Viva Woman' to enjoy 10% off.
In closing, I'll like to reiterate that Dermagold is great for those serious about improving their skin condition. However, their products really work best in a system rather than on a standalone basis. Personally, this is one range of products I would be happy to use again and the reason I'm not doing is only because I need to review other products for the blog.

Comments