Kjaer Weis Cream Foundation: high-end organic makeup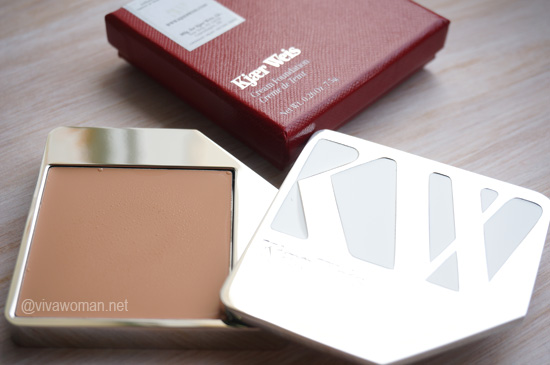 Come, come, let's gather, green beauty lovers! Today, let me introduce you to Kjaer Weis, a natural and organic cosmetic brand created by Danish-born, New York based make-up artist, Kirsten Kjaer Weis. So how exactly do we pronounce the name? It's KÄ"-yar WÄ«s. Okay, that's Danish and I suppose it might be verbally challenging for many of us in this part of the world but at the least, just try to remember the spelling okay?
Comparing with traditional counterparts
While I was very excited about this new brand, I was also concerned about it's performance. Many of you will probably concur with me when I say that most natural and organic makeup products just can't achieve the same results as their chemical-laden, traditional counterparts. When it comes to foundation for example, while some of them do offer decent enough coverage, none can match their traditional counterparts when it comes to offering one that perfect flawless looking skin. Somehow, they're just missing that X-factor.
Luxury high-performance color cosmetics
But my hope was ignited when I learned that it was precisely this desire to fulfil that gap that drove Kirsten Kjaer Weis to create her line of luxury high-performance color cosmetics made with natural and organic ingredients. Because Kirsten is a makeup artist, so she really knows about performance. But finding the perfect balance between nature and performance isn't easy.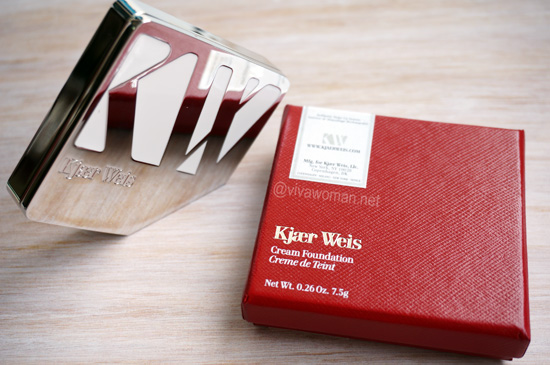 Handmade in Italy with natural ingredients
You might be interested to know that while Kirsten is based in New York, she has partnered with an Italian manufacturer that exclusively used natural ingredients to create the Kjaer Weis line of cosmetics. According to her, the challenge with using natural ingredients is that unlike man-made chemicals, the formulas could easily change in color and consistency from batch to batch. So apparently, each new batch of product had to be, and still is, personally inspected by Kirsten for the highest level of quality control. In her own words, this is as close to a hand-made product as you can get.
Certified organic
Because Europe is way ahead in demanding greater transparency when it comes to ingredients found in makeup, so having Kjaer Weis products made in Italy is a good thing, particularly because they've obtained the CCPB (Controllo e Certificazione Prodotti Biologici) certification. Apparently, this inspection agency has some of the strictest standards for organic and natural certification in all of Europe.
Gluten-free
To sum up, the makeup products from Kjaer Weis are made in Italy, Controllo e Certificazione Prodotti Biologic Certified Organic and are formulated with no artificial ingredients, such as petroleum, parabens, artificial coloring orfragrance, petrochemical emulsifiers. The brand does not test on animals and their products are also gluten-free. Sounds good already eh? Now, how about its performance?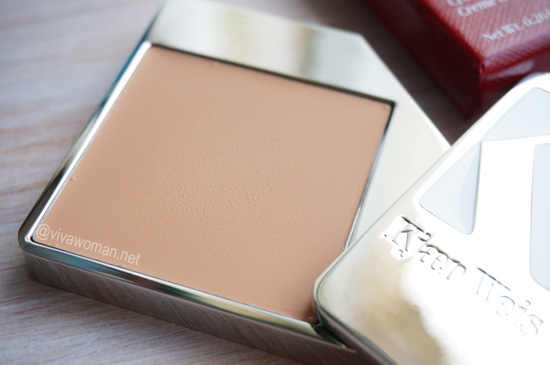 Wrong shade
Let me tell you I was so excited when I heard of this brand that I just plunged headlong to order the cream foundation from Naturisimo never mind the high price tag and my uncertainty over the right shade. How's that for impulsive shopping? I took a chance and ordered the Just Sheer Cream Foundation because it stated that this is created for fair to medium fair skin with olive or golden undertones. But my heart sank when I received the package because the shade looks way darker than I'd expected. The description on the website is wrong because this is obviously for medium skin tone. There goes my $!
Semi-matt finish
Thankfully, this shade still works for me when I apply just a bit for translucent look. It seems the ultra high-grade pure mineral pigment adapts to match skin tone by micro-reflecting. And as the name implies, it is really quite sheer when applied with a light hand. You can layer it for increased coverage but due to the wrong shade, the end result is rather heavy and not ideal for me. What I really want is to achieve a natural, semi-matte and flawless finish.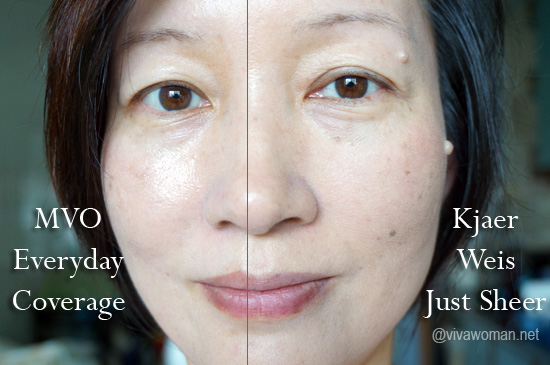 Use alone or under powder
So while this Kjaer Weis Cream Foundation can be used on its own, I use the Kjaer Weis Cream Foundation the way I use a liquid foundation—as a base and under a mineral foundation powder. I know that may be a little excessive for some girls but when used in that combination, my skin looks a lot more luminous.
Lightweight but chalky
I've been using this foundation for a week now and I've to say I'm liking it. It does not cause my combination skin to feel dry or turn oily and does not cause any streaking at the end of the day too. More importantly, it feels rather light on my skin, as if I'm not wearing anything. But because this is a cream foundation, it is more chalky than a liquid foundation and can come across a tad drying under my eye area.

Organic ingredient list
The Kjaer Weis Cream Foundation is formulated with 95% organic farming ingredients and contains moisturizing and age-defying ingredients such as sweet almond seed, coco and jojoba oils. Here's the full ingredient list: prunus amygdalus dulcis (sweet almond) seed oil*, caprylic/capric triglyceride, cocos nucifera (coconut) oil*, zea mays (corn) starch*, cera alba*, copernicia cerifera (carnauba) wax*, simmondsia chinensis (jojoba) seed oil*, polyglyceryl-3 diisostearate, non-gmo tocopheryl acetate. *Certified organic
Refillable compact
The packaging is compatible to those of traditional brands but the metallic shining case is rather heavy and attracts too many fingerprints. It does not come with any sponge though. To reduce waste, all of the compacts were designed to be refillable. Kirsten was very clear with her intention, "I wanted something unique and modern, but also socially responsible."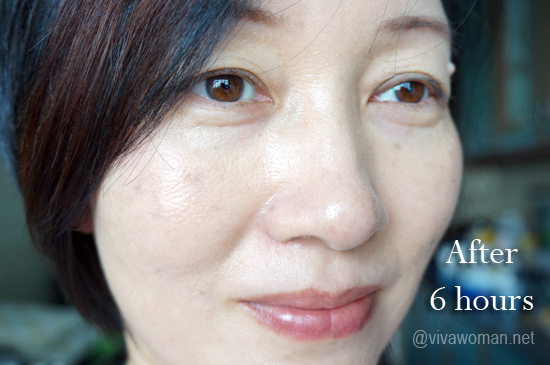 Price and availability
A brand new Kjaer Weis Cream Foundation costs US$68 at their website. I actually bought it for more at Naturisimo at £49 because I couldn't find a US online store that offers this with international shipping. The coverage is decent even with a light hand. I would like to repurchase this again, given that this works better than my Living Nature liquid foundation. However, I may wait a while longer because I heard that more shades will become available. Currently there are five and while Paper Thin now looks like a better shade for me but I'm leery of the pink undertone.
Overall summary
But overall, I'm pretty impressed with the brand based on my first experience using their products. I think this product is as good as its traditional counterparts. I believe if I've gotten the right shade, achieving a flawless look may not be so far-fetched. I also like Kirsten's approach to makeup as she believes the best use of makeup is simply to enhance a woman's natural beauty—you want people to notice how great you look, not how great your makeup looks.

Comments