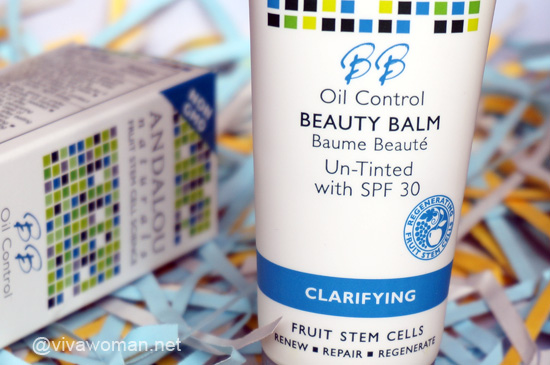 Since some time last year, I began to notice BB creams being introduced by some of the natural brands. I was curious as to how they'll measure up against the conventional brands and secretly desired to try them out. But given that I had my reservations especially since reviews on them weren't stellar, I decided to hold off my purchase. Then a few weeks ago, I came across Andalou Naturals Beauty Balm and the reviews seem positive and so I got a tube to try. Having used it for awhile now, I'll say I like the product but not the way the product is being positioned.
Certified organic and non-GMO
Before I tell you why I have issues over the positioning, let me share a little about Andalou Naturals that I've found out. I first spotted the brand over at iHerb and upon checking, realized that this is a US brand with a range of fruit stem cell-based skin, body and hair care products made with a minimum 70% certified organic content. Purists of green beauty are going to be happy knowing that besides certified organic, the brand champions ingredients of natural origin and do not make products with sulfates, petrochemicals, phthalates, synthetic colors and dyes, artificial fragrances, triclosan, GMO, PEG, MEA, TEA, DEA, synthetic preservatives and parabens. The range is also verified gluten-free, 100% eco-friendly, vegetarian and cruelty-free.
Available outside US
Andalou Naturals is sold primarily in the US and Canada through natural health and beauty channels but is also exported to 11 different countries worldwide including Australia, Hong Kong, Japan, New Zealand, Philippines, Malaysia, South Korea, Taiwan, Brunei, UAE, and Ukraine.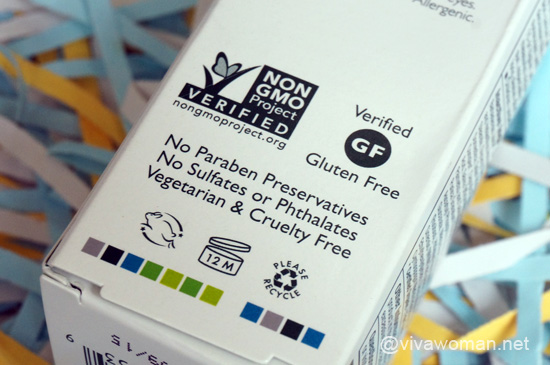 3 in 1 beauty balm
An untinted mattifying formula free of chemical filters and nanoparticle, the Andalou Naturals Beauty Balm is said to be a 3 in 1 product blending fruit stem cell complex and providing mattifying hydration and broad spectrum protection to speed cellular renewal, diminish pores and excess oil, and defend against UVA/UVB photo-aging for a clear and healthy complexion.
Full ingredient list
Active Ingredients: Zinc Oxide 20.0% Other Ingredients: Aloe Barbadensis Juice*, Simmondsia Chinensis (Jojoba) and Helianthus Annuus (Sunflower) Oils*, Sorbitan Stearate, Glyceryl Stearate, Fruit Stem Cells (Malus Domestsica, Solar Vitis) and BioActive 8 Berry Complex*, Caprylic/Capric Triglycerides, Hyaluronic Acid, Salvia Officinalis (Sage), Serenoa Rapens (Saw Palmetto) and Salix Alba (Willow Bark) Extracts*, Punica Granatum (Pomegranate) Oil*, Magnesium Ascorbyl Phosphate (Vitamin C), Algae Extract, Zinc Gluconate, Magnesium Sulfate, Aspalathus Linearis (Rooibos), Hibiscus Rosa-Sinensis and Camellia Sinensis (White Tea) Extracts*†, Phenethyl Alcohol, Ethylhexylglycerin, Citrus Tangerina (Tangerine) and Cymbopogon Martini (Palmarosa) Oils*
*Organic † Fair Trade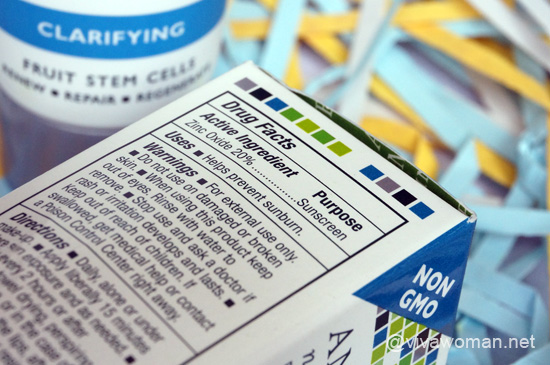 Benefits of various ingredients
Malus Domestica is derived from an extract of a rare Swiss apple and Solar Vitis is derived from an extract of a grape from the Burgundy region of France. Both fruit stem cell cultures work to regenerate and stimulate healthy skin cell product and help protect skin's DNA against environmental stress and aging factors.
BioActive 8 Berry Complex comprise super antioxidants to combat environmental stressors, support cell turnover, increase collagen and elastin, and strengthen dermal immunity with a certified organic blend of acai berry, aronia berry, bearberry, bilberry, black elderberry, goji berry, rosehips berry, sea buckthorn berry.
Instead of purified water, the formulation uses certified organic aloe vera (aloe barbendensis) as the base and it is said to prepare and provide the skin with an optimal dermal delivery for the active ingredients.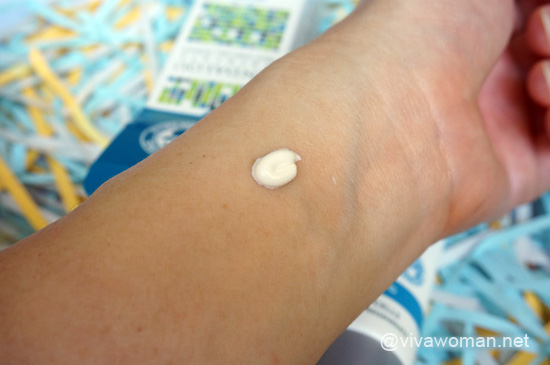 Feels more like a sunscreen
Texture wise, this is creamy and slighty thick. But spreading the cream on my skin was easy and while it appears rather white on the skin upon initial application, that whitecast is easily blended out without leaving any trace on fair skin. Non-greasy and non-sticky, the texture of the Andalous Naturals BB cream definitely feels more like a sunscreen than a BB cream because my understanding of BB cream is an all-in-one facial cosmetic product to replace serum, moisturizer, primer, foundation and sunblock. However, I don't see this product working as a primer nor a foundation. Perhaps the tinted version might do a better job but I understand from the reviews that the shade is rather orangey.
I wonder if the quote on the inside of the top cover has any hint that the positioning is a mistake. I mean, a mistake is simply another way of doing things? If you don't want to call a spade a spade, then it all sounds like an excuse of some sort to me.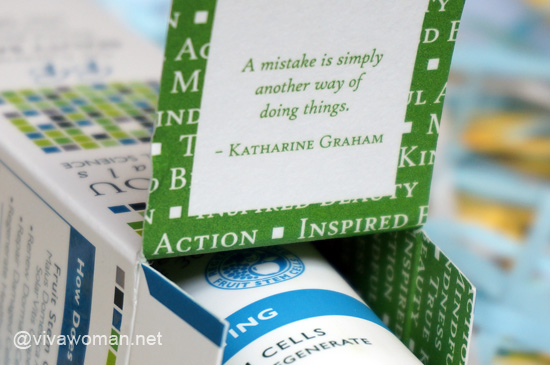 20% zinc oxide
So yes, I have quite an issue over the positioning of this product. With 20% zinc oxide as the active ingredients, I really see this more like a sunscreen than some beauty balm. That or the whole definition of beauty balm has been redefined.
But positioning aside, I do like this product quite a bit as a sunscreen. It blends easily, doesn't give my fair skin any whitecast and doesn't cause my face to look like some oil slick. I could apply this straight after using a facial toner and it doesn't even cause my skin to dry out. The only thing that concerns me is the citrus smell coming from the citrus tangerina as I was worried that it might be phototoxic. However, I noted that tangerine oil is not considered phototoxic at low doses and since the ingredient is listed way below on this product, the content should be insignificant.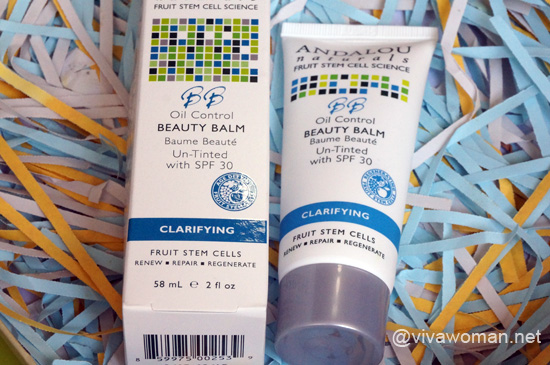 Overall summary
If you're looking for a non-nano zinc oxide based sunscreen that is easy to wear, this product might just work for you especially if you have fair skin tone like mine. On a darker skin tone, the whitecast might be more apparent. Given the ingredients, the product might even give you clearer and healthier skin over a longer term usage. But I don't find this beauty balm very mattifying. While it doesn't cause more oil production, it'll give your skin some shine so your best bet is to wear it under a loose powder or foundation. I wear this with my cream and mineral foundation and my skin looks pretty good the entire day.
Price and availability
I got the Andalou Naturals Beauty Balm from iHerb. The price of US$14.37 for the 58ml tube is a good deal in my opinion. If some for reason you really don't like using this on your face, you can always use it on your neck or your hands. However, I'll like to think that most who tried it should have little issues with it given the high rating the product has garnered from various users so far.
Get US$10 off your first-time purchase
Use my promo code OVO966 (affiliate) if you're shopping at iHerb for the very first time to enjoy $10 off your purchase. Shipping is speedy: you have a choice of using DHL, which takes three days to arrive from US to Singapore. I pay US$4 for the shipping via Singpost and it always takes about five days with no issues. Anyway, you're given a tracking number if you ever need to locate your parcel.
Have fun shopping! (^_^)