Green Beauty: eco-friendly Scotch Naturals for nails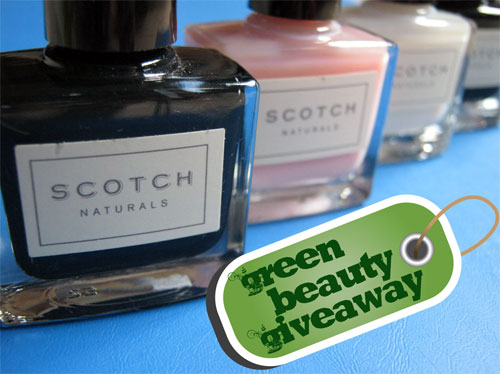 How can the VivaBella Green Beauty Box Giveaway be complete without products to beautify your nails? So thanks to Simple Living, here are some lovely water-based nail polish from Scotch Naturals Watercolor. I've reviewed this range in September and mentioned how impressed I was with the quality of this non-toxic nail polish that is not only "3 Free", but also free of ethyl acetate, butyl acetate, nitrocellulose, acetone, and heavy metals.
Safe & eco-friendly alternative with salon quality results
This product certainly fits in the criteria for green beauty because it is paraben free, fragrance free, cruelty free, plus it is vegan, hypoallergenic and biodegradable. The thing about these water-based nail polishes is that they do not stink like chemical solvent-based nail polishes but realistically, you'll need to wear three coats to achieve a salon quality finishing. But the good news is that they dry very quickly and you don't need to use too much at one go. To get a feel of how water-based nail polish will look on your nails, check out my review of the Scotch Naturals in which I gave them a 5 out of 5 rating.
Tell me your favorite Scotch Naturals nail polish color
If you want to win these Scotch Naturals nail polishes plus the other Green Beauty Box goodies, go check out Scotch Naturals website and tell me what is your favorite nail color. You can also pick your colors from Hopscotch Kids if they catch your eye.
Get a 15% discount code
Do 'Like' their Facebook page to stay tune to their updates and promotions. Join their mailing list known as "The CLUB" as their current promotion for club member is a 15% discount code until 31 Dec 2011! Woohoo! And for some X'mas shopping, you might want to add their cocktail trio, a value buy at $74.90 comprising 3 SCOTCH colours and 1 deluxe Top coat (U.P. is $91.60 if bought seperately) to your shopping list.
Giveaway closing real soon
We're coming to the end of the VivaBella Green Beauty Box Giveaway next week so if you haven't been participating, now is the time! Five of you can walk away with S$3000 worth of green goodies!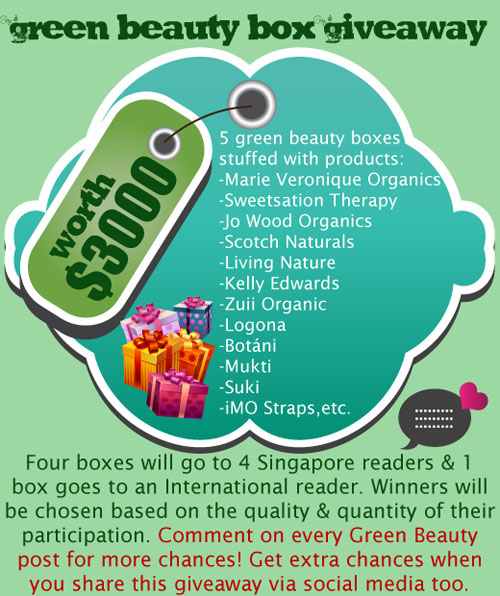 Visit Viva Woman Green Beauty to participate.
Comments