Beauty Lunchbox Ideas: 20 yum recipes to bring to work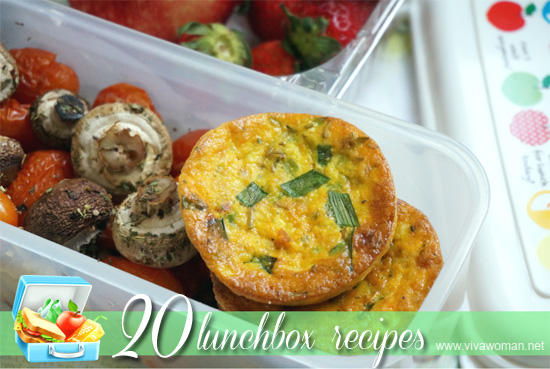 I did it! I packed my own lunch to work for a whole month; well actually it's been more than a month already! And I DID NOT slack! NOT. A. SINGLE. DAY. Hallelujah! In fact, I managed to inspire a few colleagues along the way and they started to pack their own lunches too. It was fun! We shared our food, we exchanged ideas and we became closer in the name of food. HA. More importantly, I noticed that my digestive system is a lot healthier and I am definitely looking a lot better after a month of eating from my own lunchbox. So today, let me share with you 20 yummy and nutritious lunchbox ideas and hopefully, you can be inspired to pack your own lunches to work too.
Let me just start by saying that packing your own lunch does not have to be boring. Neither does it have to take up a lot of time. Don't look at it as a chore and I promise you, it'll be fun! Think about your beauty goal, which is to have healthier looking skin and you'll be inspired. Also, you can start out by lunching in just once or twice a week, and then increase that frequency over time. I do it daily because I'm on a row and I really enjoy the entire preparation process. Plus, the thought of heading out for lunch when the UV index is highest is a big motivation to just chill in the office.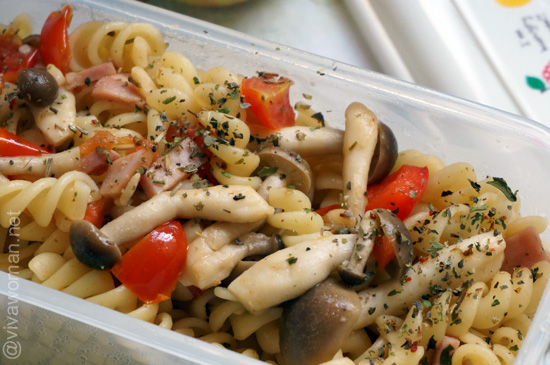 Mushroom pasta
Many resources point to pasta being a bad skin food, but it actually depends on the composition. I try to buy whole wheat or whole grain pastas and spaghetti when I can because these are way healthier. The reason I like pasta is because they contain lots of fiber and they also come with the mineral selenium, which helps protect our skin against environmental damage and promotes elasticity and general skin health. As an ingredient, you can mix it with ANYTHING! Here you see clamshell mushrooms and cherry tomatoes and I also fry them using lots of garlic, Tuscan spice mix and Worcestershire sauce. Drizzle some olive oil over and lunch is ready!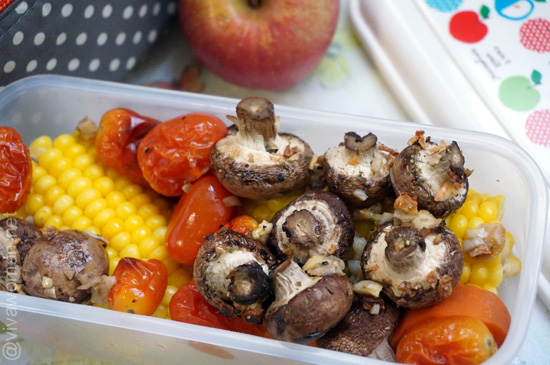 Baked mushroom
As you can see, I love mushrooms. The swiss brown mushrooms are rather tasty when baked. Just add a dash of Tuscan spice mix and some garlic, bake for 10 minutes and they're good to eat. In this lunchbox, I ate them with steam corn and cherry tomatoes.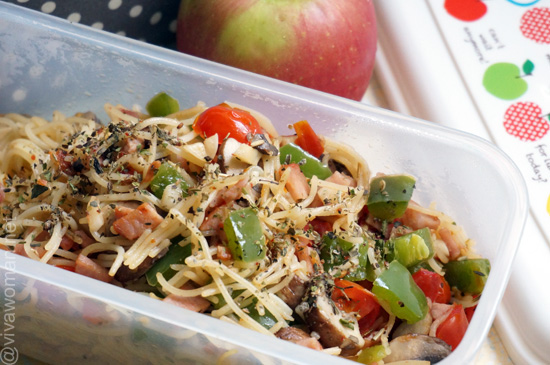 Angel hair spaghetti
There are spaghetti and there are SPAGHETTI! I love the angel hair spaghetti most because they taste so much better than the normal ones. In fact, they look like fried noodles here! So what did I add? Just ham, capsicum and cherry tomatoes with lots of garlic, Tuscan spice mix and Worcestershire sauce. This dish takes about 20 minutes to be ready—about 3 to 5 minutes to cook the spaghetti, 10 minutes to prepare the ingredients and then another 10 to stir fry everything.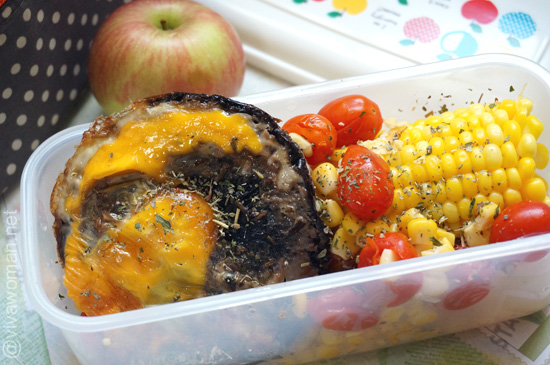 Baked egg portobello
Oh how succulent these portobello mushrooms are! I showed you how to make them last week and they're superb as lunch treats, eaten with corn, fried rice or pasta. It's your choice! I baked my large portobello mushroom with an egg on top but unfortunately, the egg "erupted" and caused a bit of a mess. But nonetheless, it still tasted as divine.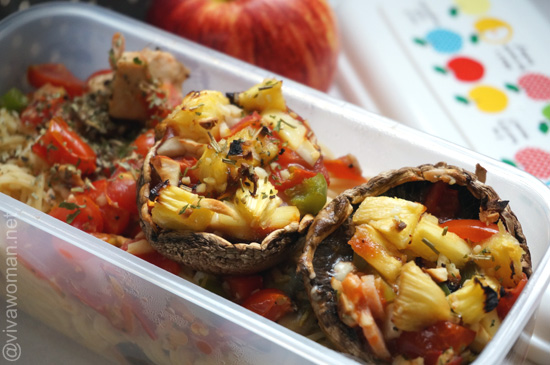 Portobello mushroom treats
Another portobello side treat but this time with a zing flavor because of the pineapple chops I added. I love how this reminded me of a Hawaiian pizza. Served on top of spaghetti and lunch was just awesome, hands down.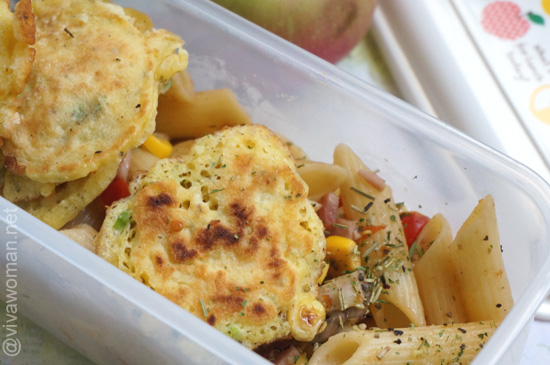 Potato fritters
I made a mistake with this batch of fritters but they turned out really yummy according to my son and husband. Because it turned out too diluted, I ended up pan frying them instead of baking them as planned. Ingredients included mashed potatoes, corn kernels and spring onion mixed with egg and corn flour to a batter. Anyway, I've since mastered the technique of making fritters especially using my muffin tray and the first picture in this post is my proof!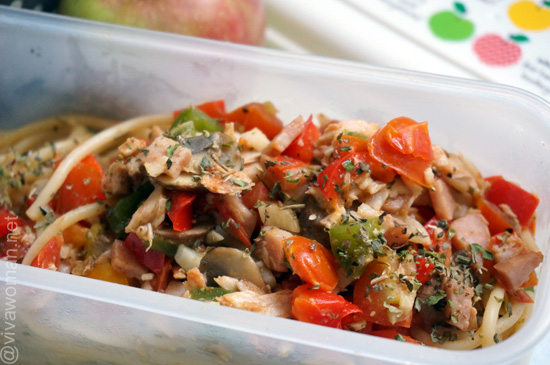 Tuna spaghetti
Tuna is another great lunchbox ingredient. Besides adding to sandwiches or salad, you can add it to your pasta or spaghetti. I bought the canned tuna in mineral water which is less fatty. Break it up or cook it in chunks.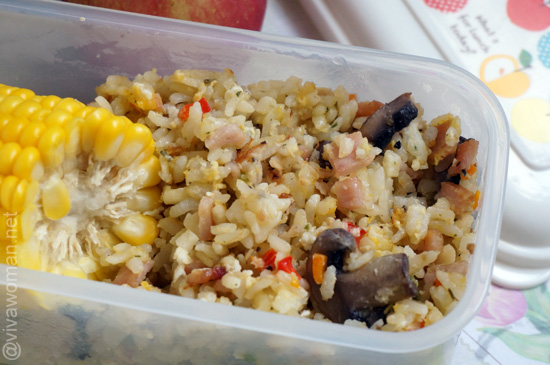 Fried rice paradise
So what can you do with leftover rice? Cook fried rice of course. Add an egg, some ham, capsicum and mushroom and bingo, lunch can be served anytime. Just heat up and it's ready for munch!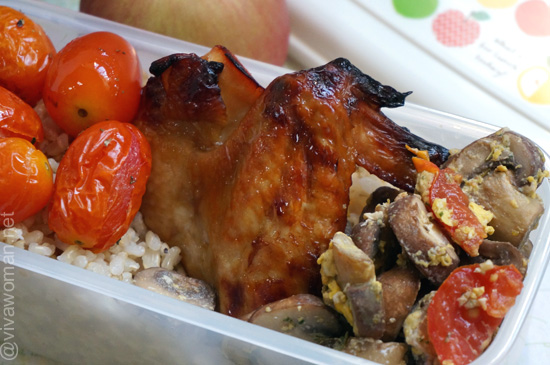 Baked chicken wing on rice
Meat dish may seem time consuming to cook but it doesn't have to with some planning. I marinated my chicken wings the night before and they were ready to be baked the next morning. Because it's just baking, I could go about doing other things while they're being cooked. I fried some mushrooms and egg to go along and served the dish with some rice.
Same ingredient, cooked differently
I know some of you cannot spare even a minute to prepare a lunchbox but perhaps you can consider preparing them as meals to be eaten at home when you have the time. Most of these were prepared in the morning and they took between 20 and 30 minutes. I could have saved some time by preparing some of the ingredients the night before but I didn't. Also, there are always a few standard ingredients I stuck to and the most common one you see is cherry tomatoes. But served it differently with other ingredients and a brand new lunchbox is ready. By the way, I don't know if you've noticed but I have left out green vegetables this round. Hopefully, I'll be able to include them in my next beauty lunchbox series. So stay tuned!
Oh, you can find the next 10 lunchbox ideas over at my beauty lunchbox gallery I've just created. If there is any particular dish you want me to show you how to prepare, drop a note in the comment box and I'll do my best.

Comments