Imitation is the sincerest form of flattery…or not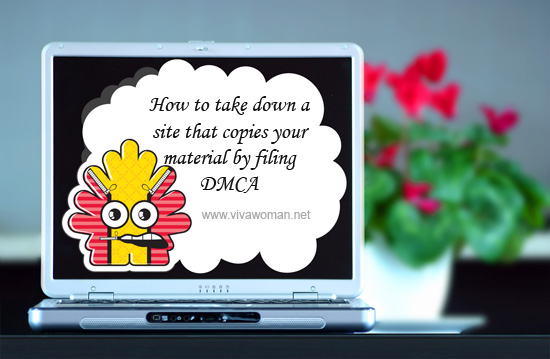 Have you had people who admire you so much they want to copy everything about you? Irritating yes? Annoying much? In this case, I'm not sure if imitation is the sincerest form of flattery. In fact, saying that is almost akin to consoling yourself. Well, I'm not sure how I would really react if I catch someone trying to copy my looks or my style but I tell you I was not at all flattered when I found out that my entire blog was copied end of last week.
I've had my content lifted over the years but this is the first time I've seen my entire 7 years worth of blog content, design, comments and everything in between being duplicated. EVERYTHING WAS COPIED! The thief even had the audacity to just change the name on my blog header to theirs and pass off the blog as theirs. I have screenshots to show you in a bit and you'll know what I'm talking about. I was appalled and I was prepared to kill someone already!
My first reaction was confusion. And next, I felt infuriated. I was fuming. What the heck! This is what we call "daylight robbery"! The nerve of some idiots! Let me tell you I wasn't at all keen to see another site using all my blog content and design. I was determined to take it down! And down it came!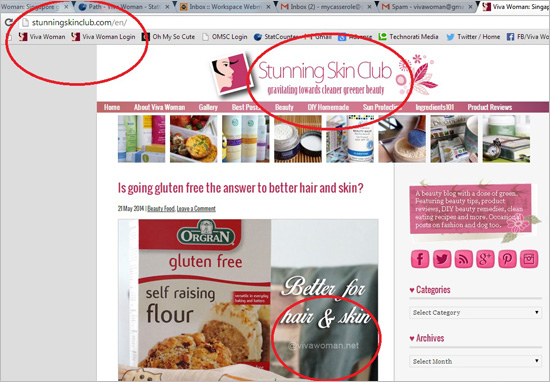 See how bold this thief is? Some people are just the scum of the earth!
This is the first time I've filed a DMCA take down and I was so glad I did it. It's not difficult and I'm going to show you how so that if you're a blogger and you ever have to deal with this, you'll know exactly what to do. In the past, I never did it because the theft was less severe and I found out that over time, those sites disappear. Because they usually farm content from a couple of sites, perhaps someone else filed the DMCA take down.
Get raw registrar data from who.is
So the first step to do is to trace the webhost of the culprit using whois service. Go to who.is and type in the domain url of the culprit site. It should give you a list of raw registrar data like this:
omain Name: xxxxxxxxx.COM
Registry Domain ID: 1859706339_DOMAIN_COM-VRSN
Registrar WHOIS Server: whois.enom.com
Registrar URL: www.enom.com
Updated Date: 2014-05-21 18:40:55Z
Creation Date: 2014-05-22 01:40:00Z
Registrar Registration Expiration Date: 2015-05-22 01:40:00Z
Registrar: ENOM, INC.
Registrar IANA ID: 48
Registrar Abuse Contact Email: Email Masking Image@enom.com
Registrar Abuse Contact Phone: +1.4252744500
Reseller: NAMECHEAP.COM
Domain Status: clientTransferProhibited
Registry Registrant ID:
Registrant Name: WHOISGUARD PROTECTED
Registrant Organization: WHOISGUARD, INC.
Registrant Street: P.O. BOX 0823-03411
Registrant City: PANAMA
Registrant State/Province: PANAMA
Registrant Postal Code: 00000
Registrant Country: PA
Registrant Phone: +507.8365503
Registrant Phone Ext:
Registrant Fax: +51.17057182
Registrant Fax Ext:
Registrant Email: xxxxxxxx.protect@WHOISGUARD.COM
Hiding behind whoisguard.com
This thief tried to hide his/her identity via whoisguard but after some trial and error and thanks to the domain reseller namecheap.com, I managed to figure out by sending an email to the address marked xx.protect@WHOISGUARD.COM. I didn't get any reply but the site disappeared after a day. So I figured out my email must have worked. Here's what I put in my email, which was taken off a template online.
To Whom It May Concern,
The following information serves to assert my rights and request removal of allegedly infringing web content under the Digital Millennium Copyright Act (DMCA). The following is a report, in good faith, of alleged copyright infringement. I am contacting you as the designated agent for the site upon which the infringing work currently appears. This letter is a Notice of Infringement as authorized in §512(c) of the U.S. Copyright Law.
I am the copyright owner of the works and the following is true and accurate.
1. The original work, for which I claim copyright, appears, with my permission, at the following locations online:
(URL of your blog)
2. Copies of my original copyrighted work are attached to assist you in your evaluation and determination.
(Any screenshots to prove you own the content)
3. The allegedly infringing work appears at the following location(s) online:
(URL of offensive site)
4. My contact information, as copyright holder, is as follows:
(Your email address)
5. The information of the alleged copyright infringer is:
(List some of the raw registrar info here)
6. I have a good faith belief the use of the above reference copyrighted work(s) that appears on the website for which you are the designated DMCA agent is not authorized by the copyright owner, its agent, or by law.
I declare, under penalty of perjury, this notice is true and correct and that I am the copyright owner entitled to exclusive rights which I allege are being infringed.
Signed this 27 day of May, 2014
(Your name)
Please let me know if you spot stolen content
The process is slightly tedious but it's worth it. You don't want these scrappers making money out of your content and you certainly don't want to see your work stolen right under your nose.
Thanks everyone who wrote to me or dropped me comments via Facebook. Please note that vivawoman.net does not duplicate any of its content elsewhere. So if you spot similar content, please highlight to me. Appreciate much!
Comments