Le Mieux Skin Perfecter: just glide and my face is clean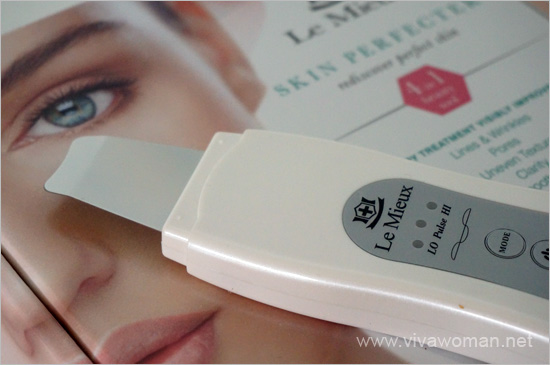 When I was first introduced to the Le Mieux Skin Perfecter, I thought it looked frightfully intriguing. Now, how does a beauty tool that resembles a hand scraper cleanses my face? Am I supposed to scrape dirt and debris off my face the way I scrape excess cement off my toilet tiles? *GASP* But on second thoughts, it's not a bad idea if it can actually scrape off some of my pigmentation and leave me with perfect looking skin. LOL.
High-end DIY ultrasonic cleansing tool
Good thing though, that's NOT how the Le Mieux Skin Perfecter works! Instead, this is a 4-in-1 new generation "do-it-yourself" professional-strength ultrasonic, handheld beauty tool which allows you to cleanse, tone, and stimulate your skin while accelerating the absorption of skincare serum. Its micro-massage action provides 28,000 ultrasonic vibrations per seconds and these low frequency ultrasonic waves are able to deeply cleanse your skin by softening pores, pushing out impurities and cellular debris, stimulate the skin and accelerate the absorption of skincare treatments. Every treatment supposedly visibly improves lines and wrinkles, pores, uneven texture, clarity, and smoothness. Now, the million dollar question is: did it deliver those promises for me?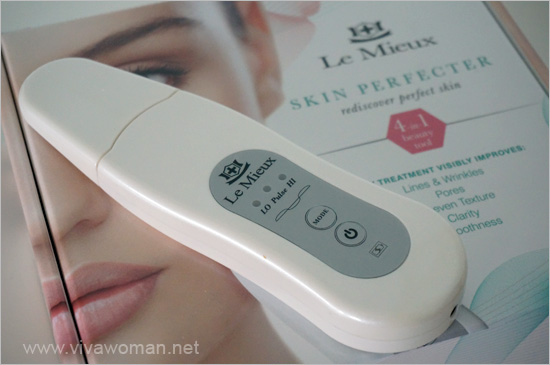 My experience with Le Mieux Skin Perfecter
I'm supposed to glide this over my wet face after at least having removed my makeup. But I actually used this only after I've double cleansed my skin because I was a little skeptical when I first tried this gadget. I know this tool resonates 28,000 vibrations per seconds when switched on but I felt very little of those vibrations when I glided it over my skin. So how does it actually cleanse my skin?
Then I saw water pulverized every time I gently glided this over my wet skin and realized that the ultrasonic waves are for real, and these waves create micronized particles that deep cleanse my pores. Oh, I really love how the water pulverized into fine mist in the air–it's so cool! But that aside, I noticed some gritty stuff left on the edge of the tool after using it the first few times and realized they must have been some of the white or blackheads from my nose. And it's true that after using the Le Mieux Skin Perfecter about three times a week for over a month now, my nose area looks a tad cleaner because the blackheads are lessened.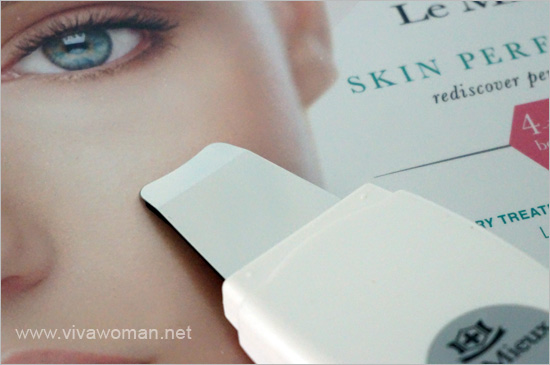 A tool that cleanses and accelerates absorption of serums
To further convince myself of its cleansing prowess, I also did an experiment by using this over my face after just cleansing my face one time with a cream cleanser. Boy does this tool remove the residual makeup and debris left on my face! The edge of the tool was covered with my makeup. This just goes to show that double cleansing is so important to keep my face clean.
As an added benefit, the Le Mieux Skin Perfecter provides pulsing ultrasonic waves to help accelerate the absorption of serums and other skincare products deep within surface skin, and is said to be far more effective than massaging in products by hand. While I like the idea, I found that the usage a bit clumsy because by the time I glided the tool over my face, my serum has already dried up. So my best bet was to use this over a sheet mask. It's quite a brilliant combination!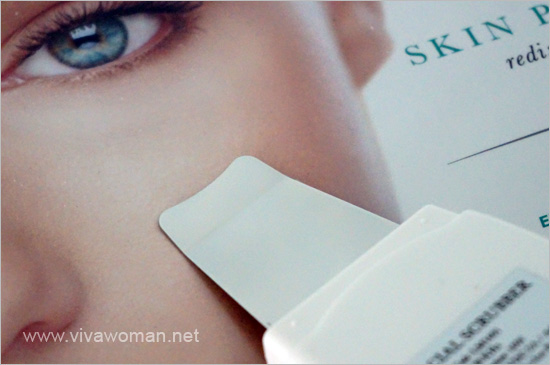 Overall summary
I don't know how Le Mieux Skin Perfecter compares to something like a Clarisonic but I'm more in favor of using a tool I can glide over my skin gently rather than a handheld brush. Moreover, I like that this Skin Perfecter is rechargeable, lightweight, portable, and never requires brushes, cartridges, or discs. I do agree that it's quite easy to use–just 3 easy steps, 3 minutes, 3 times a week–is all I need. I should add that the unit came to me fully charged as a press sample and after using it for over a month now, I still haven't got the chance to recharge it myself.
As mentioned, blackheads around my nose area seemed to have lessened. Other than that, pores around my cheek area are still visible and I've not noticed them nor my wrinkles to look any different. However, I do observe an overall clarity to my skin but I can't be certain if I can attribute it to the tool altogether because I've been taking a new supplement recently and I've also been improving my diet.
Price and availability
Le Mieux Skin Perfecter retails at US$225 and is sold at skinperfecter.com, select salons and spas, and at toll-free number 888.327.8188 with the United States. You can check out a video showing you how the Le Mieux Skin Perfecter works.
What is it?
A 4-in-1 ultrasonic, handheld device using high frequency vibrations.
Cleanser–deep cleanses skin and pores of excess oil, makeup residue, and surface impurities.
Exfoliator–gently removes cellular buildup using non-abrasive micro-exfoliation.
Extractor–extracts imperfections and reduces the appearance of enlarged pores.
Infuser–accelerates absorption of serums and other skincare treatments.
What does it do?
Dramatically reduces the appearance of large pores
Extracts blackheads and whiteheads
Accelerates absorption of products
Stimulates collagen and elastin production
Improves skin texture and appearance
Non-abrasive; gentle enough for all skin types
What are the clinical results?
100% of participants showed an immediate improvement in skin exfoliation
84% of participants saw improvement in overall skin appearance
80% of participants saw immediate improvement in brightness
69% of participants saw an immediate improvement in radiance, luminosity and healthier-looking skin
65% of participants saw an improvement in the appearance of skin texture and smoothness
50% of participants saw an improvement in appearance of fine lines and wrinkles.
Comments