Reviva Labs Collagen Regeneration Cream: a beauty boost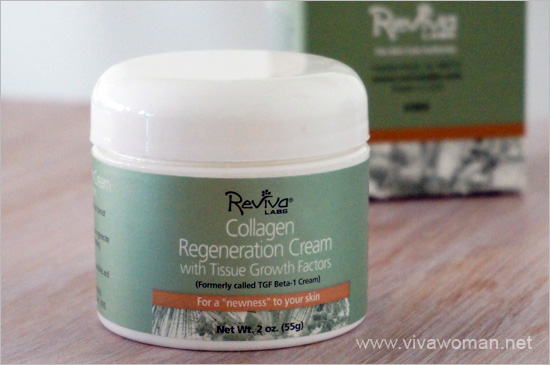 Today, I'm reviewing a secret weapon in my beauty arsenal—the Reviva Labs Collagen Regeneration Cream. I'm not exactly a fan of face creams for I prefer face serums and oils but I'm so loving this one and I've included it in my beauty staple since end of last year. This is definitely one potent anti-aging cream that lives up to its promise to create a "newness" to my skin. And the best thing I like about it? I don't have to use it continually!
As I have already introduced Reviva Labs in my recent review of their eye products, so I'll focus more about the Reviva Labs Collagen Regeneration Cream in this post–an anti-aging skin cream that comes with tissue growth factors by blending Palmitoyl Tripeptide-3, a natural growth factor, with other growth factors and wrinkle-smoother ingredients that can reverse environmental damage, repair damaged cells and stimulate new collagen. Sounds too good to be true right? Well, maybe not.
What are tissue growth factors?
Some of you are probably asking, "What in the world are tissue growth factors?" Well, these are proteins that regulate cellular growth. Apparently, they communicate signals to dermal cells that not only speed up epidermal cell renewal but also help restructure skin. As a result, new cells become more uniform so skin can look smoother and firmer. According to results from multiple controlled clinical studies, application of skin creams containing growth factors have many benefits, including:
-reducing the appearance of fine lines and wrinkles
-improving the appearance of age spots and evens out pigmentation
-reducing skin roughness
-improving skin texture and elasticity
-improving skin smoothness and tightness.
Think of it as a skin fertilizer!
However, most of the research on human growth factors for skin has looked primarily at the issue of wound healing, and at short-term use. Little is known in terms of long-term risk or stability when growth factors are used in cosmetics and applied to skin. (source: DermNet NZ)

Ingredients that deliver skin deep results
If you're someone with a health concern, you're better off steering clear of this product. But for the rest of us who are gamed to try this stuff but wonder if it's overhyped compared to other familiar sounding ingredients, you might like to know that unlike existing anti-aging ingredients such as peptide, retinol or collagen which cannot correct the already damaged collagen, Reviva Labs Collagen Regeneration Cream can correct current imperfect collagen to allow new collagen to flourish. When this happens, the renewed collagen combination boosts moisture and can help improve tissue structure, reduce the appearance of wrinkles, and enhance overall skin tone and texture.
Before I discuss the usage and performance of this product on my skin, let's look at the full ingredient list in the product:
Demineralized Spring Water, Glycerin (Veg.), Olive Oil, Palmitoyl Tripeptide-3, Coconut Endosperm, Homeostatine (Marine Pentasaccharide & Galactomannan from Tara Fruit), Salicoyl Phytosphingosine, Myristyl Alcohol, COQ-10, Hydrolyzed Soy Protein, Squalane, Soybean Oil, Carbomer 940, Cetearyl Alcohol, Simethicone, Xanthan Gum, Potassium Sorbate, Sodium Benzoate, Citric Acid.
Application and usage frequency
In terms of application, Reviva Labs Collagen Regeneration Cream can be used both day and night—alone, layered over other anti-aging serums or combined with other anti-aging treatments in your beauty regime. I have tried using it over a serum/oil and also using it alone and the cream has worked well for me in both instances. It is pretty lightweight, non-greasy and gets absorbed into my skin quickly. What needs to be noted is that this cream should not be used continually but instructions state that you should alternate it in a two-week cycle with other products. So what I do is to use it in the night for two weeks, switch to another product for the next two weeks before reverting back to the cream. There were periods where I'd stop using it altogether for a longer period because I was testing new products and I really appreciate that flexibility of not having to use this cream continually in order to see efficacy.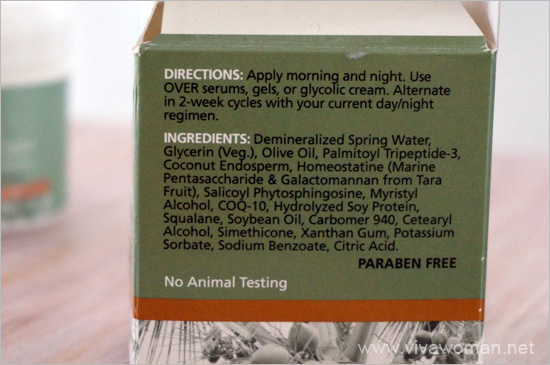 Beauty boost in my skincare regime
What I've noticed about using this product is that my skin looks really renewed and fresh by morning. It's not a huge difference but I could tell the subtle improvement in terms of the elasticity of my skin. Now that I have used it for months, I can attest to the regeneration it provides—the skin looks firmer and the texture a lot smoother. I won't say my skin looks completely amazing but the improvements I've seen have made me happy enough to continue using this product. In fact, I've also been applying this cream on my slightly wrinkled hands but I haven't seen the desired results yet because my applications are few and far between. I definitely need to step up my efforts on those hands!
Price and name change
All in all, the Reviva Labs Collagen Regeneration Cream is a great beauty boost for me and would you believe that it only costs me US$24.50 at iHerb? And after about six months of usage, I've only used three quarters of the jar! Oh by the way, you can't find Reviva Labs Collagen Regeneration Cream at iHerb anymore because the product is now renamed to Reviva Labs TGF Beta-1 (Tissue Growth Factor) Cream. But I'll admit that I'm not sure if I will repurchase the product again only because I'm a bit leery about the little studies regarding the risks of using tissue growth factors on the skin. Perhaps I'll just finish the existing jar, stop for a few months before resuming with another new one. By then, maybe my attention will be on something better and cheaper…LOL.

Get US$10 off your first-time purchase
Get Reviva Labs Collagen Regeneration Cream or Reviva Labs TGF Beta-1 (Tissue Growth Factor) Cream from
iHerb
. If you're shopping at iHerb for the very first time, you can enjoy US$10 off if your purchases are $40 and above (US$5 if below $40). Use my promo code
OVO966
(affiliate). Shipping is speedy: you have a choice of using DHL, which takes three days to arrive from US to Singapore. I pay US$4 for the shipping via Singpost and it always takes about five days with no issues. Anyway, you're given a tracking number if you ever need to locate your parcel.

Comments