Why I use two different sunscreens together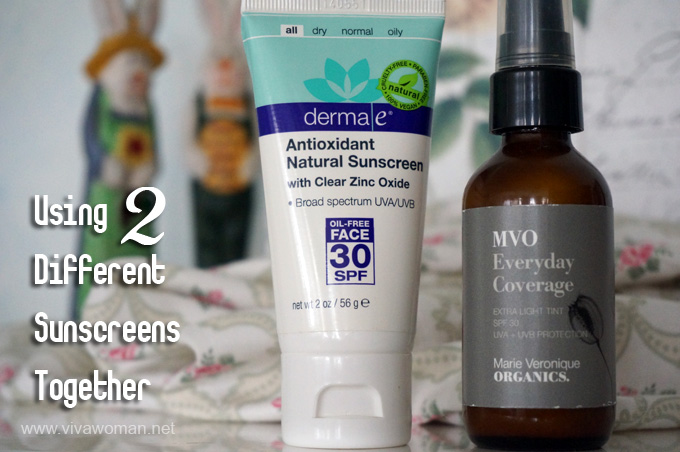 Even though it's been raining more frequently recently, some days are plain freaking hot. I try to stay in as far as possible because I'm beginning to have this niggling fear that my current sunscreen may not be powerful enough to protect me from the high UV index.
I've been using the Derma e Antioxidant Natural Sunscreen SPF 30 Face Lotion for a few months now and I really love it. It seems to be working well but I often wonder if it's protective enough. Okay, to be fair, this is a common thought I have with every single sunscreen I've ever used.
Anyway, while applying it to my face the other day, I suddenly remembered a reader's comment in one of my old posts about sunscreen application. I can't remember if she'd mentioned it was based on her own experience, or someone else's but I recall reading that two different sunscreens were being used for daily protection.
Actually this was something I used to do when I had to be under the hot sun for some outdoor activities. I literally slathered two different sunscreens on myself!
So I decided to give this tip a try on my face, especially since Derma e Antioxidant Natural Sunscreen SPF 30 Face Lotion applies like a moisturizer without any trace of greasiness. I layered the MVO Everyday Coverage on top but definitely using lesser than a quarter teaspoon. I was a little concerned that it might all turn out too drying or flaky but surprisingly, I'd no issues whatsoever.
Skincare experts recommend double layer of sunscreen
I'm liking this whole idea very much now.  I did a search online and it appears that other people are also doing this and recommending so. But some suggest that it's best to layer a physical sunscreen over a chemical one which was what I did before. Apparently, even top dermatologist Dr Leslie Baumann recommends a double layer of sunscreen, first a chemical sunscreen to absorb UV light, and then a physical sunscreen on top to reflect rays, when spending many hours outdoors.
But because I use mineral (physical) sunscreen on a daily basis, I prefer not to layer with a chemical sunscreen. Also, I understand that some ingredients may get destabilized when you mixed a chemical sunscreen with a physical one.
My rationale for double layer of sunscreen
Alright, I've to admit that I don't know for sure if using two different mineral sunscreens provides better protection too. I also know for sure that using two SPF30 sunscreens is not going to give me SPF60 protection. So what's my rationale for layering two different sunscreens on my face?
A greater peace of mind.
I'm not gonna justify this one but I'll just say that because the Derma e formula has lesser zinc oxide content, the idea of supplementing with MVO's that has a higher zinc oxide sits well with me. Also, this is a way for me to apply more sunscreen.
Some of you probably don't agree with me and that's fine. In fact, I won't recommend this for anyone else since using two sunscreens can be highly pore clogging. But I do want to state that I don't do this every day but only on days when I know I need to be out and the weather is too hot.
Oh, just in case you're wondering: using two different sunscreens at the same time is not quite the same as using a a foundation or moisturizer with SPF. Why? Well, it's because both the foundation and the moisturizer do not contain sufficient sun protection active ingredients.
So anyone using two different sunscreens together too? Share your thoughts!
Comments