1000 Roses For Best Double Cleansing Experience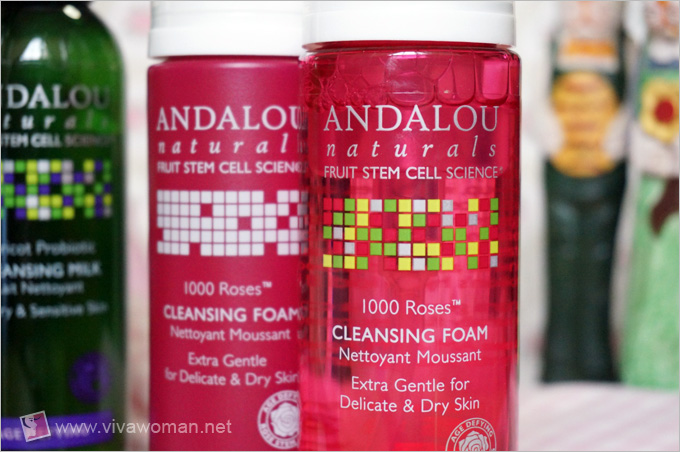 For those of you who practise double cleanse, how many have realized by now it's not exactly a cheap beauty routine? To make things worse, cleansers deplete very quickly. Perhaps you are resigned to the costs and have not explored other options? Well, if you're thinking of new cleansers that are effective in double cleansing and are affordable, read on.
I discovered Andalou Naturals last year on iHerb. When I say discover, I mean actually using the products. The brand is based in US and offers quite a comprehensive range of skin care, hair care and body care products that are formulated using fruit stem cell science.
Why this is a green brand
All their products are free of GMO's, petrochemicals, phthalates, sulfates, synthetic colors, dyes, fragrances, triclosan, PEG, MEA, TEA, DEA, or parabens. The brand isn't certified organic but uses a minimum of 70 percent ingredients that are, on top of those that are verified gluten-free and vegan. Andalou Naturals also adopts eco-friendly practices and a no animal testing policy.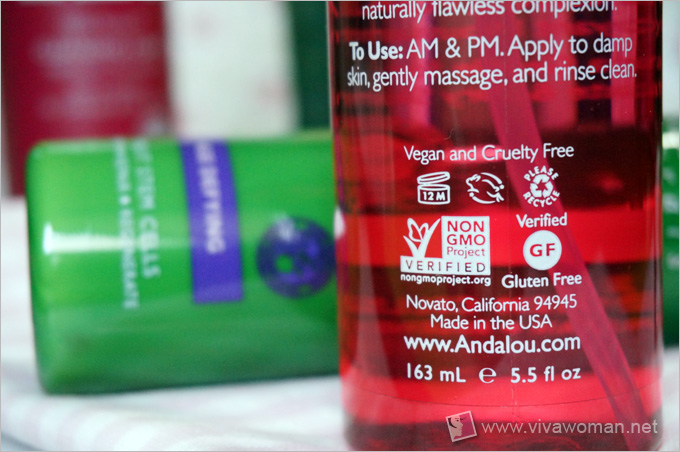 Regular shoppers at iHerb must have seen this brand one time or another and I am not surprised if some of you are already fans. For me, the first product I tried from Andalous Naturals is their Beauty Balm, which I have a review here. I then moved on to try their hair products which I've yet to review. Let's just say they're fine but not exceptionally exciting for me to want to share about them immediately.
But I love these cleansers—the Andalous Naturals Apricot Probiotic Cleansing Milk and the Andalous 1000 Roses Cleansing Foam. The only reason I bought them was because of the attractive price point—they are both just a few cents over US$10. They are also well reviewed, both garnering ratings of 4.5 out of 5.
Why double cleanse
Before telling you how I feel about the cleansers, let me share more about double cleansing. The reason I double cleanse is because I find this routine, when done once at the end of the day, helps to keep my skin clean and healthy. This is because the first cleanse removes any makeup or excess oil from my face and the second, removes all the impurities completely. In case you haven't noticed, most facial salons perform double cleansing too.
There are different ways to double cleanse but my favorite is to use a cleansing cream or milk with a non-SLS formulated foam cleanser. A cleansing cream or milk is more gentle to the skin and helps to remove makeup and excess dirt quite well. Some may feel it is not as effective as an oil cleanser especially when it comes to removing heavy makeup but I find using a cotton pad usually does the trick. Also, since it's double cleansing, there's always the second cleanse to take care of any remaining residue as the whole idea is NOT to have your face squeaky clean and stripped of all natural lipids.
Also, some people find a foam cleanser very drying but that's only when you use one containing harsh surfactants like SLS or SLES. Generally, those in the natural or organic category are not drying.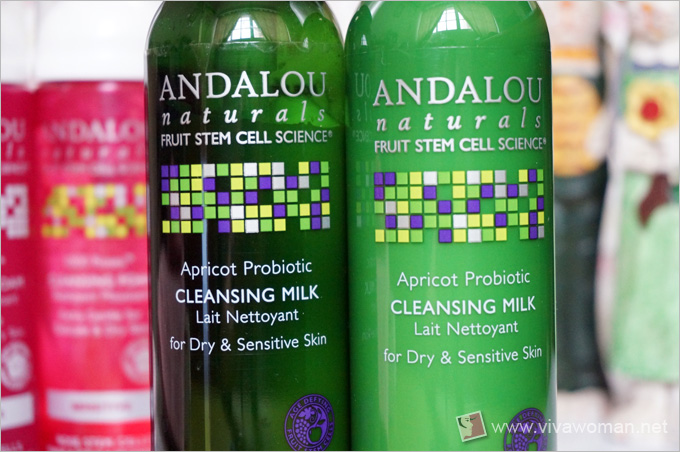 Apricot Probiotic Cleansing Milk | 178ml, US$10.40
This is a cleansing milk that feels more than a cream. It's quite thick but isn't too heavy. So about two to three pumps are sufficient for the first cleanse.
The unique selling point of this product is it's formulated based on fruit stem cell science and contains probiotic microflora to calm irritation and stimulate cell turnover. The cleanser is said to be suitable for those with dry and or sensitive skin but it works for my combination skin too. This cleanser has a sweet apricot scent which I like.
Here's the full ingredients list: Aloe Barbadensis Juice*, Helianthus Annuus (Sunflower) Oil*, Vegetable Glycerin, Caprylic/Capric Triglycerides, Prunus Armeniaca (Apricot) Oil, Prunus Dulcis (Almond) Milk, Glyceryl Monolaurate, Glyceryl Stearate, Cetyl Alcohol, Prunus Amygdalus Dulcis (Sweet Almond) Oil, Probiotic Complex (Alpha-Glucan Oligosaccharide, Polymnia Sonchifolia Root, Maltodextrin and Lactobacillus), Fruit Stem Cells (Malus Domestsica, Solar Vitis) and BioActive 8 Berry Complex*, Resveratrol, Ubiquinone (CoQ10), Vitis Vinifera (Grape Seed) Polyphenols, Allantoin, Tocopherol (Vitamin E), Mangifera Indica (Mango) Butter, Hibiscus Sabdariffa Extract*†, Rosa Canina (Rosehip) and Borago Officinalis (Borage) Oils*, Phenethyl Alcohol, Ethylhexylglycerin, Agathosma Capensis (Buchu) Oil, Citrus Aurantium Dulcis (Orange) Oil*
This cleansing milk isn't all that different from some of the others I've tried but neither is it as good as Antipodes Hallelujah Cream Cleanser. However, I like that it doesn't leave too much of a greasy film after cleansing should you want to use it on its own. On the whole, it's an affordable and functional cleansing milk with a clean enough ingredient list.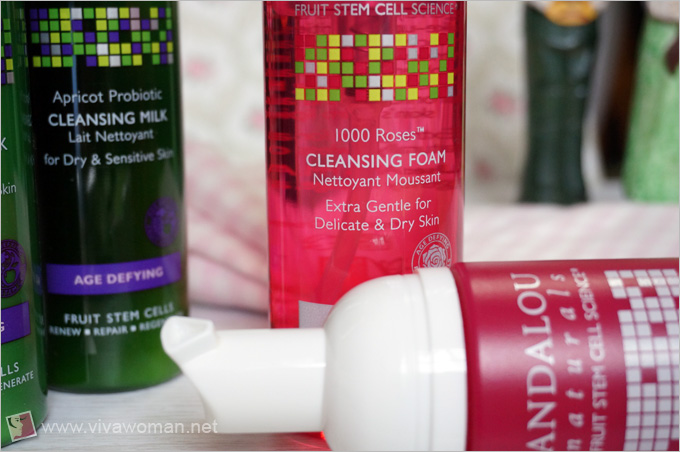 1000 Rosesâ"¢ Cleansing Foam | 163ml, US$10.36
I bought this because it's a very affordable foam cleanser. If I'm not wrong, it's quite a new product over at iHerb but the reviews are good. However, when I first used it, I hated it!
At the first few usage, this foam cleanser came across so saccharine sweet that I almost choked! Are 1000 roses supposed to smell so sweet? I know rosa damascena is the second ingredient but the scent is so artificial and definitely far from being refreshing as described. I've used quality rose-scented products and they smell nothing like this!
But smell aside, this cleanser has redeeming qualities. The foam is very dense and so one pump is sufficient for an effective face wash. I've tried a couple of foam cleanser but this is probably one of the best I've tried. In fact, the foam is so dense that you can feel a little "suffocated" with prolonged washing as the foam makes it impossible to breathe. Okay, that's a bit of an exaggeration but I did have difficulty breathing when I had the foam around my nose.
Here's the full ingredients list: Aloe Barbadensis Juice*, Rosa Damascena (Rose) Distillate*, Decyl Glucoside, Sodium Methyl Cocoyl Taurate, Vegetable Glycerin, Sorbitol, Glyceryl Cocoate, Rosa Canina (Rosehip) and Punica Granatum (Pomegranate) Oils*, Allantoin, PhytoCellTec (Alpine Rose, Malus Domestsica, Solar Vitis) and BioActive 8 Berry Complex*, Soothing Complex: [Hyaluronic Acid, Magnolia Officinalis Bark, Phoenix Dactylifera (Date) Leaf Cell and Boswellia Serrata (Boswellin) Extracts], Panthenol (Pro-Vitamin B5), Camellia Sinensis (White Tea) and Hibiscus Sabdariffa Extracts*†, Citric Acid, Tocopherol (Vitamin E), Sodium Benzoate, Potassium Sorbate, Ethylhexylglycerin, Citrus Tangerina (Tangerine) and Pelargonium Graveolens (Rose Geranium) Oils*, Rosa Centifolia (Rose) Oil
Non-GMO verified *Organic † Fair Trade
Even though it's a foam wash, it doesn't make my skin feel tight or dry even with its two surfactants—decyl glucside and sodium methyl cocoyl taurate. I suppose the emollient and moisturizing combination of vegetable glycerin, sorbitol and glyceryl cocoate help to counteract any dryness.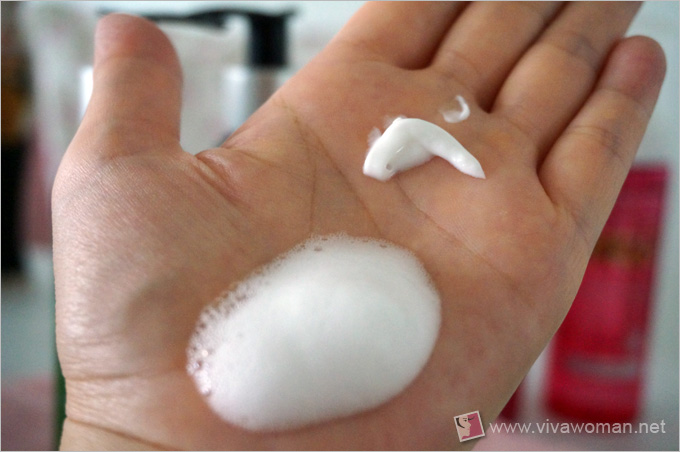 Why you should consider these cleansers
Okay, I know my title is a misleading given that I said the 1000 roses were a noseful. But if you double cleanse and like the idea of a cleansing milk and foam cleanser, give this set a try. But be forewarned about the strong sweet scent!
Both cleansers are formulated to be suitable for sensitive skin so I think they should work for most skin types too. Functionally, they both do an above average job of double cleansing and their price point makes them quite irresistible too. Like I mentioned, that was why I purchased them in the first place and it's also why I bought my second set.
Why buy from iHerb
Get the Andalous Naturals cleansers from iHerb. If you're shopping at iHerb for the very first time, you can enjoy US$10 off if your purchases are $40 and above (US$5 if below $40). Use my promo code OVO966 (affiliate).
Shipping is speedy: you have a choice of using DHL, which takes three days to arrive from US to Singapore. I pay US$4 for the shipping via Singpost and it always takes about five days with no issues. Anyway, you're given a tracking number if you ever need to locate your parcel.
Products highlighted were purchased and this review is in line with my disclosure policy.

Andalou Naturals 1000 Roses Cleansing Foam
Comments