Take your home cooked meal up by a notch with this one sauce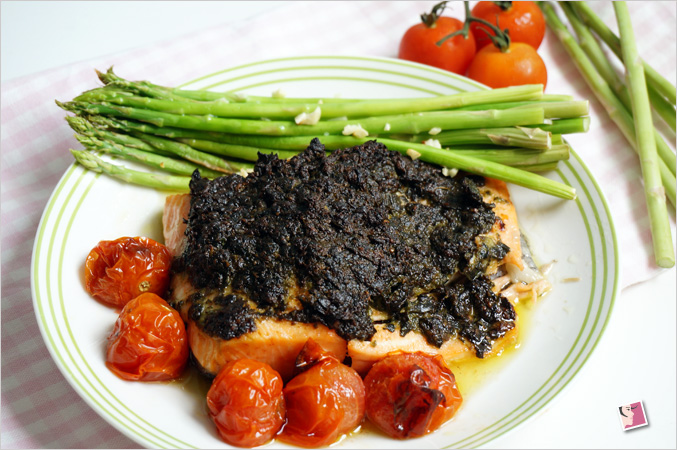 Recently I discovered the magic of pesto sauce and I just have to share it with you. If you're up to preparing some great tasting home cooked meals, I promise you that just adding this one sauce will bring the quality of your meals up by a notch.
And the best part? PESTO SAUCE IS SUPER EASY TO MAKE!
But let me warn you…you won't stop preparing pesto sauce after you've tried it because all your meals will taste like they're straight out of the kitchen of a popular restaurant!
Variations of pesto sauce
Okay, before I tell you more, you probably like to know that pesto sauce was created by the Italians to be eaten with pasta only. But this sauce is so rich and delicious with many dishes…even on a piece of plain toast.
When I shared my first batch of homemade pesto sauce with my colleagues, they ate it with so much gusto…just with Meji crackers. I had put too much garlic in my sauce but that didn't turn my colleagues off. In fact, they loved it!
So yes, garlic is a necessary ingredient in the sauce. I'd found most recipes are too generous with garlic and can make the sauce a tad too spicy. If you're not a garlic fan, I'll say a clove or two is sufficient. Other than that, you'll need a pack of sweet basil leaves, some pine nuts, and a few spoonful of olive oil.
There are many versions of pesto sauce. I've heard of spinach pesto sauce, avocado pesto sauce and tried making Italian parsley pesto sauce. But my no-fail, good-for-everything pesto sauce is made from sweet basil.
And noticed I hadn't mentioned cheese? Well, you can add cheese if you like but I prefer mine without dairy.
How to prepare pesto sauce
Preparation is easy. You need to toast the pine nuts for a few minutes, tossing and turning them over a pan. You can either grind the nuts with a blender, then add the washed sweet basil leaves and garlic to blend together. Or you can pound the ingredients using a mortar and pestle.
After that, pour olive oil over the mixture and blend well—just enough to cover the mixture. Add a pinch of salt if you like. That's it. Your pesto sauce is ready to be used. Chill whatever you can't use and finish it within three days. Perhaps longer if you add a dash of lemon juice to the sauce.
Easy to make non-dairy pesto sauce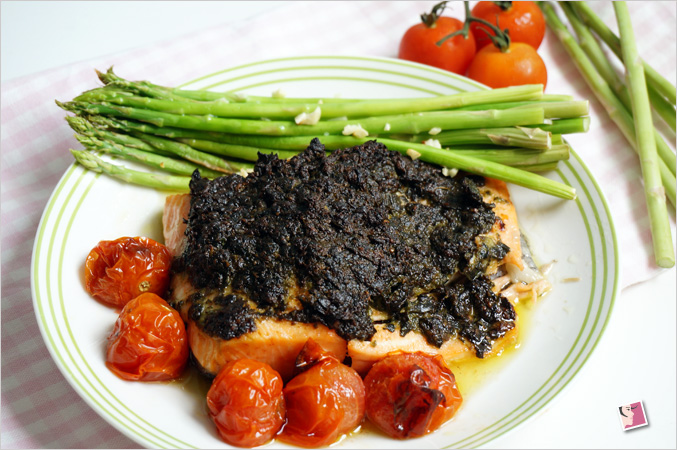 Non-dairy pesto sauce that goes well with different foods.
Ingredients
1 packet sweet basil leaves
2 tablespoons of pine nuts
1 or 2 cloves of garlic
5 tablespoons of olive oil
A pinch of salt
Instructions
Toast the pine nuts
Blend the toasted pine nuts, sweet basil leaves, garlic
Pour the blended mixture into a bowl
Pour the olive oil over the mixture and blend
Add a pinch of salt
Taste great with everything
Like I said, pesto sauce taste great with almost everything…pizza, chicken, beef, eggs, salad…the list goes on. It can also work as a dip if you make it creamy by adding yogurt or cream cheese. But I find it taste best when cooked with the dish.
Personally, my favorite dish to go with pesto sauce is baked salmon. Spread some pesto sauce over, bake for 20 mins or so and serve hot with side veggies. It's yummy to the max and I couldn't tell if someone had said it was delivered from a restaurant.
So why make pesto sauce when it's available for purchase in the stores? Well I don't know about others but I think having freshly made pesto sauce without dairy and preservative is a good excuse for me.
Convinced to make some fresh pesto sauce? Ready? Get set…PESTO!
Comments