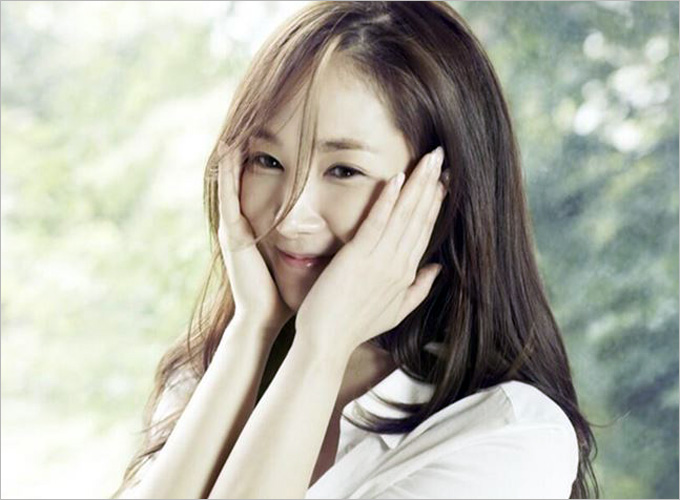 Love to have a brighter skin tone? How about picking up some Korean skin brightening habits from the experts? Even if these habits don't make you look like your favorite Korean actress, they'll surely brighten your skin tone by a notch or two.
1. Consuming vitamin C daily
I know a number of you are not keen on supplementing your diet with vitamins. But not the Koreans. Women like Honey Lee, host of Get It Beauty can't live a day without her vitamins.
And she's not the only one. Most of the Get It Beauty Better Girls take some form of vitamins daily too.
Well, count me in too. While I try to avoid consuming too many vitamins, I must load up my collagen supplements daily. Otherwise I'll feel like I'd missed out something important in my skin care routine.
So which vitamin is critical for skin brightening? According to beauty editor Hwang Min Young, it's vitamin C because this vitamin is a tyrosinase inhibitor that can reduce the production of melanin in our skin.
This is why regular intake of vitamin C will keep our skin looking clearer. It will also create collagen that'll firm up our skin.
Not in favor of ingesting vitamins? Well, fret not. You can get your dose of vitamin C through your fruits instead of pill popping.
2. Massage lymph nodes 4x a week
Who knew that frequent facial massages can brighten our skin tone? Well, certainly not me even though I massage my face daily. I'd only associated the act with face lifting and contouring.
But all facial massage involves the lymph nodes and this is where the connection to skin brightening becomes clearer, literally.
You see, regular massage of lymph nodes will help to eradicate toxins and increase blood circulation. When blood circulation improves, skin will naturally look clearer too.
So where are the lymph nodes to massage? Some strategic points include the side of your neck, the hollow portion before the ears, and the hollow part behind your ears.
Before watching episode 30 of Get It Beauty, I'd only known one way to massage my neck. But now I know you can pinch the muscles on the side (see picture) and that counts as massaging the lymph nodes.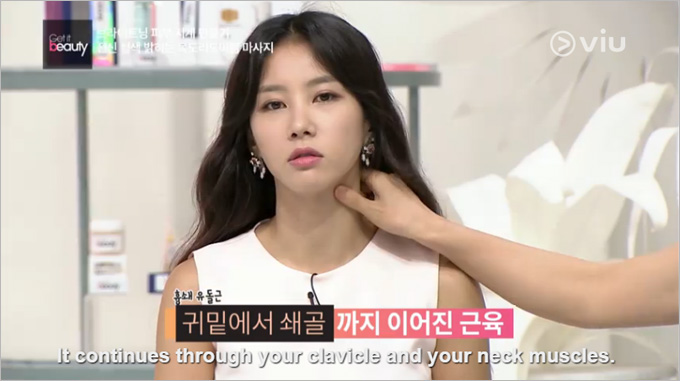 3. Exfoliate before bedtime
Getting rid of dead skin cells on our face through regular exfoliation will help to keep our skin looking clearer and brighter. At the same time, exfoliation primes our skin to absorb skin brightening products better.
Now, exactly how frequent should we exfoliate and is there an ideal time?
Exfoliation is best done twice a week and Korean skin care expert Kim Yeon Ok recommend exfoliation just before bedtime. Why? Because removing the dead skin cells will enable the skin to regenerate better during sleep time. The skin is also better able to absorb the skin care products.
4. Use 2 skin brightening products every day
Koreans seem to be fanatic about skin brightening that they won't hesitate to use not one but two products to do the job.
Come to think of it, I use more than one brightening skin care product. The toner I use contains skin brightening properties and so does the serum.
If you're new to skin brightening, I suggest you pick a product containing vitamin C. And you definitely don't need to use two if you're not comfortable with the idea. That or you can use two different products at different timings–one in the day and a stronger product in the night. Or double up with a skin brightening mask thrice a week!
5. Sleeping by 11pm every night
Much has been said about why sleep is important for beauty sake but what's the connection to skin brightening?
Well, sleep is important to prevent poor blood circulation which can in turn cause skin pigmentation, dark spots or blotchy complexion. In fact, sleep deprivation can increase stress hormones that causes skin pigmentation.
I'm glad that the Koreans also agree that sleeping earlier at night will encourage melatonin production. Melatonin is a natural hormone made by your body's pineal gland and your body produces more melatonin when it is dark.
Melatonin does several things for us and some researchers believe that melatonin is also able to suppress ultraviolet (UV)-induced damage to skin cells and shows strong antioxidant activity in UV exposed cells.
Create your skin brightening timetable
You can create a skin brightening timetable based on these brightening skin care habits I just shared. To find out how, check out on Episode 30 of Get It Beauty.
You'll also learn about a uterus detox exercise regime that will also help with skin brightening. It's not the easiest exercise so I'm not including it in the list but if you are keen to check it one, look for the episode on Viu. And for those into makeup tips, you'll of course find a skin brightening makeup tutorial.
Have fun watching! ^^