Why you should exfoliate your scalp + an easy DIY scalp scrub recipe to promote hair growth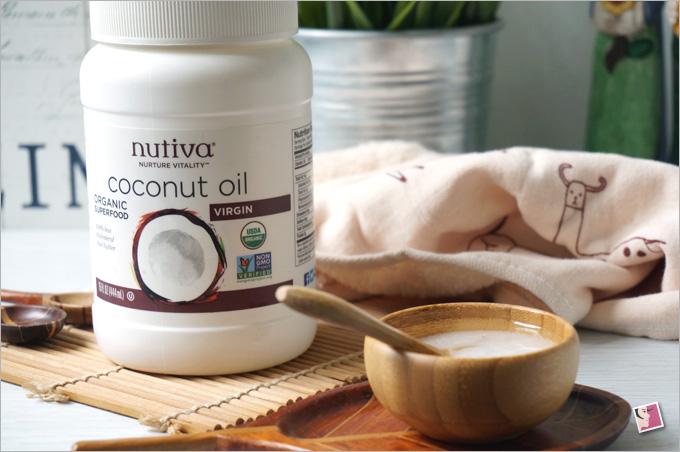 We all know what a face scrub is but have you heard of a scalp scrub? WHAT? Okay, I take that as a no. Neither have I…till I watched episode 36 of Get It Beauty that focused on scalp health.
That particular episode was all about scalp care and an expert hairstylist had recommended a hair scrub that supposedly helps to loosen buildup on the scalp.
By now, some of you are probably asking the necessity of scrubbing our scalp. Well, I would have asked the same had I not learned a thing or two about scalp health prior to this.
Like the skin on your face, your hair follicles can suffer from clogging due to sebum buildup. Perhaps some of you have felt some tiny pimples when you touch your scalp? Well, that's one of the signs that your hair follicles are clogged and infected by bacteria.
While a pimple or two on your scalp probably won't do damage but it can get more serious if most of your hair follicles are clogged and inflamed. The result could be dandruff or worst, hair loss.
Clogged hair follicles results in hair loss
This is because when your hair follicles are clogged, they become unhealthy. Your hair will fall off easily and new hair growth will be impeded. You can try to apply hair growth tonic but the clogged follicles also mean that very little of the tonic is penetrating through those heavy sebum buildup to get to the roots of your hair. You'll end up with wasted hair tonic…and wasted money.
OH NO…
Now before you get all dismal and disheartened, I'm telling you the solution. Simply keep your scalp clean of sebum buildup. Doing so not only ensures healthy hair follicles and in turn, healthier head of hair but it'll also contribute to hair growth.
This is why we have clarifying shampoos that are formulated to cleanse excess buildup. Unfortunately, these shampoos are best used to remove product buildup on the hair, not so much on the scalp. To better remove prolonged sebum buildup on the scalp, you'll need to use a scalp mask or a scrub.
Noticed the concept is not that different from exfoliating your face regularly to prevent clogged pores?
An easy DIY scalp scrub recipe
Coming back to episode 36 on Get It Beauty, the audiences were pre-arranged to have their hair follicles scanned prior to the start of the program. After some of their scalps were scrubbed, before and after scans of their hair follicles were shown and the results were evident after the scrub was used.
Hair follicles that were flaky with plenty of buildup cleared up considerably after a scrub. Even the red and inflamed ones look a lot calmer. I was most intrigued!
You see, I've been spending hundreds of dollars on treatments to cleanse my scalp of excess buildup and to promote hair growth. Now if I can get my hands on a product that can do the job and yet save me money, why not?
But when I looked around, I realized there were limited choices…at least in Singapore. I think Kiehl's offers a Deep Micro-Exfoliating Scalp Treatment but it's probably pricey. So I figured out it should be easy to make a DIY scalp scrub considering we already have lots of recipes for the face.
After digging around, I found recommendations to use sugar or sea salt. Because I'm not fond of using sugar out of fear of what insects they might attract, I decided on a sea salt scrub.
Sea salt is detoxifying and is great for purifying. Plus its drying properties suit my oily scalp. I also know for a fact that sea salt will create more volume for my hair…at least temporarily.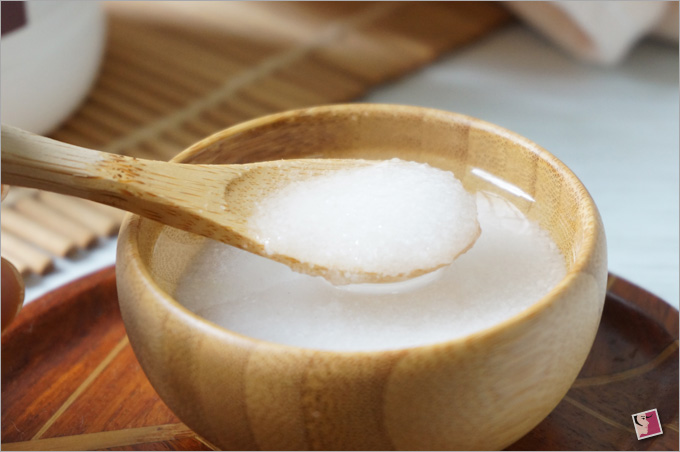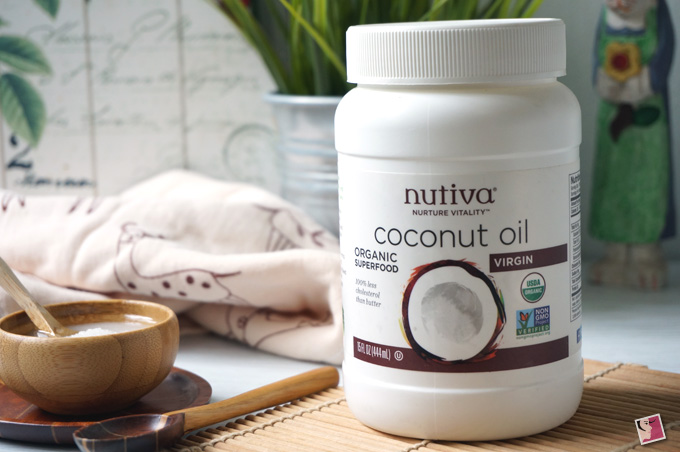 How to prepare and use sea salt scalp scrub
This DIY scalp scrub recipe is easy to prepare. Just scoop about 3 to 4 tablespoons of sea salt (not table salt and certainly not rock salt) into a container and pour coconut oil into the container. Mix the oil with the sea salt and it's ready.
To use, make sure you first wet your hair. If you don't, your hair might break after using the scrub. Also, it's hard to scrub when your scalp is dry.
Once you have wet your hair, just rub the sea salt scrub directly onto your scalp by section. Massage your scalp and add more water along if the scrub gets too dry. (The massaging helps to promote better blood circulation that'll encourage hair growth.)
Leave the scrub on for a few minutes before you rinse it off and shampoo. After shampoo, consider using a hair growth tonic as your hair follicle is now clean and more ready to receive the nutrients. Otherwise, blow dry and style your hair as usual. You should find your scalp clean and your hair looking fluffier after the wash.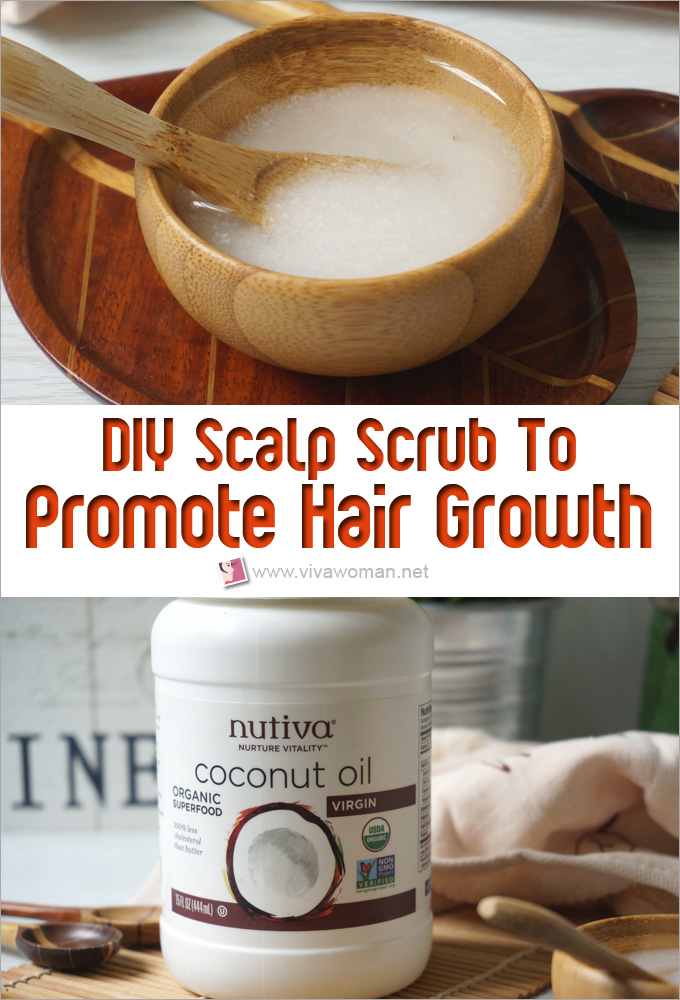 Drying and not great for hair color
Although this DIY sea salt scalp scrub is easy to use and fairly effective in cleansing the scalp, it has its drawbacks.
First, sea salt is drying. This means that I can't use sea salt too frequently as it'll leach water from my hair and cause my hair to become parched and brittle.
The coconut oil counters the dryness somewhat but a sea salt scrub isn't great for hair color either. Using it regularly can cause my hair color to fade quickly. Not so great when I've spent money to get my hair professionally colored.
Finally, if you have a scalp wound, please do not use a scrub. You have heard of the idiom "do not rub salt into the wound"? Well, take it literally here.
But this DIY recipe is quite effective in removing buildup on the scalp. I know because I just had my hair follicle scanned a few days ago. I haven't done a scalp treatment for three months so the cleaner follicles must be the work of the sea salt scrub.
I might try a commercial scalp scrub in time to curb my curiosity. But for now, I'll make do with this DIY recipe. At the least, it cost much less than a salon treatment. I just need to remind myself not to use it more than once a week.
Any of you tried a scalp scrub or game to try one now that I show you how?

Comments