Sunscreen: Helioplex vs Mexoryl
If you go round the pharmacies, you must have seen the latest range of Neutrogena Ultra Sheer range consisting of Dry-Touch Sunblock SPF50+, Dry-Touch Sunblock SPF70 and Body Mist Sunblock SPF45 which all come with the patented Helioplex suncare technology.  So what exactly is Helioplex and is it true that it gives up to three times longer UVA protection? 
What is Helioplex?
According to the information I gathered from Neutrogena's website, Helioplex covers the complete UVA/UVB spectrum by harnessing the full power of two sunscreens, Avobenzone and Oxybenzone. 
Avobenzone is considered one of the best UVA absorbers, but it has always been said that it degrades about thirty minutes after application.  However, with Oxybenzone which is a very good UVB absorber with some UVA absorbency and together with the patented Helioplex stabilizing technology, these two sunscreen ingredients complement each other for high, broad spectrum and photostable coverage. 
Which simply means that Helioplex indeed provides photostable UVA protection that does not lose its effectiveness in sunlight.
Is Helioplex better than Mexoryl?
If we go by the rating compiled by Environmental Protection Agency and information obtained from Cosmetic Database (see the two tables below and compare Avobenzone and Oxybenzone against Ecamsule and Drometrizole Trisiloxane), it looks like Helioplex is slightly more superior with better UVA protection.  Plus, it seems that some people are prepared to put their money on Helioplex over Mexoryl for the simple reason that the effectiveness of both Avobenzone and Oxybenzone has been substantiated by independant labs and the FDA.  Information on Mexoryl, on the other hand, is said to be made mostly by L'Oreal internal research.  
Which sunscreen provides better protection?
But it should be noted that there could be other filters used when it comes to a sunscreen formulation.  So  for curiosity sake, I took the active ingredients for Neutrogena Ultra Dry-Sheer and  La Roche-Posay Anthelios XL 50+ and again used the rating compiled by Environmental Protection Agency for some visual comparison.
Neutrogena Ultra Sheer Dry-Touch Sunblock SPF70 comes with Avobenzone, Oxybenzone, Homosalate, Octocrylene and Octisalate (Octyl salicylate).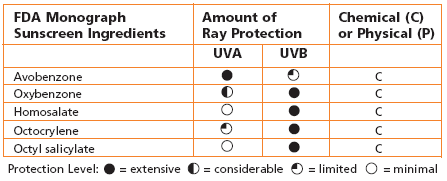 La Roche-Posay Anthelios XL 50+ Lait Veloute Face & Body Lotion comes with Mexoryl SX (Ecamsule), Mexoryl XL (Drometrizole Trisiloxane), Octocrylene and Titanium Dioxide.


(Drometrizole Trisiloxane not officially in FDA monograph compiled by the Environmental Protection Agency. I added it here for reference only, with inputs from  Cosmetics Database.)
Do note that I haven't indicated the percentage level of their active ingredients but it does look like La Roche-Posay Anthelios XL 50+ is stronger on providing UVA protection but Neutrogena Ultra Sheer Dry-Touch provides better UVB protection? 
Personally, between the two, I'll pick La Roche-Posay Antheloios over Neutrogena Ultra Sheer Dry-Touch.  But my preference is still for a non-chemical sunscreen and I rather pick a physical sunscreen with Zinc Oxide anytime.
Comments